Engagement Ring Loans
Compare monthly payment options from several lenders in under 2 minutes.
How much would you like to finance?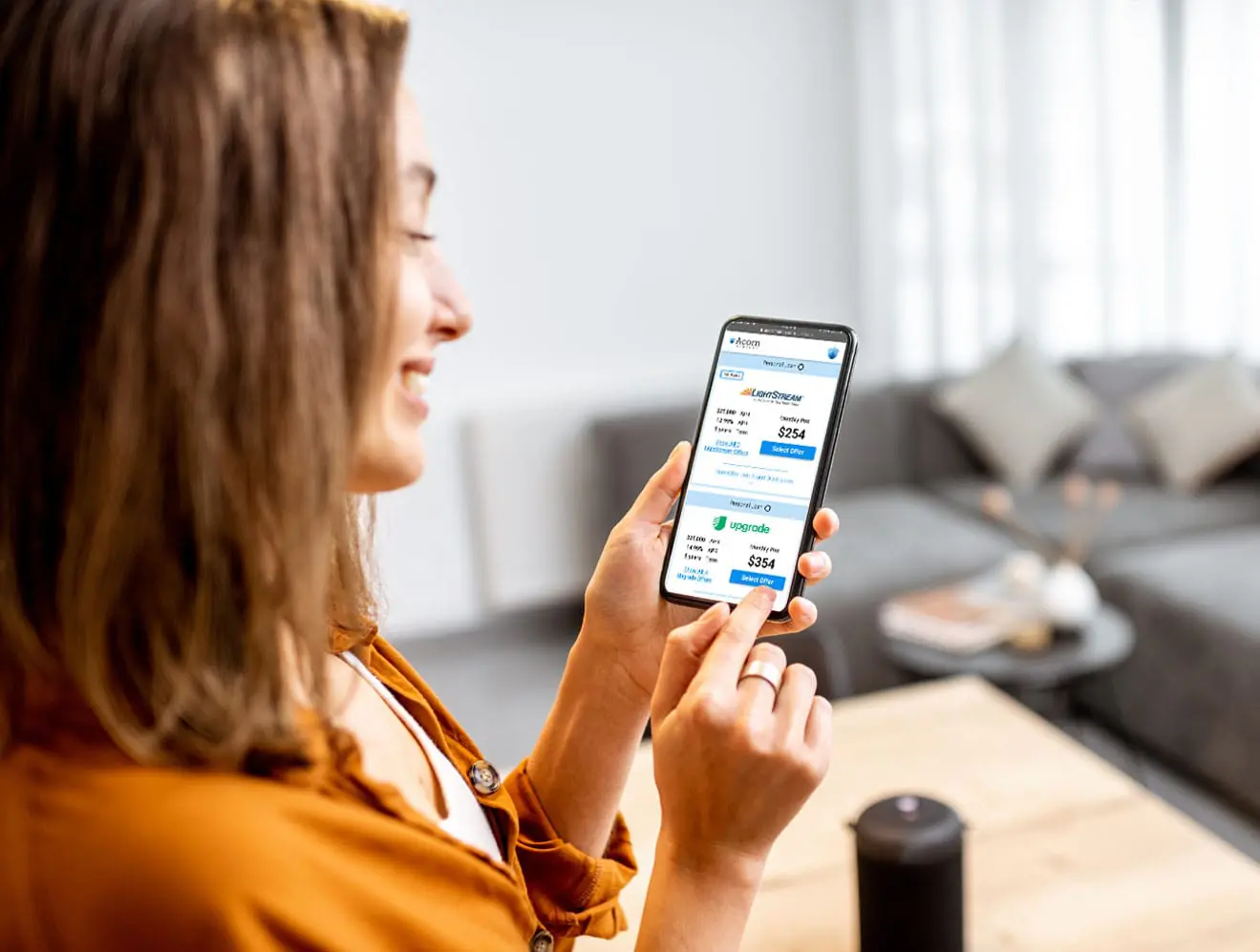 Financing An Engagement Ring
Engagement ring financing can put you on track to marry the love of your life. An engagement ring symbolizes your love, so it does not always have to cost thousands of dollars. Whether you need to finance an engagement ring that is a few hundred dollars or several thousands of dollars, there are options available. Keep reading to learn more about engagement ring payment plans and personal loans for engagement rings. Hint – if you are looking for a ring exceeding 1-2 thousand dollars, a personal loan is probably your best bet.
Check Offers
Quick. Simple. Secure.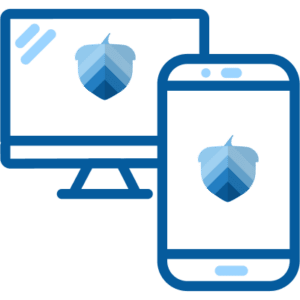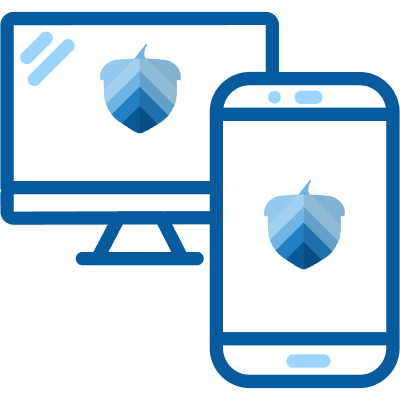 Fill out an easy online form to check for pre-qualified offers with no impact to your credit score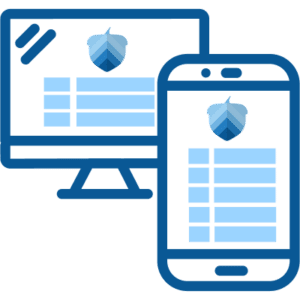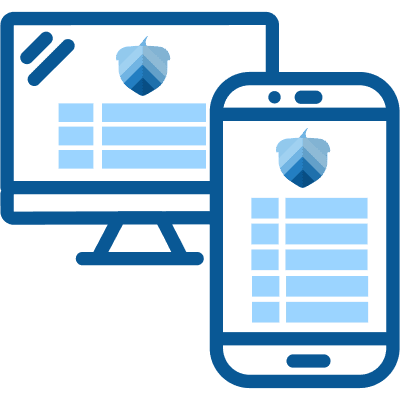 Compare terms and payment options to select the offer that's best for you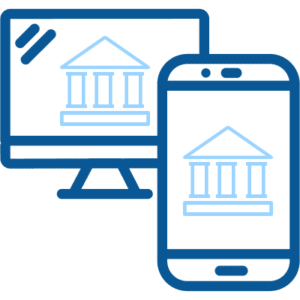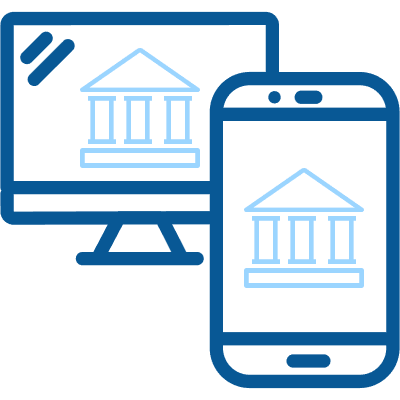 Complete your application on your selected lender's website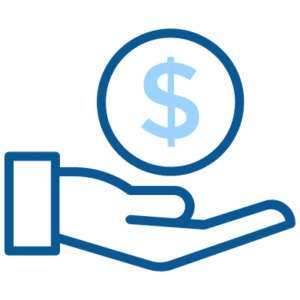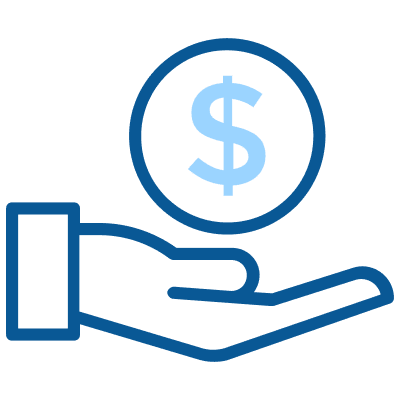 After your loan is approved, your funds should arrive within 1-2 business days2
Check offers
in seconds
Get pre-qualified for loan offers with an easy online form
Won't impact
credit scores
Checking offers will not impact your credit score
Competitive
payment options
Compare rates from our network of lenders
Receive
funds quickly
Same-day and next-day available for certain offers2
Compare Rates From Lenders in Our Network
Learn More About Engagement Ring Loans
Learn more about how you can finance an engagement right below.
Can You Finance An Engagement Ring?
With the average cost of an engagement ring today sitting at just over $6,000, it is no wonder that many shoppers need to finance the cost of this major life milestone.
Luckily, you can finance an engagement ring in a variety of different ways. From in-house jewelry store financing to credit cards and personal loans, ring shoppers can take advantage of many different options each with their own unique pros and cons. When you are in the market for an engagement ring, be sure to shop around for the best deal on financing as well. The right credit card, payment plan, or personal loan can save you hundreds of dollars in interest over time.
How Long Are Payment Plans For Engagement Rings?
The length of your payment plan for your engagement ring will vary depending on the type of financing you select and the repayment period you agree upon. Most lenders offer flexible loan terms ranging anywhere from 1-12 years.
In general, you want to select a payment plan with a monthly payment that you can afford. Some consumers prefer to choose financing options with low monthly payments and long repayment periods, while others prefer to get out of debt sooner with larger monthly payments over a shorter period of time. The right payment plan for you will depend on your own personal preferences, financial needs, income, and budget.
What's The Average Interest Rate Range For Engagement Ring Loans?
The average interest rate for a personal loan as of 2021 is just over 6% with loan terms typically ranging from 2 to 7 years for repayment. This makes personal loans one of the best options for financing, unless you can find a credit card with a 0% introductory period.
You may be able to find a better interest rate by going with in-house financing offered by the jewelry store or department store where you purchase your ring. However, keep in mind that these financing offers may have increasingly high interest rates after a promotional period.
Be sure to shop around and try to find the best interest rate you can get, since the rate you pay can make a difference of several hundred dollars over the lifetime of the loan.
Why Is Acorn Finance The Best Place For Engagement Ring Financing?
Acorn Finance has a network of top national lenders that are ready to compete for your business. By submitting one form, you can receive personalized loan offers for engagement ring financing – all within 60 seconds or less. The best part, checking offers will not impact your credit score. Getting prequalified can send you shopping with confidence and a budget for the ring of your dreams that works for your budget.
At Acorn Finance, our lending partners can offer personal loans up to $100,000, depending on credit score. APRs start at just 3,99%, again, depending on credit score..Consumers can receive their funds quickly – typically within 1-2 business days, although funding times may vary.
How can I buy an engagement ring with no money?
If you don't have the funds upfront to buy the engagement ring of your dreams, there are a variety of ways you can finance the expense and pay for it over time.
The most common way to purchase an engagement ring with no money is to use a credit card or to use the financing department at the jewelry or department store you are shopping at. In addition, some consumers may choose to take out a personal loan in order to pay for the expense. A personal loan is a great way to pay for any minor or major expense or purchase.
Alternatively, you could use a "Buy Now, Pay Later" type of service such as Affirm or Afterpay.
What kind of credit do I need to finance an engagement ring?
In general, most lenders will want to see a credit score of at least 640 and above in order to approve applicants for the best deals and interest rates on a variety of loan products and lines of credit. If your credit is lower than 640, you still have plenty of options available to you including online lenders and credit unions. You just might have to shell out a bit more in interest.
Applicants who are having trouble qualifying for a personal loan or payment plan on their own may be able to use a cosigner or co-borrower with good credit to help them access better rates and get approved for financing.
How much money should I spend on an engagement ring?
Traditionally, the advice given to prospective grooms has been to spend approximately 3 months' salary on the engagement ring. However, today this advice has largely been replaced with the wisdom to buy what you can afford. Rather than follow an outdated and unrealistic rule of thumb, it is more important to take a look at your own personal financial situation and your partner's expectations.
The average cost of an engagement ring varies by region, but the national average sits right around $6,000 as of 2021. The price of your ring will vary depending on the type, setting and stone you select for your purchase.
Don't forget to factor in the upcoming cost of the wedding bands as well, which typically run around $1,100 for a women's band and $550 for a men's band.
In addition, it is recommended that shoppers purchase ring insurance, which can also add on to the total cost. In fact, nearly 70% of ring buyers also purchased insurance on the ring.
How much are monthly payments on an engagement ring?
The monthly payment that you will end up paying as a result of financing your engagement ring purchase will depend on a variety of factors.
The cost of the ring, the interest rate you receive, and any loan fees that come with the loan all contribute to determining your monthly payment. The average cost of an engagement ring is approximately $6,000 and the average loan term for a personal loan ranges from 2 to 7 years.
Lastly, the loan term that you select will make the largest difference in how much your monthly payment is. The longer the loan term – the smaller the monthly payment. Shorter loan terms translate into larger monthly payments but offer the benefit of getting out of debt sooner. You can estimate monthly payments by using a payment calculator.
How does paying for an engagement ring work?
There are many ways that engaged couples can pay for their engagement ring. Most consumers today still purchase their rings from jewelry stores or department stores, although online shopping is becoming an increasingly popular option for ring shoppers to score good deals.
Aside from using cash upfront from savings or borrowed from loved ones, ring shoppers can take out a personal loan, use credit cards, or even use a home equity loan or line of credit. Many jewelry stores also offer their own in-house financing to customers.
Alternatively, you could use a "Buy Now, Pay Later" type of service such as Affirm or Afterpay. These services often offer instant financing decisions and allow consumers to spread out the cost of their purchase of a few short monthly payments with little to no interest or fees. If you qualify, these services can be one of the best ways to finance a major purchase like a ring.
If you are considering a personal loan for engagement ring financing, you should check offers at Acorn Finance. With no impact on your credit score, you can compare offers and various types of financing. After all, starting your marriage out in a healthy financial spot will benefit you in the long run. The more offers you check, the better chance of finding the best deal you have.
How Does Acorn Finance Compare?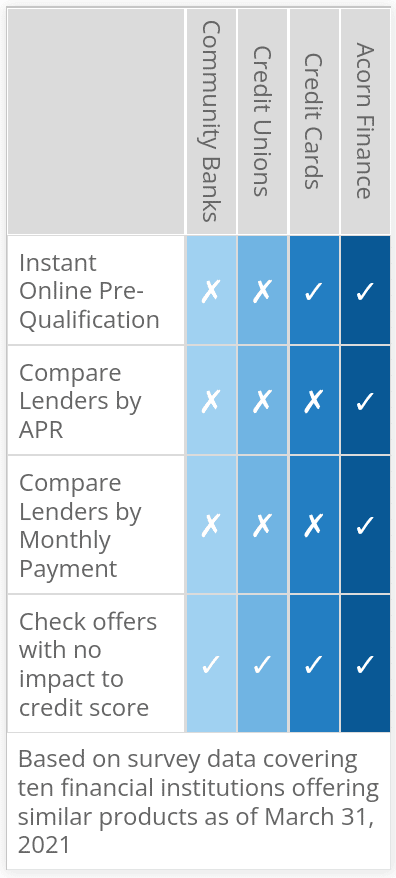 Compare Rates From Top Lenders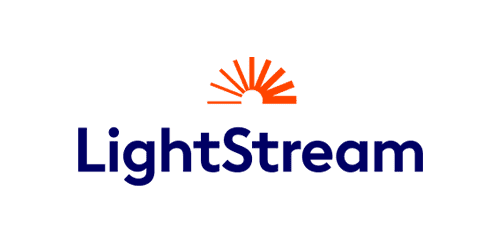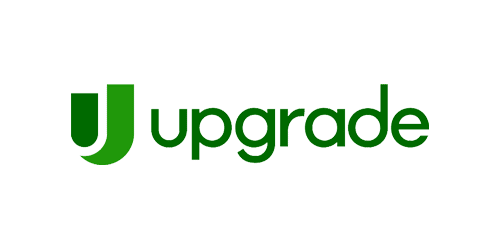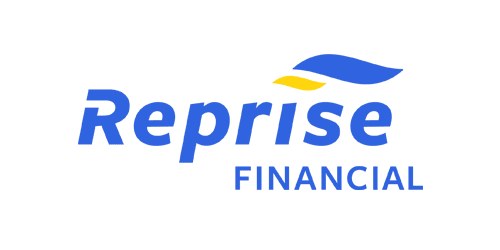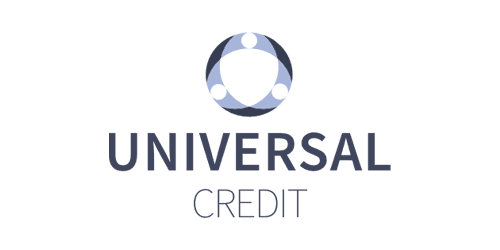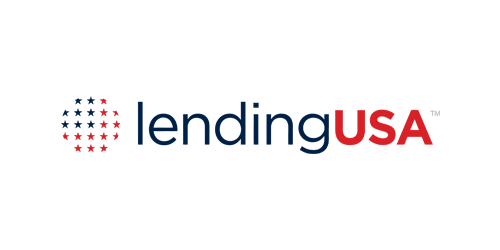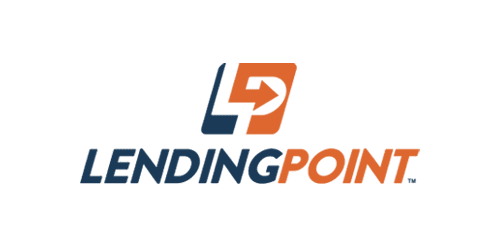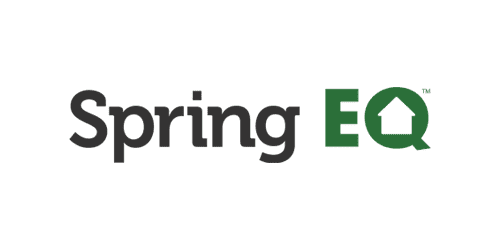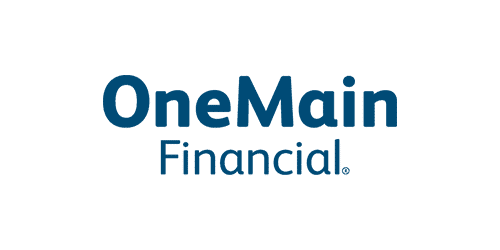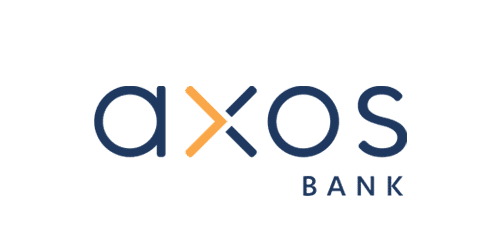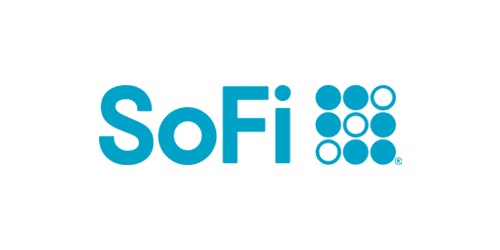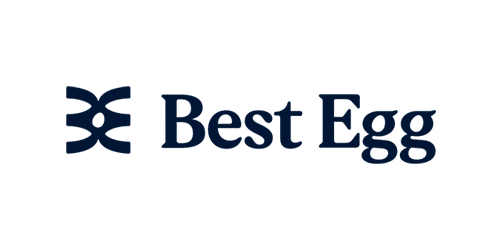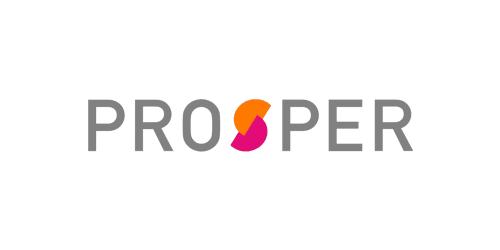 Are you a contractor?
Generate more revenue with Acorn Finance.
Offer customers the ability to finance their dreams with zero dealer fees.
Get Started
Popular Home Improvement Projects
Barn Financing Options
One home, endless possibilities
Personal Loan Information