Kitchen Remodel Financing
Get personalized rates in 60 seconds for kitchen remodel loans without affecting your credit score.
How much would you like to finance?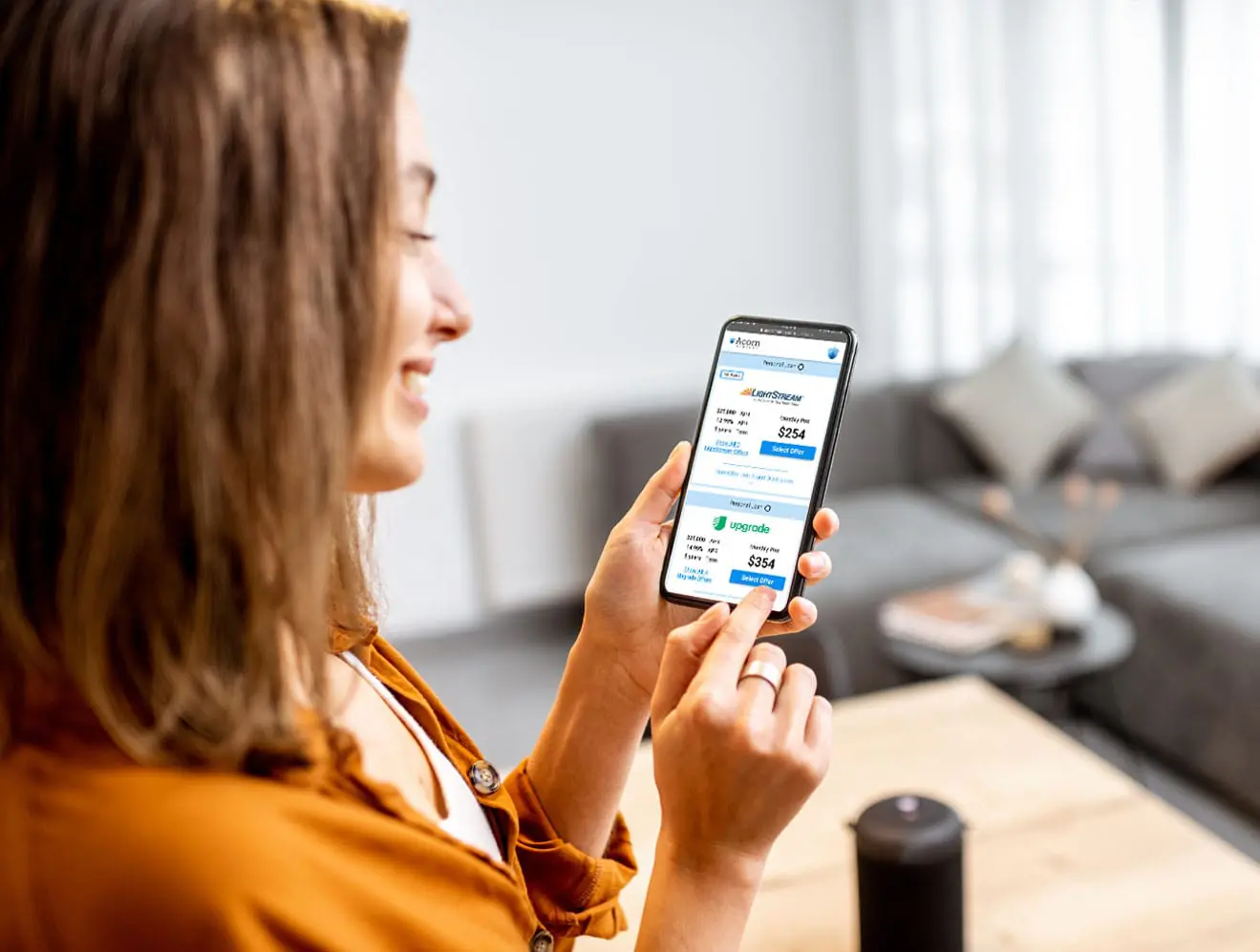 Kitchen Remodel Loans
If you have been dreaming of a new kitchen, let Acorn Finance help. Compare personalized offers from lenders in our network, with no impact to your credit score when shopping around for your new kitchen. We'll help you check for pre-qualified offers in seconds with our broad network of national lending partners who are ready to finance your kitchen remodel or addition. If you finance your kitchen with Acorn, our 100% online, customer-friendly process is designed to help you find affordable payment options with lenders that can quickly fund your kitchen renovation.
Check Offers
Quick. Simple. Secure.
Kitchen Remodel Loan Financing
Check New Kitchen Financing Offers With No Impact To Your Credit Score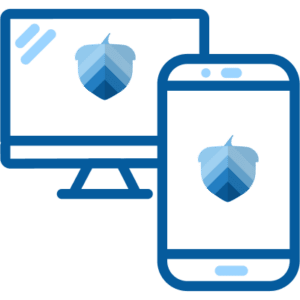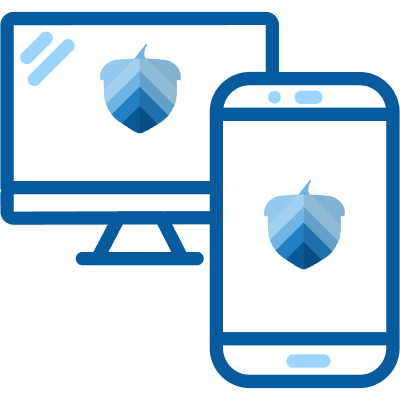 Fill out an easy online form to check for pre-qualified offers with no impact to your credit score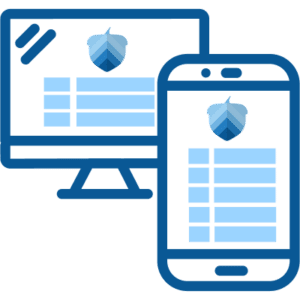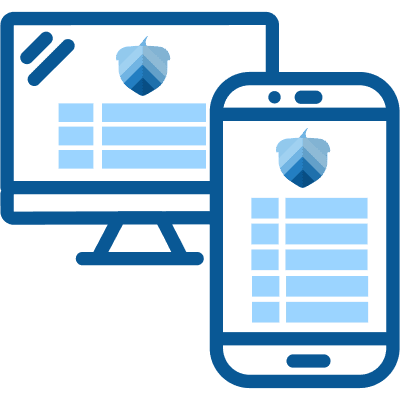 Compare terms and payment options to select the offer that's best for you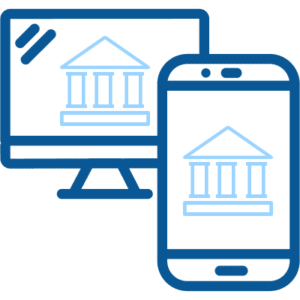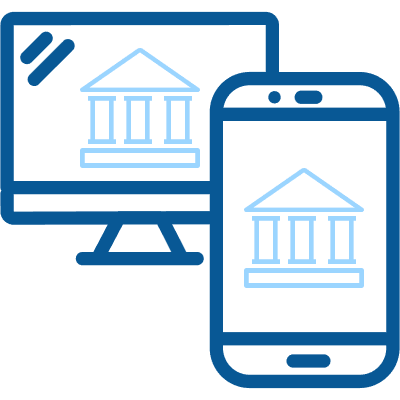 Complete your application on your selected lender's website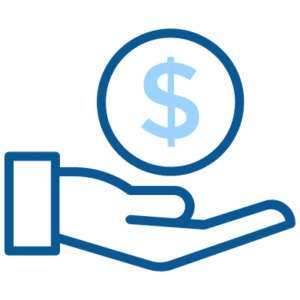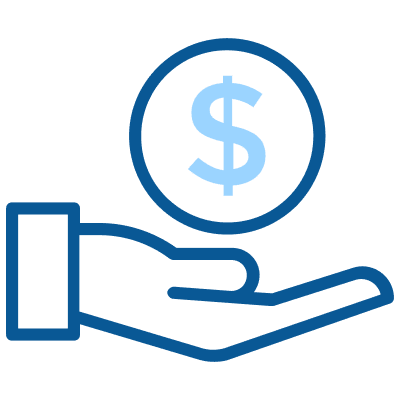 After your loan is approved, your funds should arrive within 1-2 business days2
Check Offers For Kitchen Remodel Loans
Check offers
in seconds
Get pre-qualified for loan offers with an easy online form
Won't impact
credit scores
Checking offers will not impact your credit score
Competitive
payment options
Compare rates from our network of lenders
Receive
funds quickly
Same-day and next-day available for certain offers2
Compare Rates From Lenders in Our Network
How To Finance a Kitchen Remodel or Renovation
Make the kitchen of your dreams a reality using kitchen remodel financing. A new kitchen can be a wise investment that may increase the value of your home. It may also bring more joy to you and your family. After all the kitchen is considered the heart of most homes. Acorn Finance is a leading provider for kitchen remodel financing. On approved loans, you can get up to a $100,000 personal loan and take as long as 12 years to pay it back. Let's explore the various kitchen remodel financing options available for good and bad credit.
Can I finance a kitchen remodel?
A kitchen remodel can be financed. Financing is available for appliances, labor, materials, and just about anything else involved with a kitchen remodel. Some retailers or manufacturers may offer promotional 0% financing for appliances or materials. If you are working with a manufacturer or retailer that has promotional financing it may be worth looking into. You may choose to use multiple types of financing or one single loan for a kitchen remodel. There is no right or wrong way to finance a kitchen remodel. The most important thing is that you do your research and choose the best financing option for your situation. Below, we will discuss some of the best ways to finance a kitchen remodel.
Can you remodel a kitchen for $5,000?
Consumer Reports says that you can remodel a kitchen for $5,000 but be prepared to do most of the work yourself. In addition, you may be limited on what you can do. This means you'll need to get creative and prioritize what will transform the kitchen the most. In order to stay on budget you'll probably need to keep most of the kitchen original like the floorplan, floors, appliances and so on. Let's take a look at some budget friendly changes you can make to get the most out of a $5,000 kitchen remodel. . .
Reface cabinets
Replace hardware
Fresh paint for the walls
Paint or replace countertops
Upgrade lighting for brighter, whiter lighting
Install a shiplap or aluminum backsplash
Can I remodel a kitchen for $10,000?
A $10,000 kitchen remodel should be doable. While this is a larger budget than $5,000, you may still need to DIY most of the remodel. Above we recommend some affordable kitchen remodeling projects for a $5,000 budget. You should focus on the same types of changes with a $10,000 budget but perhaps add a few things to the list. With a $10,000 budget you may also be able to replace flooring or appliances or maybe even hire a contractor to do some of the heavy lifting.
Can you finance kitchen cabinets?
Kitchen cabinets can be financed. If you are using one secured or unsecured loan to cover all kitchen remodeling costs, be sure to borrow enough money to purchase and install new cabinets. In some cases, homeowners may use financing offered by a retailer or manufacturer to finance just the cabinets. If a manufacturer or retailer is offering promotional financing this may make sense. However, in most cases promotional financing is only available for a short term. While it may sound appealing, be sure you can cover the monthly payment and pay off the loan balance before the promotional period expires.
How much does a full kitchen remodel cost?
A full kitchen remodel averages about $13,356 to $37,715. That breaks down to about $75 to $250 per square foot. The quality of materials, size of kitchen, layout, and other factors may impact the cost of a remodel. If you can DIY most of the upgrades you can save tons of money. Home Advisor says that about 29% of your budget will go toward cabinetry and hardware, 17% usually goes towards installation, 14% toward appliances and ventilation, and so forth. The rest of the budget should go toward smaller expenses such as countertops, design fees, lighting, flooring, doors and windows, etc.
Where should I save money for a kitchen remodel?
You may be wondering where you can cut costs and save money for a kitchen remodel. You want to make sure you spend enough to do things the right way, but expenses add up quickly. It's important to decide your total budget and how it will be allocated prior to starting the remodel. If you are looking to shave down costs, there are some ways you can save. When it comes to appliances, you should be practical. Some appliances may last longer than others. The ones designed to last longer may deserve more of your budget. Countertops are another area you may be able to save money on. While countertops are often a focal point, there are plenty of affordable countertop options. For example, laminate countertops can be significantly cheaper than granite yet they can mimic the design. Lastly, cabinets are expensive. Before deciding to replace all cabinetry in your kitchen, you should look into giving the existing cabinets a facelift.
Best Way To Finance a Kitchen Remodel
In most cases, you can finance a kitchen remodel and typically have multiple types of loans available. It's up to you to do your homework and select the loan that is best for you. Personal loans can be an attractive option because they typically do not require collateral. In addition, the interest can be much lower than using your personal credit card. AcornFinance.com is a reliable and top-rated company that provides personal loans for kitchen remodel financing. Take advantage of affordable payment options and free services while saving tons of time.
Three steps to get started with Acorn Finance:
#1. Complete and submit a short loan application online
#2. Receive multiple pre-qualified offers
#3. Get connected with lenders to obtain your pre-qualified loan
Is there a minimum amount I can finance for a kitchen remodel?
Different lenders typically have different minimum loan amounts. On average minimum loan amounts usually start as low as $1,500.
How much does a new kitchen cost on average?
On average a new kitchen remodel typically costs between $12,601 to $35,059. This breaks down to about $75 to $250 per square foot. The size of the kitchen, materials selected, and whether the layout is changed or not, can all affect the total cost.
What credit score is needed to apply for kitchen financing?
Acorn Finance partners with multiple lenders that can provide kitchen remodel financing for all credit types. However, having a minimum credit score of 620 can increase your chance of approval.
Pros & Cons of Financing a New Kitchen
Let's take a look at the pros and cons of financing a new kitchen.
Pros
Increase home value
Upgrade to more energy efficient appliances
Bring the kitchen of your dreams to life
Affordable monthly payments
Cons
Interest and fees
Construction in your home
Time consuming
Taking on debt
Best options for kitchen remodel financing
Personal Loan
Personal loans are available for all types of credit and can be used for kitchen remodel financing. Although rates may be higher compared to secured loans, most personal loans don't require any collateral. Personal loans are often easier to secure and tend to be less risky than comparable options. Comparing lenders is important if you decide to use a personal loan. Most likely, many lenders will be competing to secure your loan. This means you have the ability to shop rates and terms and make sure you get the best deal. AcornFinance.com is a secure platform that allows you to submit one application and receive multiple personalized offers from lenders.
Pros
Simple application and approval process
No collateral needed
Fixed interest rate
Competitive rates and terms
Borrow from $1,500 to $100,000
Quick funding
Cons
Credit history necessary in most cases
Fixed payments
Many personal loans have origination fees
Some personal loans come with prepayment penalties
Mortgage Refinance
Refinancing your mortgage may be an option to finance your kitchen remodel. However, it typically has more risks and takes more time than using a personal loan.
Pros
Receive lower mortgage rate
Cash out on current equity
Convert to a fixed rate
Cons
Applying for a new mortgage
Cost of refinancing
Time consuming compared to other options
Home Equity Loan
Home equity loans are a secured loan that uses your home's equity as collateral. Since a kitchen remodel can increase the value of your home it may make sense to consider a home equity loan. However, compared to a personal loan there may be more risks involved when using a home equity loan. The equity of your home is calculated by taking your home's current value and subtracting what you've paid so far toward your mortgage.
Pros
Interest rates are typically fixed
Proceeds from loan are typically received in a lump sum
Money can be used for just about anything
Interest rates can be lower than a personal loan because you're borrowing with collateral
Tax benefits
Cons
Possessions may be lost if you fall behind on payments
Closing costs and fees
Increased risk of going "underwater" if home value decreases
Personal Credit Cards
Credit cards can be a convenient solution for kitchen remodel financing. Some credit cards may offer special 0% interest promotions that you can take advantage of. However, in most cases credit cards have higher interest than personal loans. In addition, your maximum spending limit may not cover the cost of your kitchen remodel.
Pros
Build your credit
Convenient
Potential to earn rewards
Buy now, pay later
Theft protection
Special promotions may apply
Cons
Higher interest rates
Annual fees may apply
Vague approval requirements
Read the fine print
Increased risk for fraud
Should I pay cash for kitchen remodel?
If you can afford to pay cash for a kitchen remodel, it can save you money. However, if it will cause you to empty out your savings, leaving no funds for emergencies, you may want to consider financing.
The upside to financing is that you can make affordable monthly payments. In addition, you may be able to expand your budget, purchase higher-end appliances, and so on. However, financing costs money.
For some parts of your kitchen remodel, such as purchasing appliances, you may be able to secure 0% promotional financing. Some retailers may offer promotional financing that allows you to make monthly payments without paying extra fees or interest. However, promotional periods are often short so you will need to make sure you can pay the balance in full before the period expires.
While promotional financing may be a cost-effective way to finance some of your kitchen remodel, you may need to pay cash for the rest or seek alternative financing methods. When considering kitchen remodel financing, you should consider the total loan cost. The less money you borrow, the less the loan should cost you. If you have extra cash, you may want to pay cash for some of your kitchen remodel and finance some.
How much should a 10'10 kitchen remodel cost?
A 10 x 10 or 100 square foot kitchen is considered a medium-size kitchen. Remodel costs for a 10'10 kitchen usually run between $15,00 to $30,000.
What is the most expensive part of a kitchen remodel?
Kitchen cabinets are usually the most expensive part of a remodel. As you begin the design phase, you may want to start with the more expensive items first. If your existing kitchen cabinets are functional and in good condition, you may want to consider just refacing them. You may even be able to just replace hardware. You can make a lasting impact on your kitchen without replacing cabinets. In some cases, kitchen cabinets may need replacement. If so, you should consider prefab cabinets rather than custom cabinets, this can help you save a lot of money. You may even be able to repair your existing cabinets. As you prepare to remodel your kitchen you should have a contractor come out and provide expert advice on how to remodel your kitchen on a budget.
Setting a budget before you dive into your kitchen remodel can help you stay on track. It's easy to get carried away with a kitchen remodel. Every step of the way you will encounter decisions, some that are more costly than others. In the heat of the moment, you may want the best of the best for every aspect of your kitchen. This may be fun while shopping, but you may regret it when it's time to pay the bill.
Can you remodel a kitchen for $25000?
With a $25,000 budget, you should be able to remodel a kitchen. This should be enough money to upgrade nearly every aspect of your kitchen. If you have an extremely large kitchen, you may need a larger budget, but for most kitchens this is a fair budget. Notice we say fair, not substantial. While $25,000 is not pocket change for most of us, you will need to choose and spend wisely to renovate an entire kitchen with this budget.
If you are imagining custom kitchen cabinetry and a whole new kitchen layout, you will probably need to up your budget. However, if you will be happy with pre-assembled cabinets, new flooring, new appliances, updated light fixtures, and so forth, a $25,000 budget should be plenty. As with any budget, it's important to decide what is most important to you. If you really want custom kitchen cabinets, perhaps you splurge here but give up the new appliances. Kitchen cabinets and countertops can consume much of your kitchen remodel budget. If you can save on either of these areas, you can distribute funds more evenly. A budget of $25,000 is enough to execute a substantial remodel project for your kitchen. With a $25,000 budget, you may even be able to use high-end materials and a team of professionals to get the job done. In a recent study, 26% of people remodeling their home spent about $25,000-$50,000 on the kitchen. This provides some evidence that $25,000 may be a reasonable budget to remodel your kitchen.Now that you have determined the budget for your remodel, you will start making tough decisions that may be influenced by your budget. Homeowners should know that a large portion of your budget will likely go toward cabinetry. In fact, 48% of the kitchen remodel budget usually goes towards cabinet and drawers. After that, countertops, appliances, plumbing, electrical, flooring, and trimmings are other costly parts of a kitchen remodel.
If you are spending $25,000 on your project, you should be able to afford a pretty extensive remodel including many of the projects noted above. However, you will probably still have to make some decisions to help keep costs down. If you can refinish cabinets rather than replacing cabinets, this can be a smart way to make your budget go farther. Another way to expand your budget is to tackle some of the projects on your own. While you may not be able to install flooring or countertops, you might be able to paint, install hardware, and complete other tasks. If you can DIY some of your kitchen remodel you can save money. You may also be able to save money by hiring your own team rather than going through a contractor.
How do most people pay for a kitchen remodel?
Homeowners often use home equity loans to finance kitchen remodels. Home equity loans can offer high loan amounts, low interest rates, and long repayment terms. In addition, they are usually tax deductible. The downside is that they can be hard to qualify for. To qualify for a home equity loan you will need to have equity in your home. You will also need to be willing to use your home as collateral. If you default on a home equity loan, you may lose your home. Some homeowners are not willing to risk this, regardless of how confident they are that they can repay the loan.
If you are unwilling or uncomfortable using your home as collateral, you should consider a personal loan or home improvement loan. Home improvement loans are another common way that many homeowners use to pay for a kitchen remodel.
Before deciding how to pay for your kitchen remodel, you should determine how much it will cost. If you will want to live somewhere else while the remodel is in progress you will want to factor in these costs as well. If you stay at home during the remodel you may have to eat out regularly, which can add up. Factor these costs as well.Undertaking a massive project like a kitchen remodel can cause a lot of stress, including financial stress. Once you can overcome the initial stressor of a kitchen remodel – how you will afford it – you can begin to enjoy the process. You can start making decisions and watch your kitchen transform. While some homeowners may use cash to pay for a kitchen remodel, this is not an option for everyone. Homeowners may dip into retirement funds or savings to pay for a kitchen remodel, but that is not always a wise choice. Homeowners often use financing to pay for a kitchen remodel.
If you use financing, your budget may be determined by a monthly payment and what you can qualify for. In some cases this allows homeowners to expand their budget and do a more extensive remodel. While financing costs more than paying cash, a kitchen remodel can increase your home value. Homeowners can easily justify the additional cost when they consider the increased value and improved quality of life.
It is very important you pay close attention to any financing deal you sign. Review the interest rate, terms, and total loan costs. You want to make sure you understand what you are committing to and only commit to something that you can honor. The idea of financing a kitchen remodel is to reduce stress, not add more stress. If you choose the right loan, you should feel confident about your decision.
How much should a 10'10 kitchen remodel cost?
A 10'10 kitchen or 100 square foot kitchen, can cost as little or as much as you would like to remodel. Generally, it's better to make some improvements as opposed to none. Most homeowners have some kind of budget. If you are remodeling a 10'10 kitchen, you should set a budget and then make a list of what is most important for the remodel.
Every kitchen and project is different but generally a 10 x10 kitchen remodel costs about $15,000 to $30,000. Typically this size of a kitchen is considered "medium."Of course, it is possible that a 10'10 remodel could cost far more than that, or even less than that too. It all depends on the grade of materials purchased as well as the cabinetry and carpentry done too. Outlining projects and costs before starting your project can help you stay on track. It can also help you allocate finds more appropriately. When doing a kitchen remodel, you may feel the need to rush to the finish line. However, doing plenty of research and enjoying the process can help you make better decisions along the way.
What is the most expensive part of a kitchen remodel?
Cabinetry is usually the most expensive part of a kitchen remodel. On average, kitchen cabinetry costs more than $15,000. On a budget of $25,000, that's far more than half. The reason for the high cost of cabinetry often has to do with the contractors hired. Creating cabinets is not an easy – or cheap – job. It takes a lot of work and expertise. Therefore, it can get quite costly too. Following the cabinetry, the most expensive area after that is new appliances, which generally comes in at around $8,000. The good news is, there are plenty of ways to save on cabinets and appliances. If you can reface existing cabinets or maybe even just replace hardware, you can cut down cabinetry costs. As for appliances, you may be able to find open-box or scratch and dent section appliances for a heavily discounted price. In some cases you may decide that new cabinets or appliances are not necessary, and that is fine too. You need to make decisions that are best for your kitchen.
How can I remodel my kitchen for cheap?
Some of us love the thrill of a good deal. Remodeling your kitchen on a budget may require compromise and extra work, but if you pull it off successfully, it can be so rewarding – financially and personally. It's important to remember that cheap does not mean finding alternative ways of doing things that may lead to hazards or may only temporarily last. A better word for cheap might be creative. For example, instead of replacing your backsplash, can you paint the existing backsplash? If you can, you just found a way to save money. Can you replace fixtures and hardware instead of tearing down all the cabinets?In some cases, a kitchen needs to be torn down to the bones. In some other cases, your kitchen may just need a little facelift. Here are some ways you can save money on your kitchen remodel:
Establish a budget: Setting your budget before you dive into a remodel can help you live within your means. While you may go over your budget some, it's easier to make tough decisions when you have a predetermined budget in mind.
Create a plan: Planning is essential for a successful kitchen remodel. Grab a notepad and write down what you have in mind. Once you have an itemized list you can start doing research as to what certain projects cost.
Paint: Painting walls, cabinets, backsplashes, and more, can transform the look of your kitchen for a fraction of the price.
Leave the design: If possible leave plumbing where it is and work with your current kitchen design. When you start moving things around, you start encountering more expenses.
Shop discounted appliances: If you are replacing appliances you should check outlet stores. In addition, large retailers may have an open-box or scratch and dent section with discounted appliances. You may be able to score high quality appliances at a discounted price.
With a little creativity there are several ways you can make an impact on your kitchen without spending a fortune. While you may not be able to complete a full kitchen remodel for "cheap," you can make a difference. Perhaps the smartest thing you can do to stay under budget is to create a strong budget before you start. You will want to do this before you order any materials. Work within your budget and build around it. This is a smart step because it will keep you on track financially and it will also prevent the prices from raging out of control.
Another smart move to keep your kitchen remodel project cheap is to not move appliances or sinks. As long as your sink and appliances work properly, you can keep them in their original spot and save yourself a lot of money.
Another cost-effective idea is to save anything you can. Replacing materials, cabinets, appliances, and more, can get expensive.Some homeowners feel that every cabinet and item needs to be ripped out of the wall and replaced with something newer and more expensive. That just isn't always the case. If you are able to keep most cabinets and items, you should. This will save you a lot of money and it will also save you the time and hassle of shopping for new items. You can paint existing cabinets or backsplashes to change the visual aspect without spending thousands of dollars. There are ways to remodel your kitchen without spending tens of thousands of dollars. While there are plenty of inexpensive upgrades that can transform your kitchen, you should focus on the ones that will make the biggest impact. So what upgrades should you focus on for a successful cheap kitchen remodel? Let's find out. . .
#1. Update kitchen cabinets and hardware
If your existing cabinets are solid and functional you can upgrade them by painting or staining and replacing hardware.
#2. Replace countertops
Homeowners should invest time into finding upscale countertops for an affordable price. Shopping at discount stores can be a great way to find high quality countertops for a fraction of the price.
#3. Brighten up lighting
While replacing light fixtures can spruce up kitchen styling, you may be able to get away with simply just replacing light bulbs. Brighter and whiter light bulbs can help make a kitchen feel more welcoming and alive.
#4. Fresh paint
A fresh coat of paint can make a huge difference without spending a big chunk of money.
#5. New appliances
Replacing appliances is not necessary but can be a smart investment, not only for resale but for personal use. If your appliances need replacement you should consider basic brands with good ratings that offer value.
#6. Backsplash
A backsplash is a cost-effective way to make your kitchen stand out. There are a variety of options for a cheap backsplash including using paint with stencils, wallpaper, or shiplap.
Does a kitchen remodel increase home value?
Yes, a kitchen model will increase the overall value of your home, however, you may want to be aware that the likelihood that you will recover 100% of your original investment is slim to none. But, remodeling a kitchen can bring other value to your home rather than simply financial. The kitchen is the most important part of the home when selling your house. Potential buyers will look at the kitchen first. If it's equipped with 25-year old appliances and outdated design features, then your chances of selling your house to a potential buyer go down. Or, if they are interested, they may determine your home is a fixer-upper and the sale prices of the home will be much lower. If you are ok with that and do not want to be bothered with the task of the remodel, then it's a fair trade-off. However, if you want the potential to attract multiple buyers who may enter into a bidding competition for your home to drive the final sales price higher, then you may need to consider a kitchen remodel. That being said, if you are not thinking about selling your home and wish to live in the home, then a kitchen remodel may be ideal for you and your family to enjoy an enhanced kitchen space with modern appliances, plenty of seating room, and an abundance of counter and storage space. You will be adding the overall financial value to your home which may not be a full 100% of your investment, as well as adding the non-quantitative value of enhanced living experience.
Is a new kitchen a good investment?
There are several reasons why installing a new kitchen may be a good investment for you and your family. For example, if you are trying to sell your home and you want to be competitive in the open housing market, then a modern kitchen may be necessary to compete. Also, maybe you are not selling your home but you are looking to make your kitchen the center of family activities. Having an open concept kitchen with an island that is adjacent to your living room can allow the cook in the family to still be an active participant in conversation while some are in the living room and some are seated at the large kitchen island. If you are looking at just the figures, then you should understand that kitchen remodels rarely recoup 100% of their initial investment. A typical mid-range kitchen remodel may bring a return on investment of somewhere around 50% and 60%. At the same time, if you go for a kitchen upgrade with a smaller scope, then you may be able to see a return on investment around 75% or 80%.
When is the best time to remodel a kitchen?
The most common time for remodeling jobs is in the summer, however, since a kitchen remodel is an indoor job, you have the liberty to choose a time that works best for your family. A kitchen remodel can be highly disruptive to your home life. Unable to use your kitchen, potential exposure to the elements, added noise, and people coming and going, all might be something you want to consider when thinking about the best time to remodel your kitchen. If you can plan it out with a time you and your family could take a vacation or stay with a relative without intruding on them too much, you may want to consider these options. If you are looking for the best time to purchase supplies for a kitchen remodel and coordinate with your general contractor, then you may want to look around times in the spring and the fall when large sales are more common. If you can manage a wintertime kitchen remodel, then you may save some costs on a general con and laborers who are often less busy during the winter months.
What are common kitchen remodel mistakes?
The designing and planning process is the most important step in your remodel. Investing extra care at this phase can save you time and money by preventing costly errors. Here are some of the most important kitchen remodel mistakes to avoid.
Lack of clearance: When designing your kitchen, especially if you are including a kitchen island, remember you always need at least 42 to 48 inches of clearance around each side to accommodate occupants using the kitchen.
Appliance misplacement: Make sure you put your refrigerator in a space where you can fully open the doors. The range should be in a space where you can easily reach it from the prep space. Think about how you are going to use your kitchen, who is going to use it, and make sure your appliances line up accordingly.
Too large of a kitchen island:Although kitchen islands are a wonderful feature, an island that is too large or an island that is awkward could easily become your worst nightmare.
Making changes after construction has started: Remember, the planning phase is critical. Any changes made midstream will for sure add unintended costs that will not be friendly for the pocketbook.
These are just a small selection of the mistakes that you could potentially make when completing a kitchen remodel. Make sure to plan thoroughly, and if you are unsure about anything, it may be worth hiring a professional kitchen designer to help you make your dream kitchen.
Where do I start when remodeling a kitchen?
When you are starting a new kitchen remodel, the first place to start is the design and planning phase. A common mistake some homeowners make during this phase is going it alone to save money. They may think that the cost of hiring a professional kitchen designer may be out of their budget, but then later down the road, they realize they could have paid for that designer tenfold when they begin to run into costly mistakes.
Is a kitchen remodel considered a home improvement?
Generally, home improvement projects refer to a project that alters the structure of an existing home in some way, including plumbing, electrical, creating additional space, etc. Adding new energy-efficient appliances could also be considered a home improvement project. Anything else that is purely cosmetic then would be considered a home remodel.
How much does it cost to renovate a small kitchen?
The average cost to remodel a small kitchen in 2021 is somewhere between $9,500 and $14,250. On the high end it is more around $25,000 to $35,000. One the low end it is closer to $3,500 to $5,000.
What is a standard size for a kitchen?
For single story homes, the average sized kitchen in the United States is 161 feet. For multi-story homes it is around 174 square feet. In some larger homes that are 4,000 square feet or more, kitchens average around 238 square feet.
Look Into Kitchen Remodel Financing Today
In conclusion, the kitchen remodel of your dreams can become a reality sooner than you imagined using kitchen remodel financing. At Acorn Finance you can check offers for loans online in less than a few minutes. Your one application can generate multiple competitive and personalized kitchen remodel loan offers. Select the one that works best for your situation with confidence that you are getting the best deal.
Take the next step... get started online today!
How Does Acorn Finance Compare?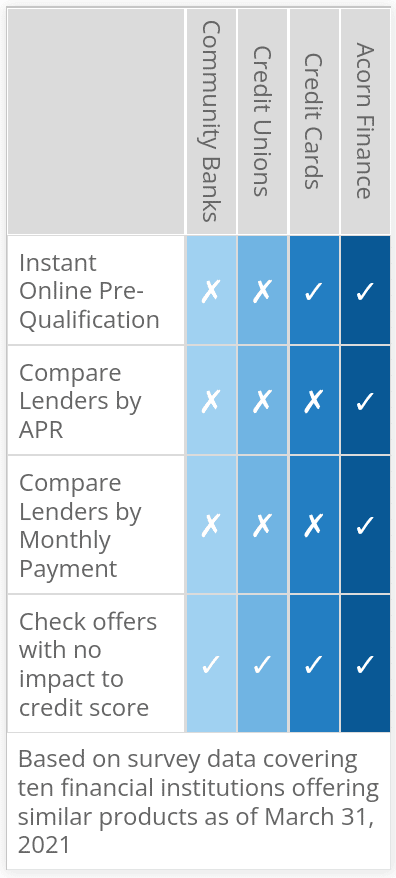 Ready To Secure Kitchen Remodel Financing?
Compare kitchen renovation loan options without affecting your credit
Check Offers
Compare Rates From Top Lenders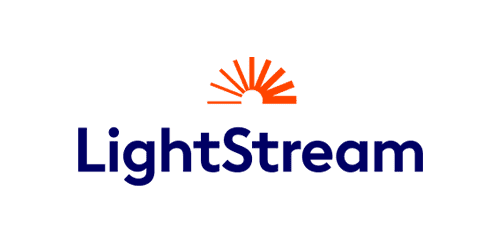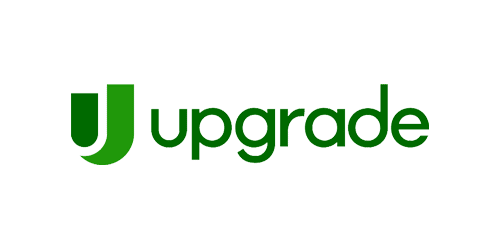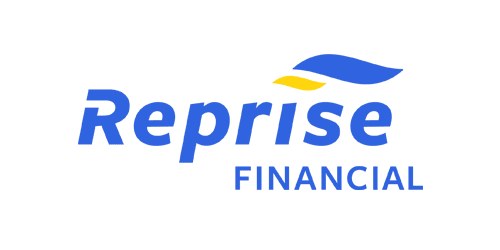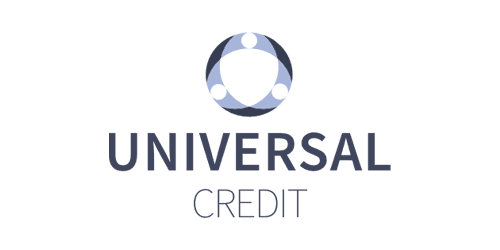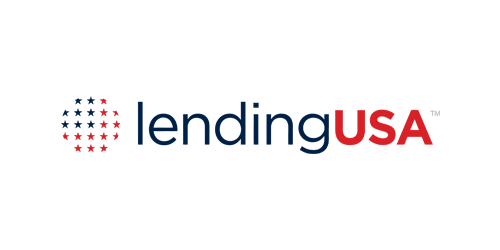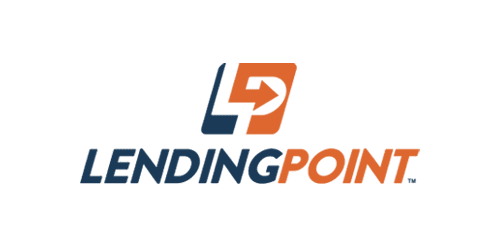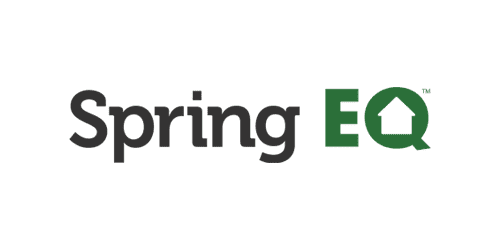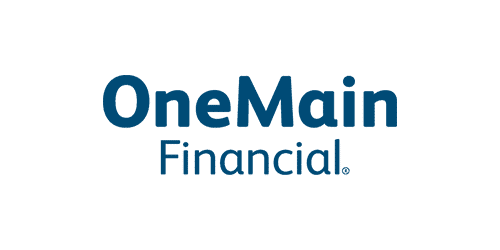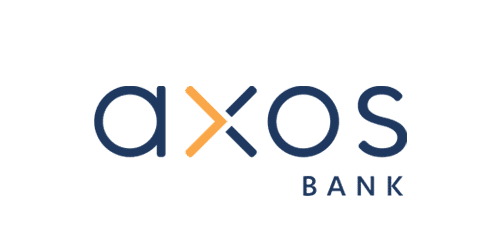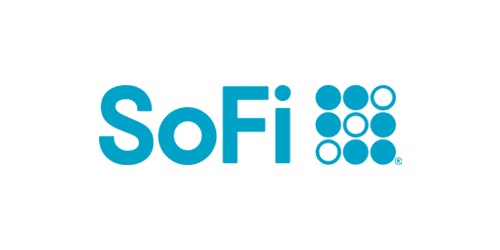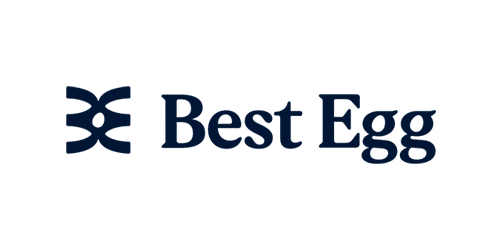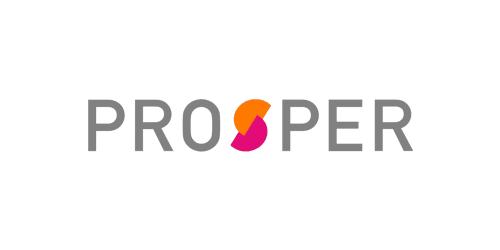 Kitchen Remodel Financing Calculator
Are You A Contractor?
Don't let kitchen remodel financing deals slip away.
Get kitchen remodel financing options with easy, affordable payment plans for your customers
Get Started
Popular Home Improvement Projects
Barn Financing Options
One home, endless possibilities
Personal Loan Information