Driveway Financing
Get financing to pave your driveway in 60 seconds with no impact to your personal credit score.
How much would you like to finance?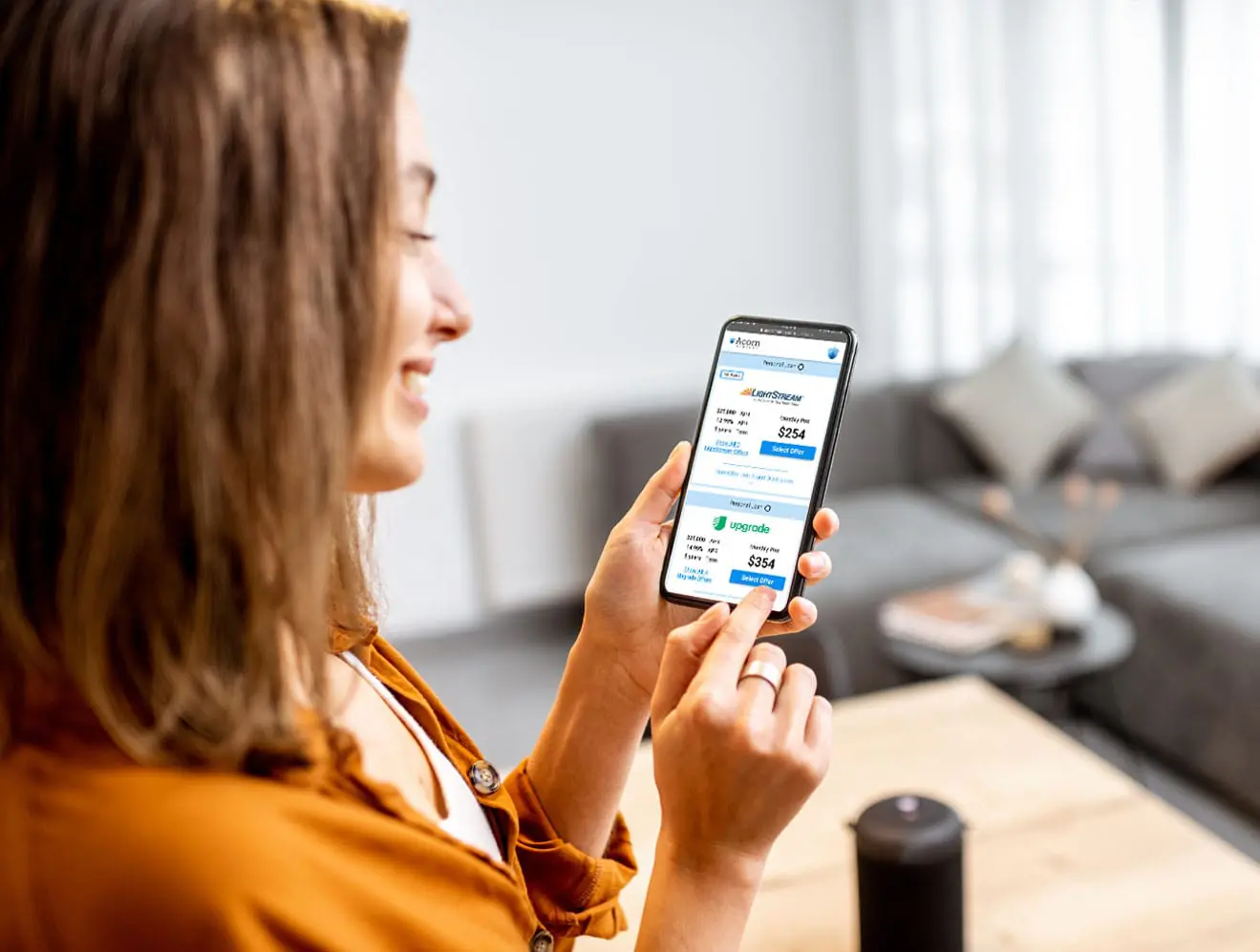 Concrete Driveway & Paving Financing
Get financing to pave your driveway today – without impacting your credit score. If you are in the middle of a home remodel and you're thinking of paving your driveway, or even need a driveway leading up to your pole barn structure, Acorn Finance can get you the financing you need.
No matter your credit score, if you want to secure driveway paving financing across the U.S., Acorn Finance will provide pre-qualified loans in seconds to get your new driveway financed quickly.
Easily sort all the driveway loan offers by what matters to you: interest rate, payment amount, length of the loan term.
Never impact your credit score when comparing rates between our network of trusted partners.
Our 100% online, customer-friendly process is designed to help you find affordable payment options with lenders that can quickly finance a new driveway you want to pave.
Check Offers
Quick. Simple. Secure.
Finance Your Driveway Paving With Acorn Finance
Check New Loan Offers With No Impact To Your Credit Score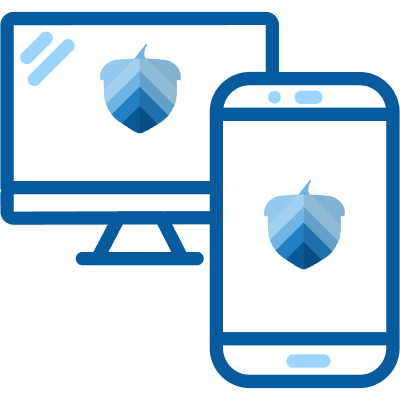 Fill out an easy online form to check for pre-qualified offers with no impact to your credit score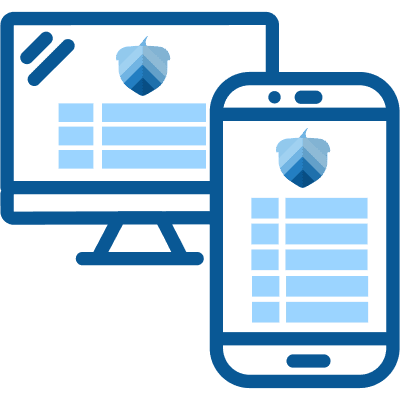 Compare terms and payment options to select the offer that's best for you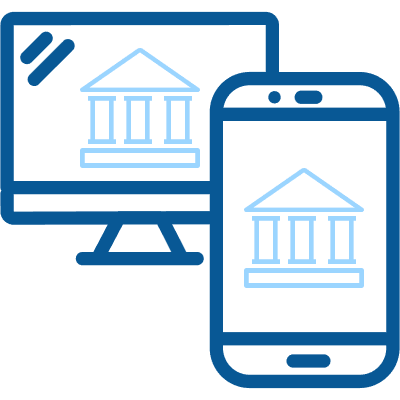 Complete your application on your selected lender's website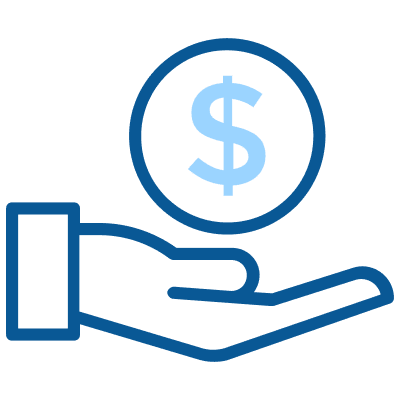 After your loan is approved, your funds should arrive within 1-2 business days2
Check Offers For Driveway Financing
Check offers
in seconds
Get pre-qualified for loan offers with an easy online form
Won't impact
credit scores
Checking offers will not impact your credit score
Competitive
payment options
Compare rates from our network of lenders
Receive
funds quickly
Same-day and next-day available for certain offers2
"I am adding a hot tub and other patio enhancements to my house. My experience using Acorn Finance was excellent."
Tracey E.
Kentucky | Patios & Decks
"I am extending my patio. My contractor informed me of possible financing and the Acorn Finance experience was awesome, very easy."
Monica L.
"The whole process itself was just so fluid, all the way through to the end. I was thinking it can't be this easy, but it really was!"
Janina D.
The process was very easy, simple, and quick. That checks the boxes on my list!
Diane B.
Applying for a loan and receiving funds was seamless. The experience was pleasant with no pressure or anxiety.
J. Hill G.
Get a Driveway on Finance
Financing is available for building a new driveway or repaving an existing driveway. One of the best times to repave or build a new driveway is at the end of summer. Typically at the end of summer temperatures have cooled down but are still warm enough to avoid freezing. Building or repaving a driveway can increase your home value and curb appeal. So how do you know if it's time to repave a driveway?
If a driveway has ruts, big cracks, potholes, chunks of eroding pavement, aged appearance, missing pieces, or looks weathered… it's probably time to repave the driveway. Paying cash is one of the cheapest ways to pay for a new driveway or repaving job. However, if you are in a time crunch or would rather save your cash for a rainy day, many competitive driveway financing options are available for all credit types. Keep reading to learn more about paving a driveway and financing a driveway.
Can you finance a driveway?
Yes, you can finance a driveway. Most homeowners use personal loans to finance a new driveway or repair an existing driveway. Getting a personal loan can be a simple process that can be done online. Once your loan is approved funds can be available as soon as 24 hours. In addition, personal loans typically do not require any collateral making the a safer loan option for the borrower. Whether you have good credit or bad credit you can qualify for driveway financing. Acorn Finance offers personal loans for all credit types with loan amounts up to $100,000 and terms up to 7 years. Personal loans can be used for a wide variety of home improvement projects.
What is the going rate for paving a driveway?
The average cost to pave a driveway can depend on the size and type of driveway you have. Concrete driveways can cost more than blacktop or asphalt driveways. On average, installing a new concrete driveway costs around $6 per square foot. While the average cost of installing new asphalt driveways is around $3-$4 per square foot. Repaving usually costs less. Repaving asphalt driveways usually costs about $1-$3 per square foot. Specialty driveways such as brick or cobble can cost significantly more money. They can range from $10 to $70+ per square foot depending on the cost of materials.
Does a driveway add value to a house?
Paving or repaving a driveway can be a wise investment. It can increase curb appeal and help your home sell faster. Repaving your driveway can also help eliminate future repairs. Asphalt driveways can require less maintenance than comparable options and are less likely to crack over time. A properly installed asphalt driveway can last 20-25 years.
How much does it cost to pave a 200-foot driveway?
The type of driveway you want can vary the cost. The average cost of paving a 200-foot asphalt driveway is about $800. The average cost of paving a 200-foot concrete driveway is about $1,200.
How much does it cost to pave a 100-foot driveway?
Paving a 100-foot asphalt driveway costs about $400. Paving a 100-foot concrete driveway costs about $600.
What is the cheapest option for a driveway?
While gravel can be one of the most inexpensive paving options, asphalt may be a better investment. Compared to gravel, asphalt is an inexpensive option that is durable and requires minimal maintenance. Asphalt can offer more curb appeal than gravel.
Can you pave a driveway yourself?
While you can pave a driveway yourself, it's best to hire a professional contractor in most cases. Paving a driveway is not that complicated but it requires the proper equipment, hard work, and usually more than one person.
How can I widen my driveway cheaply?
In most cases, you do not need a permit to build a new driveway or repave a driveway. Just be sure to use permeable surfacing that allows water to drain through.
How to finance paving a new driveway:
As we discussed earlier, a personal loan can be one of the easiest and fastest ways to finance a driveway. There are many lenders that can offer personal loans for driveway financing. This means it's important to compare offers and get the best deal. Acorn Finance offers a user-friendly and secure platform that can help you compare personalized loan offers. Simply submit one application and receive multiple offers within seconds.
How can I fix a cheap muddy driveway?
Muddy driveways can be muddy and messy while causing all types of problems. Ignoring the problem of a muddy driveway can lead to more expensive and more troublesome issues. A muddy driveway usually does not fix itself. Whether you want to repair a muddy driveway or lay a new driveway you can use financing. So how do you fix a muddy driveway without repaving or putting in a new driveway? An easy fix for a muddy driveway is to add small rocks or crushed stone to muddy areas. When laying the rocks you should make sure there are no spaces between them. While this is an easy fix, you'll want to be sure the rock is layered correctly. If rock is not properly installed it could eventually cause potholes. While there are other ways to fix a muddy driveway, rock or gravel is a relatively simple and inexpensive option that can work for most muddy driveways.
Which option is cheaper: paved asphalt driveway vs. concrete driveway
In most cases, an asphalt driveway is cheaper than a concrete driveway. However, maintenance costs for a concrete driveway may be less. While a concrete driveway may have less maintenance costs, both concrete and asphalt driveways require maintenance and can crack. With proper maintenance, a concrete driveway can last 50+ years and an asphalt driveway can last about 30 years. If you are trying to decide between a concrete or asphalt driveway you should consider climate, weather, and aesthetic. Asphalt driveways may withstand cold climates better than concrete driveways. While concrete driveways may withstand warm climates better than asphalt driveways. Homeowners trying to achieve a certain aesthetic may want to consider a concrete driveway. Concrete driveways can be stained, tinted, stamped, etc. Finishing touches such as these can enhance the curb appeal of your home. Asphalt driveways typically only come in gray or black and don't take well to tinting, stamping or other finishing touches.
How much does paving my driveway cost?
According to Home Advisor, paving an asphalt driveway costs $4,737 on average. Most asphalt paving projects cost between $7 to $13 per square foot including materials and labor. According to Concrete Network, a concrete driveway usually costs between $8 to $18 per square foot. The cost of a concrete driveway can vary depending on the color and finishes. If you are building a custom concrete driveway with a complex design you can easily spend more than $18 per square foot. Whether you are paving an asphalt or concrete driveway, the design and size of the driveway can impact the cost. The size, location, thickness, design, and material contribute to the total cost of installing a driveway. Similar to other big ticket home improvement projects, you should compare estimates for driveway paving. In addition, you should compare reviews. Asking friends or family for a referral can help you find an affordable and reliable driveway paving company.
Is it cheaper to pave or concrete a driveway?
In most cases, paving an asphalt driveway is cheaper than a concrete driveway. We encourage homeowners to get past the initial sticker shock of what a driveway costs. While an asphalt driveway may be cheaper, a concrete driveway may be better. The type of driveway that is best usually depends on the aesthetic you are trying to achieve and your location. If you plan on using financing, you may be able to invest a little more into your driveway project. Financing a few thousand dollars extra may only increase your monthly payment by $70 to $90 or so. Driveway financing allows homeowners to build a driveway that makes their home stand out, thus increasing its value.
What is the best paving for driveways?
Concrete and asphalt are popular surfaces for paving driveways. Concrete and asphalt are fairly affordable and long-lasting. However, if they just don't flow with the style of your home, they may not be the best option. In addition to aesthetic and styling, homeowners should consider climate when determining what surface is best for the driveway. Of course, your budget matters too when selecting a surface but avoid "cheaping out" and doing your home value a disservice. If you do not have enough cash available to build the driveway that is most suitable for your home, you should use driveway financing.
What is the cheapest way to do a driveway?
A gravel driveway may be one of the cheapest ways to build a driveway. Gravel driveways may require extra design touches to enhance curb appeal since the gravel itself may be a bit harsh looking. Lining a gravel driveway with brick and adding greenery can help improve curb appeal. Gravel can cost as little as $0.50 per square foot and requires minimal maintenance. In addition, gravel driveways are a relatively easy DIY project. Some homeowners prefer a gravel driveway because they are environmentally friendly and durable. If you live in an area where it snows, gravel driveways may be an annoyance as snow plows and gravel usually do not get along.
How much do different driveway materials cost
As discussed, the type of material you choose can impact the cost of a driveway. While the upfront cost is important, you should consider the durability and maintenance of driveway materials as well. Selecting a driveway material can be overwhelming with so many choices available. It may be beneficial to consult a professional for driveway material recommendations that are best suited for your area. Let's compare driveway materials and what they cost. . .
#1. Pavers
Pavers such as tile, brick, or brick-like pieces of concrete can be used for driveways, pathways, and walkways. Pavers are usually made out of natural stone, brick, clay, or concrete. Unlike an asphalt driveway, pavers offer homeowners a variety of colors and styles to choose from. With more choices comes a higher price tag. The type of pavers you use can impact the cost. According to Home Advisor, brick pavers cost between $8 to $25 per square foot. While stone pavers can cost around $50 per square foot.
#2. Concrete
Concrete driveways are a popular choice that is economical. Concrete driveways provide homeowners plenty of styles, colors, and finishes. Total costs can depend on the complexity of the driveway design and finishes. If you are installing a plain gray concrete driveway it can cost between $5 to $7 per square foot. If you are installing a more complex concrete driveway it can cost between $8 to $18 per square foot.
#3. Asphalt
Asphalt driveways are an economical choice with few options. While some homeowners may appreciate the simplicity that asphalt driveways offer, other homeowners may want more options. If you go with an asphalt driveway you should prepare to reseal it about every three years. The good news is – it's fairly inexpensive to reseal an asphalt driveway. We recommend finding an asphalt company that you like and getting on a schedule with them for resealing. Perhaps your neighbors want to join the schedule as well. You may be able to get a discount for syncing schedules. Asphalt driveways usually cost about $7 to $13 per square foot including materials and labor.
Best time of year to repave a driveway
If you are repaving a blacktop driveway, most experts recommend that late spring to early fall is the best time to do so. This recommendation may vary depending on where you live. It's best to pave asphalt when air and surface temperatures are 50℉ or higher. If you live in an area where it snows or gets extremely cold you may want to wait for late spring or summer to repave your driveway. Paving over water or moisture can damage base layers. In addition, it can cause the asphalt to cool too quickly. Asphalt is easier to manage and more pliable for longer periods when weather is warmer. Asphalt professionals can have more time to pave when weather conditions are warm, thus allowing them to do the best job possible.
Can you get a driveway paved with bad credit?
Yes, you can get a driveway paved with bad credit. There are a lot of reasons for wanting to get a driveway paved. It may have cracks, potholes, or eroding pavement. It may be missing bricks or cobble. Maybe you're selling your house. Or it might just be time for an upgrade. Getting a new driveway can completely change the feel of your house.
Getting a driveway paved can cost anywhere from $1,000 to $10,000, so most people need to get the project financed. The most common ways are through personal loans, home equity loans, and home equity lines of credit. All of these loans can be secured if you have bad credit, although you will have less favorable interest rates and fees, which means a higher APR. You may also have a shorter term.
Another option is to raise your credit before applying to loans. You can do this by paying off outstanding debt, especially debt that went to collections. You can also open a new line of credit and use it for things you already have budgeted for, like groceries or gas. This way you will always pay it off and it will boost your credit score.
Can you finance a driveway with bad credit?
Yes, you can finance a driveway with bad credit. Personal loans are a common way to finance a new driveway or repave an old driveway. Personal loans are unsecured loans, which means they do not require collateral. Collateral is personal assets that can be taken away if you default on the loan. With bad credit, you will have a high APR. Since personal loans do not require collateral, you may need a cosigner to qualify, depending on how bad your credit is. Qualifying for a secured loan may be easier in terms of credit score, but harder in other ways.
If you have equity in your home, you may be able to qualify for a home equity line of credit (HELOC).

A HELOC is a revolving line of credit that is secured by the equity in your home. Secured loans or lines of credit may have lower interest rates than unsecured loans, but require the borrower to take more risk. If you can't cover all of your monthly payments, the lender can foreclose your home so be careful.
If your credit is really bad, you can get a no credit check loan. Lenders that don't check your credit will charge you higher interest rates and fees. Payday loans and high-rate installment loans don't need a credit check. You can also get an auto title loan or pawn loan without a credit check. But these should only be used as a last resort. Instead, go to a credit union that offers a payday alternative loan. This should have much better terms.
Can you finance a new driveway with a 600 credit score?
Your credit doesn't have to be perfect to get a personal loan. However, if your credit is fair, which is below average, you may have narrower loan options and a hard time getting good interest rates and terms. Lenders look at your credit score as a way to gauge how trustworthy you are to give a loan.
First, look around for the right lender. You can start with a bank or credit union that you already have a working relationship with. Find out what their requirements are. If you feel they can help you get financing for a new driveway, apply. However, before you accept the offer you should compare it to other offers. At Acorn Finance you can check offers from multiple lenders without impacting your credit score. Lastly, once you have gathered all the information and offers you need, choose the loan that is best. If you are having trouble finding a loan with reasonable terms, consider using a cosigner.
You can also improve your credit score if you have time. If you find inaccuracies on your credit report, you can dispute them. You can also pay down your debt which will raise your credit score. Pay your bills on time because even one missed payment can stay on your credit report for seven years.
What credit score is needed to finance a new driveway or paving a driveway?
Lenders typically have a minimum credit score requirement that they are willing to share with potential customers. However, lenders typically consider a variety of factors when approving a loan. As a result, your credit score may be important but if other requirements align, they may be able to overlook the fact that your credit score does not meet requirements. It all depends on the lender. Some lenders place all of their emphasis on factors such as employment or education instead of credit score. For the best chance of qualifying for a home improvement loan or personal loan you should have a credit score of at least 610. Before applying for a personal loan, there are a few things you should do.
First, check your credit. Most lenders will list the minimum credit score they accept, so this will help you know which lenders to bother looking at. It's also important to look in case there are any errors on your credit report so you can get them fixed and boost your score.
Next, compare lenders. Some bad credit lenders offer good rates as well as tools to build credit, fast funding, and an app to manage your loan payments.
Now, prequalify. Prequalification lets you know what rate, loan amount, and repayment terms to expect. At Acorn Finance, you can get prequalified without impacting your credit score.
Lastly, finalize your loan. Once you decide to move forward with a prequalification a lender may request W2s, pay stubs, proof of residency, or other documents. Once you have provided the documents they need, the next step is to get your loan funded.
Do you need to check credit to get driveway paving financing?
There are some financing options available that do not require a credit check. However, these are usually not the best options as they are usually offered with extremely high interest rates and fees.
Payday loans and high-rate installments loans typically don't require a credit check. You can also get an auto title loan or pawn loan without having your credit checked. But these should not be your first options. A better option may be borrowing from a friend or family member. You just have to be careful because you would never want it to ruin your relationship. Write your agreement down and make sure to pay back the loan on the terms you agreed on.
How long can you finance a new driveway for?
Loan terms can vary depending on the type of loan, the lender, and what you qualify for. If you are using a home improvement loan or personal loan, you can expect terms between 12 to 60 months. However, some lenders may be able to offer loan terms up to 12 years. Long repayment terms are usually reserved for borrowers with good credit that are borrowing large loan amounts. While you may want the lowest payment, keep in mind that longer terms usually have higher loan costs.
Do concrete companies finance driveways?
Yes, nearly all concrete companies offer some sort of financing whether it be in-house or they partner with an outside financier. One of the main reasons that concrete companies and paving contractors offer financing is because it helps to increase close rates on sales leads and it typically can expand the size and scope of the project. This is not a gimmicky sales tactic. This is just the honest truth, and having financing can leave both the customer and the contractor satisfied. Here is why. When customers ask for a bid and they are offered a few different options, like a budget option, a better option, and then the top-tier option, they tend to like many aspects of the top-tier or better option. Choosing concrete over asphalt. Adding decorative pavers at the end of the driveway and in front of the garage. Maybe a heated walkway from the driveway to the front door to melt away the ice in the winter. They see these features and would like to add some or all of them but they are limited by their cash budget. By using their cash budget to pay as much as possible and then taking out a small personal loan to cover the rest, they can have many of the features they would like and simply pay it off with monthly payments over time. Both the customer and the contractor are happy. If a customer would like to finance the entire job, then that is something they can do as well. Aside from seeking financing through the concrete company or paving contractor, there are outside finance options that may work in different situations as well. It is always in your best interest to review many different options to ensure you are choosing the option that works best for you.
How much does it cost to pave a new driveway?
There are several factors that go into determining how much it may cost to pave a new driveway. Factors like if there are any special installation requirements, the size of the driveway, and the types of materials used, all play a role in determining the final price. Also, a few other factors may play a more minor role in determining price. Factors like where you live, the amount of competition among paving contractors in your area, and the time of the year, can also play a small role in determining the final price. However, even if we consider all of these variables, we can calculate averages to give ourselves a better idea of how much it may cost to pave a new driveway.

The first most important factor to consider when calculating costs is the materials used. There are extremely cheap paving materials out there that can cost close to $1 per square foot, and at the same time, there are materials that can reach nearly $30 per square foot. Let us take a look at how the material can affect the cost of a new driveway.
Gravel: $1 to $3 per square foot.

Chip seal: $2 to $5 per square foot.

Asphalt/Blacktop: $7 to $$13 per square foot.

Concrete: $3 to $18 per square foot.

Pavers: $10 to $30 per square foot.
As you can see, material plays a large role in determining the final price of a driveway. When you take the figures above and multiply them by the size of the driveway, you can then get a baseline price for how much the materials and labor may cost to complete a project. When we refer to special installation requirements, we are talking about any conditions that may increase the amount of labor needed to complete the job. This could be things like adding heating coils to create a driveway that is either partially or fully heated. Or, maybe the driveway has an extremely steep grade and needs excavation to ensure proper drainage. These kinds of things can put more of a demand on the labor and increase overall cost.. Aside from special installation requirements, there are also decorative design features that you can add that may increase the price as well. Some people like to have a color-stained or color-finished driveway. Some may want to add decorative stamped patterns along the border of the driveway or along the walkway. All these kinds of special features can add more cost. Additionally, you can combine the driveway with an adjacent patio area or mini-basketball court, that is an option as well. You are only limited by your imagination and your budget. Considering all this, the average homeowner in the United States will pay anywhere from $1,800 to $9,00 for a new driveway installation.
How do you finance a concrete driveway?
As with everything, the best and cheapest way to pay for a concrete driveway is to pay cash. With cash, you avoid any additional fees and interest. However, that may not be an option for you, or it could be an option but you rather hold on to your rainy day fund for unexpected expenses. That is why there are plenty of finance options available to you. Since the average concrete driveway installation costs a little over $3,000, and it rarely goes above $9,000, except for special projects, some finance options may make more sense than others. Let us review some of the more sensible finance options for financing a concrete driveway.
Home equity line of credit: A home equity line of credit may make more sense for a smaller amount of money versus a home equity loan. With a home equity loan, you get a one-time lump sum of money with a fixed rate and fixed monthly payments. If you are only doing a concrete driveway for $6,000, it may not make total sense to go through the complex process of a home equity loan. A HELOC, on the other hand, allows you to take micro-loans from a larger sum over a period of up to 10-years. Opening a HELOC, or maybe you already have one open, would make sense if you had aspirations for any future projects in the future that you could again borrow against the open HELOC.
Personal loan: An HELOC makes sense if you know that you have future projects coming up, but if not, or if you are unsure, then a personal loan makes the most sense. You may pay a little higher interest, however, the loan will cover the cost of the concrete driveway and once it's paid off, you are all done. Additionally, a HELOC takes a lot more time and more paperwork to prepare before you can receive the funding. With a personal loan, you can be preapproved, shopping for lenders, review interest rates and loan offers, fill out a loan application, and receive your funding in as little as 24 to 36 hours. At the most, the entire process will take you a couple of days.
Credit card: For a smaller amount of money, like $2,000 or $3,000, a credit card could work just fine if you know that you will be able to pay off the entire balance in a month or two. If you think it may take you longer than that, then a personal loan would make much more sense since the interest rate on a personal loan will most likely be less.
Above we have discussed some of the outside finance options that would make sense to start with. There are always in-house financing options that concrete companies and paving contractors will offer. It would be wise to review their options as well as some outside ones so you can compare and contrast to get the best deal. However, sometimes the in-house finance options offered by the company may have some 0% APR for 12 or 18-month deals that you may want to consider. If you want to take advantage of one of those 0% APR options, you could potentially save a lot of money in interest, however, make sure you pay the balance in full before the end of the grace period. Not doing so could lead to extra fees and a great deal of accrued interest suddenly being due immediately.
Can you finance asphalt?
Yes, of course, you can finance asphalt. If you are unable to or would not like to pay cash, then you should know that there are plenty of finance options out there. You could always consider financing directly from the paving contractor as many of them have their own in-house finance options. If you are looking for an outside source of financing, then you may want to first consider a personal loan. A personal loan from an online lender is an extremely quick way to get the funds you need to begin your asphalt driveway project as soon as possible.
How much should a paved driveway cost?
There is an extremely large gap between the cheapest paved driveways and the most expensive. A gravel driveway can cost as little as $1 per square foot whereas decorative pavers can sometimes cost up to $30 per square foot. The total cost of a newly paved driveway depends on the materials, the size of the driveway, and if there are any special considerations that need to be made in order to complete the project. Special considerations are obstructions, obstacles, or anything that causes delay and increases the amount of labor required to complete the job.
What is the cheapest way to pave a driveway?
The cheapest way to pave a driveway is to lay gravel. Gravel is an inexpensive material choice for a driveway, and it can hold up for a very long time with a little maintenance every few years. Every few years, a gravel driveway may require a little top-dressing of gravel. Aside from being a cheaper material and requiring very little maintenance, if you are putting in a gravel driveway, the labor is hard work, but aside from having someone who is an experienced grade operator, the labor is not as extensive as when you are putting in other driveway materials thus keeping labor costs a bit lower.
Does paving a driveway improve my home value?
Yes, paving a driveway almost always adds value to a home. This is especially true if you have a gravel driveway and you upgrade to an asphalt or concrete driveway. Additionally, if you have an unpaved driveway and most people in your area have paved ones, then yes, it will increase the value of your home and prevent it from being less desirable in contrast to the others. The same of the opposite is true. If no one in the area has a paved driveway and then you pave your driveway, then yes, you will improve the value of your home. The main question of concern is not whether or not the value will increase with a freshly paved driveway, the question is it worth it to repave your driveway in order to sell your home. It really depends on the market and if there are plenty of buyers looking for a home in your area. If it is a buyers market you may be able to get away with not needing to incur that extra expense right before selling your home and moving. If that is not the case, then you may need to nite the bullet to ensure your home stands out.
What are the best types of driveways?
Ultimately, the best type of driveway is one that fits your budget, looks great with your home, and is something that you are satisfied with. Some of the most popular driveway types in concrete, brick, and asphalt. Concrete driveways are relatively cheap to install and they are extremely durable. Concrete driveways are made to last decades before needing to be replaced. Additionally, concrete driveways can offer some creative freedom by playing with stamps, textures, and colors. When it comes to brick driveways they can be a bit expensive, but they are also durable and bricks can come in a variety of colors and bring a level of artistic freedom by being able to lay them in different shapes and patterns. Last, asphalt is simply classic. An asphalt driveway is economical, the black always looks great, and it does not stain easily.
Is a personal loan better than financing through an asphalt or concrete company?
Whether you are looking to put in a new asphalt or concrete driveway, you should do yourself a favor and review both the internal and external options of financing. Both internal and external forms of financing will have pros and cons that you will want to be able to review before making a decision about which lender you would like to ultimately work with.
Can I asphalt my own driveway?
Yes, you can asphalt your own driveway, however, keep in mind it is not a one-person job and it is extremely hard work. Additionally, any mistakes made can end up costing you more time and money and you have to consider there is a point where those costly mistakes will end up costing you more than if you would have just hired a professional from the start. That being said, you can for sure asphalt your own driveway. You will need to make sure that you properly prepare the driveway and/or remove the old asphalt if needed. A large part of preparing the driveway also means that you are prepared in general. Make the proper arrangements are made to rent a skid steer loader, dump truck, plate compactor, roller, wheelbarrows, and asphalt hand tools. Once you are properly prepared, hopefully, you have some really good friends or some hired hands, and good luck.
Closing Thoughts
Driveway financing is available for all credit types. Whether you are repaving or creating a new driveway, it can be a good investment. Most personal loans allow you to spend the money however you would like. This means you should take advantage of your personal loan offer and bring other home improvement projects to life.
While other types of driveway financing are available, personal loans can be the easiest, fastest, and least risky. Most other driveway financing options require collateral. In conclusion, repaving or building a new driveway can increase your home value.
If you have been considering paving a driveway but held back by the cost you should use driveway financing!
See More of Our Home Improvement Financing Options Today
How Does Acorn Finance Compare?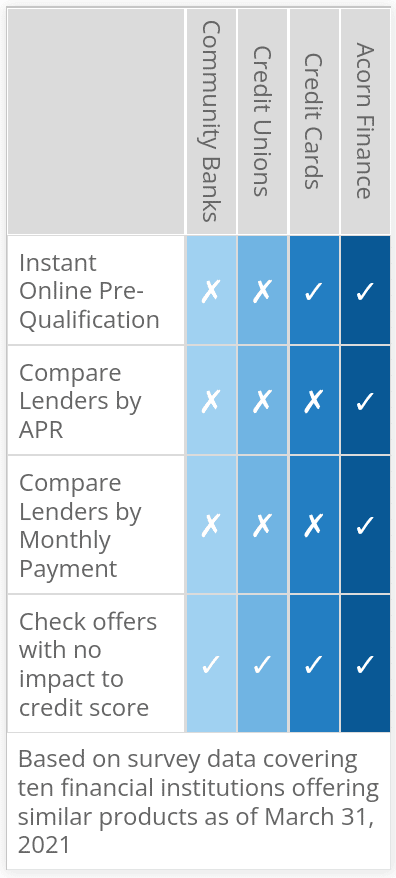 Compare Rates From Top Lenders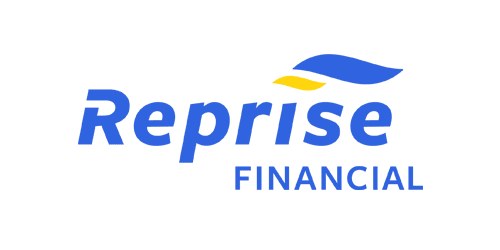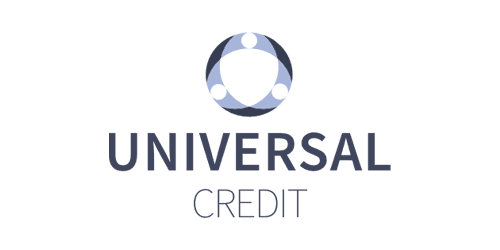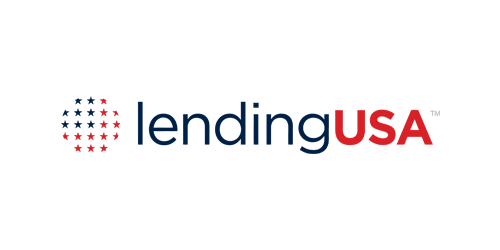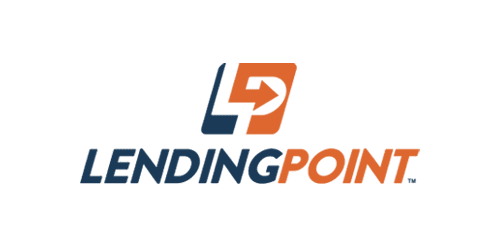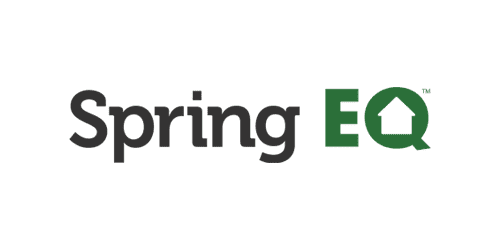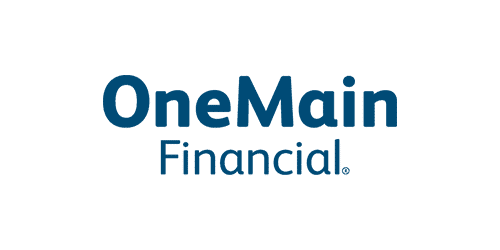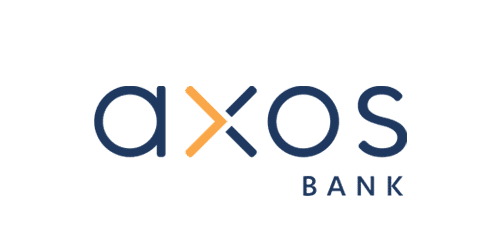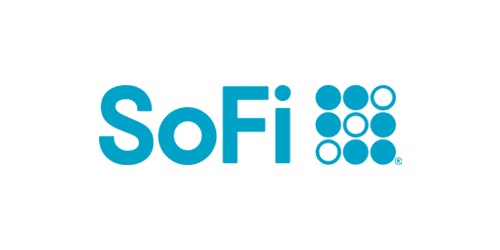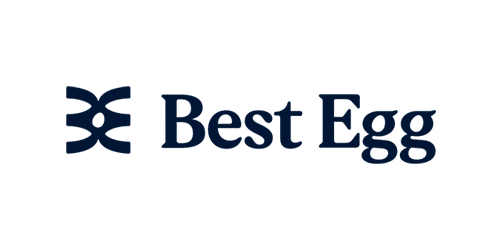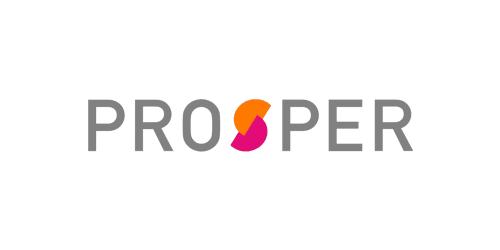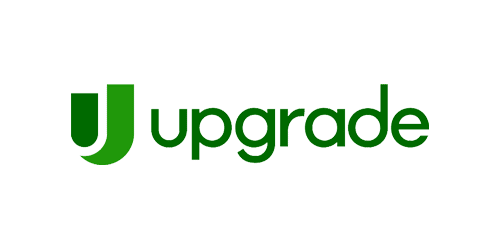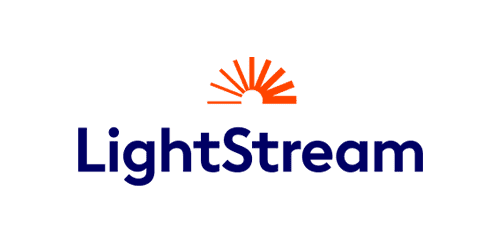 Driveway Financing Calculator
Are You A Driveway Contractor?
Stop letting driveway financing deals slip through your fingers.
Close more sales with easy, affordable financing options for your customers
Get Started
Popular Home Improvement Projects
Barn Financing Options
One home, endless possibilities
Personal Loan Information