HVAC Financing
Get personalized rates for new HVAC or HVAC repair financing in 60 seconds without affecting your credit score
How much would you like to finance?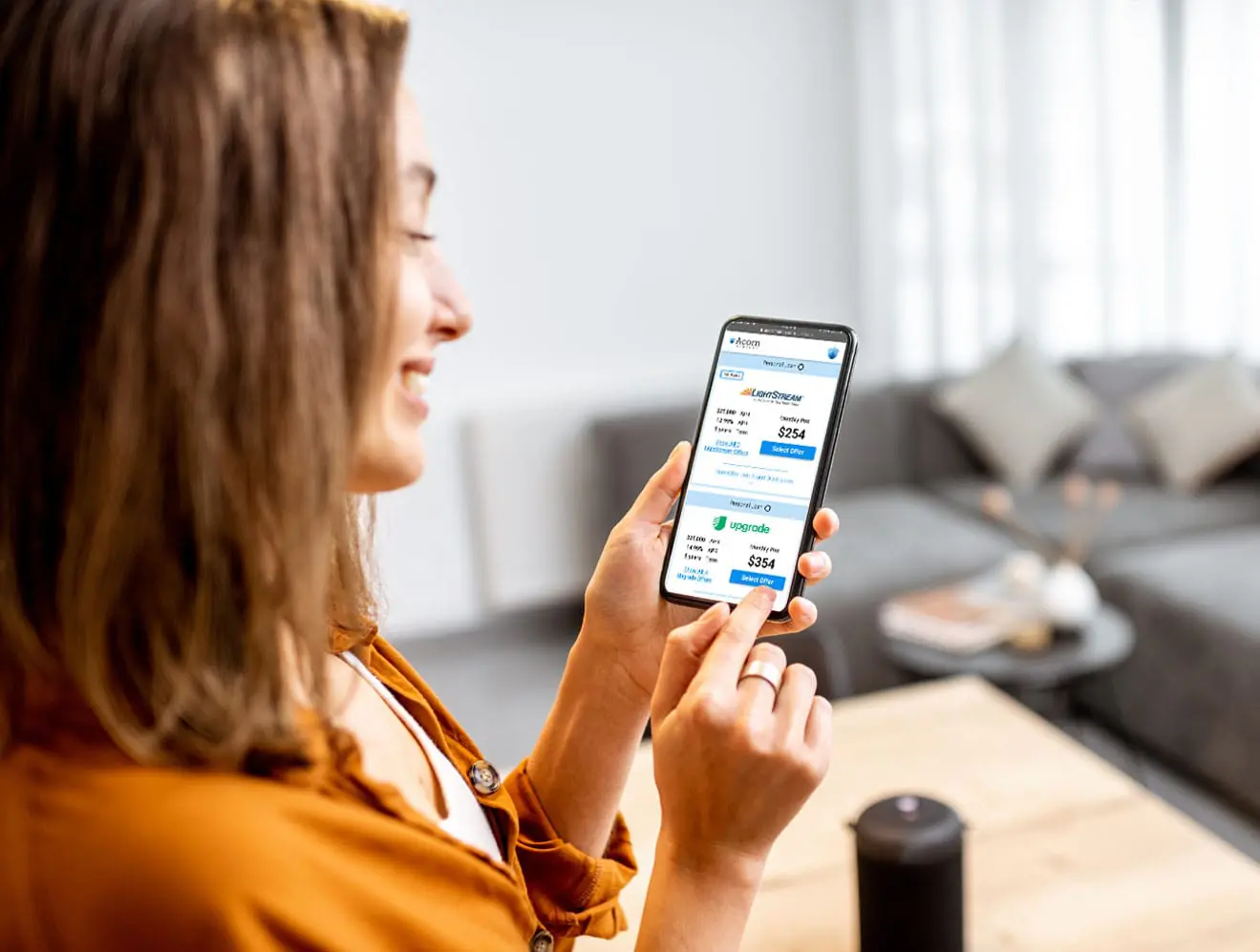 HVAC Financing For Good or Bad Credit
Acorn Finance puts you in control of finding the best HVAC financing options – we let you compare personalized offers from lenders in our network, with no impact to your credit score.
We'll help you check for pre-qualified offers to secure HVAC financing in seconds with our broad network of national lending partners.
You can easily sort the offers based on what's most important to you: interest rate, payment amount, length of the loan term.
Our 100% online, customer-friendly process is designed to help you find affordable payment options with lenders that can quickly fund your project.
Check Offers
Quick. Simple. Secure.
Check HVAC Financing Offers
Check New HVAC Loan Offers With No Impact To Your Credit Score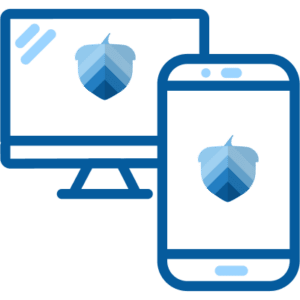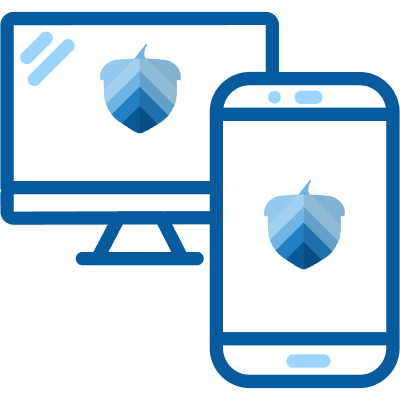 Fill out an easy online form to check for pre-qualified offers with no impact to your credit score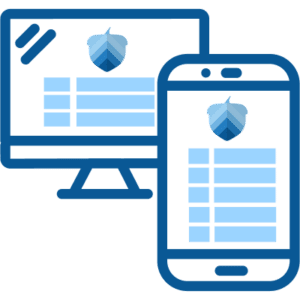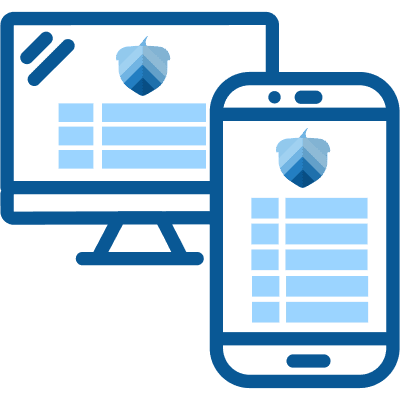 Compare terms and payment options to select the offer that's best for you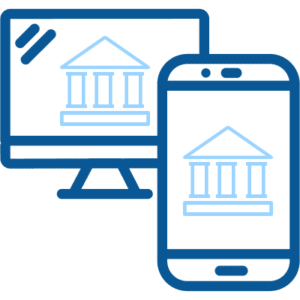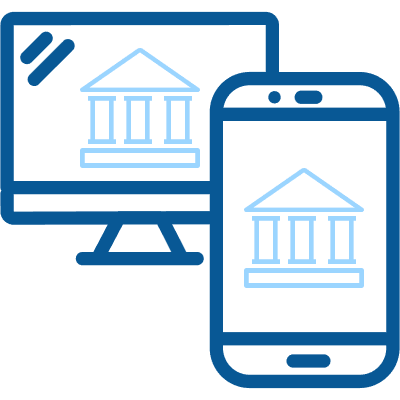 Complete your application on your selected lender's website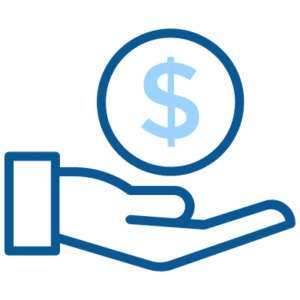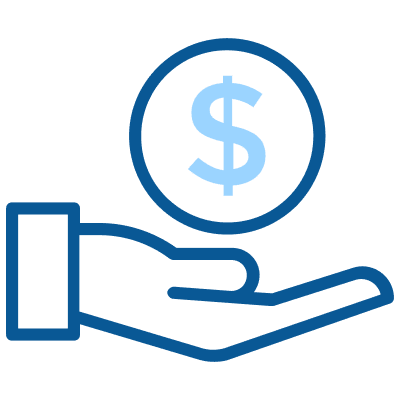 After your loan is approved, your funds should arrive within 1-2 business days2
How To Get HVAC Financing
Check offers
in seconds
Get pre-qualified for loan offers with an easy online form
Won't impact
credit scores
Checking offers will not impact your credit score
Competitive
payment options
Compare rates from our network of lenders
Receive
funds quickly
Same-day and next-day available for certain offers2
Compare Rates From Lenders in Our Network
Best HVAC Financing for Homeowners
Whether you have good credit or bad credit, heating, ventilation and air conditioning (HVAC) financing options may be available. HVAC units are large and costly but can improve your quality of life, especially if you live in a heated climate. There are many HVAC financing options available making it critical to compare your options. Acorn Finance is a leading provider for HVAC financing. On approved loans, you can borrow up to $100,000 and take as long as 12 years to pay it back. Keep reading to explore the various HVAC financing options available for good and bad credit.
Can you finance a HVAC system?
Yes, you can finance a HVAC system. Financing can allow you to purchase and install the HVAC system you need, without depleting your savings account. In most cases, you can finance a HVAC system with no money down. A popular choice for HVAC financing is a personal loan. Personal loans can be secured from banks, online lenders, or credit unions. If you are working with a large HVAC company, they might also offer some form of financing directly from the company. It's always worth asking and checking to see that way you know which options are available to you.
What credit score do you need to finance a HVAC system?
Credit score requirements can vary depending on the lender. Some lenders are more lenient with financing than others. Most lenders will require a score of 600 or higher though. If your score is less than 600, you will probably have a hard time securing financing because you are considered to be a risky lender. Lenders may also take into account other factors such as income, job stability, and so forth. If you are unfamiliar with your credit score, you should check it before applying for a loan.
If you can't find a lender to work with you, you might want to consider trying to raise your credit score or lowering your debt-to-income ratio to try and get a loan.
Should I finance my HVAC?
If you have a good credit score and can get a low-interest loan, financing your HVAC is not a bad idea. In most cases, you don't want to use your entire savings for an HVAC system, so financing all or some of it can help you get a new system and be able to keep some money in savings.
If your credit is low though and you can't get a low-interest loan, financing might not be the best idea. You don't want to end up overspending on interest and having a loan that's overwhelming to you and your monthly budget.
How long can you finance an AC unit?
Terms can vary depending on the lender. They may also vary depending on what you qualify for. For example, a borrower with a low credit score may qualify for a shorter loan term than a borrower with a high credit score. The amount you borrow can also impact the terms. You can find personal loans with terms between one to twelve years, depending on credit score. Make sure you are choosing a loan repayment term that works for your budget. Keep in mind longer repayment terms may have lower monthly payments but higher total loan costs.
How do you pay for HVAC?
Some people choose to pay for their HVAC with cash if they have it available. This isn't a choice for everyone though as not everyone has enough cash laying around. Credit cards are another popular way that people pay for HVAC because it allows them to borrow the money for a short period of time before they have to pay it back. Credit cards can have high interest though and aren't the best choice for everyone. Personal loans usually offer lower interest and better repayment terms.
How long do HVAC systems last?
If you take care of your HVAC system, it should last between 15 to 25 years. The actual lifespan can depend on the brand of the HVAC system, how you care for it, and how often you use it. HVAC systems that are used more often can have short lifespans because they experience more wear and tear.
If you experience any issues with your HVAC make sure to get them checked right away because issues that are left can cause more extensive damage. Sometimes the replacement of one part can be cheaper than having to pay for a new HVAC system.
How can I finance an air conditioner with bad credit?
Financing an air conditioner with bad credit is possible. If you have the ability to boost or improve your credit score some before taking a loan you definitely should. While you may qualify for financing with bad credit, the rates can be high, the terms can be short, and the loan amounts may be low. On the brightside, if you are able to qualify for financing and repay the loan on time it can help your credit score. One of the biggest downsides of borrowing money with bad credit is the cost.
How do you finance a central air unit?
Central air units can be financed with a personal loan. Personal loans can offer lower interest rates and fixed monthly payments, making them a more desirable option than a credit card. In some cases, retailers or manufacturers may offer promotional financing. If you can find and qualify for promotional financing, you should pursue it. You can also use a home equity loan If you want to tap into the value of your home. If your home needs several upgrades including a central air unit, a home equity loan may be a good option.
Should I replace my 20-year-old HVAC?
HVAC systems usually stop working around 20 years, so you may need to consider replacing yours around this time. Before replacing it, consider if you are having any issues. You can also ask a professional to come and check the system to see if there are any problems that cannot be fixed.
If your HVAC doesn't have any problems, it might still be coming to the end of its lifespan, so consider getting it replaced within the next few years. It will also be less and less energy efficient with each year so consider this when getting a new one.
Does HVAC zero percent financing exist?
You may be able to find zero percent financing options for HVAC systems. In most cases, you can find promotional financing offers such as zero percent financing through retailers or manufacturers. To qualify you will likely need very good credit. They may only offer the promotional financing for a short term so you will want to make sure you can afford the monthly payment and pay the loan off during the promotional period. After the promotional period ends there can be extremely high interest rates applied. If you are considering HVAC financing, explore all available options to make an educated financial decision.
Is HVAC system replacement financing available?
HVAC replacement system financing is available. Whether you need to finance a system replacement or repairs, you can access financing. Personal loans are a popular choice for HVAC system replacement financing. You should start by determining if you need a replacement unit. Then, get an estimate so you know how much the replacement will cost. Make sure you take all costs into account such as the replacement unit, labor costs, removal costs, and so forth. Now that you know how much an HVAC replacement will cost and confirmed you need replacement you can work on getting prequalified for financing.
How to finance a new hvac system?
Credit cards, personal loans, financing offered through a retailer, and secured loans are all available for HVAC financing. You should learn about each option to determine which one is best for you. Once you have a type of loan picked out you can work on shopping for the best offer. Personal loans are a popular choice because they do not require collateral and are fairly easy to qualify for. If you are considering a personal loan for HVAC financing you should check offers at Acorn Finance.
Can you finance an air conditioner?
Yes, an air conditioner can be financed. Secure financing for your new HVAC or HVAC repairs today with Acorn Finance at some of the lowest rates you can find online.
Can you finance a furnace?
Yes, you can finance a furnace. In most cases, a furnace can be financed for less than $65 per month with no money down. The total cost of purchasing a new furnace usually ranges between $5,000 – $6,000.
How much do new AC units cost?
According to Home Advisor, on average central air conditioning costs between $3,812 – $7,478. For larger homes or homes that have complicated ductwork the cost can be upward of $10,000. Ductless split systems usually cost between $2,000 to $14,500 installed. We recommend working with a state-licensed contractor for installation. In some cases, permits may be required. Furthermore, only a licensed professional can handle the refrigerant chemicals involved. If you are looking for a more affordable AC solution you may want to consider a window air conditioner or a portable unit. You can find window air conditioners for about $150-$500 installed. Portable units usually have similar costs. Some factors that can impact the cost of a new A/C system include...
The unit selected
Installation costs
Additional items (such as ductwork repair)
How much should HVAC installation cost?
According to Home Advisor, the average cost to replace an HVAC system is about $7,000 with a typical range of $5,000 to $10,000. New HVAC installation may cost more money. New installations can cost between $1,500 to $12,500 and up. Repairing or replacing an HVAC system can be frustrating with many variables in relation to the cost. HVAC systems are made up of multiple parts both inside and outside of the home. When it comes to estimating price you should consider how many components you need to replace. While you can get an idea of pricing online, it can vary project to project. In addition, your location may impact the cost as well. Most HVAC companies can provide free estimates. We recommend getting a few estimates for HVAC installation.
Do most HVAC companies offer financing?
Most HVAC companies offer financing. Some may offer in-house financing but a majority of HVAC companies partner with third party lenders to offer financing. Ensuring your HVAC system functions properly can help you achieve maximum efficiency. HVAC systems should be inspected 1-2 times per year, perhaps once in the fall and once in the spring. Whether you need basic maintenance repairs or a new HVAC system you can use financing. If your HVAC system has surprised you with problems, you may be in a hurry to get it fixed. While an HVAC company that offers financing may be an easy solution, you'll want to ensure you are getting the best deal. Acorn Finance offers a free platform that allows you to compare offers from multiple lenders. Taking advantage of Acorn Finance's platform can help ensure that you secure the best financing offer.
Can you replace just the outside AC unit?
While you may be able to get away with just replacing the outside AC unit, it's usually not recommended. Replacing the outdoor and indoor units at the same time helps ensure that units are compatible. Mismatched units may work fine together temporarily but in the long term you may encounter serious problems. In addition, factory warranties may be void from using mismatched units. However, if your AC system is still covered under factory warranty but the outdoor unit needs replacement, you should see if the factory warranty can cover replacement. If it can, this may be one scenario where replacing just the outside unit makes sense.
How much does an air conditioner cost for a 2,000 sq ft home?
If a home has an existing forced-air heating system, it may be easier to add air conditioning. A 2000 square foot home with an existing forced-air heating system may cost about $3,000 to $4,000 to add central air conditioning. Adding ducts can cause project costs to nearly double. If ducts need to be added you'll probably want to go with a split system. For a 2,000 square foot home you'll most likely need 30,000 to 34,000 BTUs. Once you have determined how many BTUs you need, you are ready to select a unit to purchase. Units can vary in price, thus causing project costs to fluctuate.
Is it cheaper to replace the furnace and AC together?
In most cases it's cheaper to replace the furnace and AC together. Replacing a furnace alone usually costs about $2,000 to $5,000. When you add a furnace during an air conditioner replacement, it should cost less. However, if your furnace is less than 10 years old, it may make sense to replace it solo. There's a good chance it should last until your AC needs to be replaced. A furnace should last 20-30 years and AC systems should be replaced every 10-15 years. If your furnace is 15+ years old you should replace the furnace and AC together. In addition, if installation is complicated or you want to avoid HVAC repairs or replacements for a long time you should replace the furnace and AC together.
Can you negotiate HVAC prices?
Negotiating is just part of doing business. HVAC prices can be negotiated. You want the contractor or HVAC company to make money and be motivated to do a good job on your project but you also want to get a great deal. So how do you accomplish both objectives? The best way to negotiate with HVAC companies and contractors is to gather multiple estimates. If the lowest estimate is from the contractor you prefer to work with, you may not need to negotiate. However, if you wish to work with a certain contractor but a competitor gave you a lower estimate, you may want to express a desire to work with a contractor and share the lower bid with them. They may be willing to match or beat the competitors estimate or lower their original estimate to earn your business. Keep in mind, the lowest bid may not be the most reliable or experienced contractor so you should compare more factors than just price when selecting an HVAC company or contractor. Checking online reviews or asking friends and family for referrals can help you find reliable and professional HVAC companies.
How many square feet will a 3-ton AC cool?
Since some areas experience warmer seasons than others, a 3-ton AC system may cool more square footage in Maine than Texas. Different climate zones have different recommendations for proper size systems. In areas like Texas and Florida a 3-ton AC can cool 1,501 to 1,800 square feet. In areas like Maine and Montana a 3-ton AC system can cool 1,651 to 2,100 square feet. To determine how many square feet you can cool with a 3-ton AC in your area you should contact a local HVAC company or contractor.
How much is a 3-ton AC unit installed?
According to Fixr, most homeowners spend about $7,000 to install a 3-ton split system unit with new ductwork and a SEER rating of 16. The SEER rating you need usually depends on what you need from a heating and cooling system. SEER stands for Seasonal Energy Efficiency Ratio. SEER ratings can be compared with miles per gallon in a car. The higher the SEER rating, the more satisfaction you'll get per energy dollar. Think about it like this – your car may average 30-mpg but may not be as efficient in city traffic. If you have a SEER rating of 16, this is the maximum efficiency but it depends on conditions. In areas with extreme heat or humidity, you should have a higher SEER rating. Most air conditioners have SEER ratings between 13 to 21. How efficient your system is can depend on the SEER rating as well as the size of your home, ductwork, and other factors.
How much does a new A/C system/unit cost?
On average central air conditioning costs between $3,756 – $7,249. For larger homes or homes that have complicated ductwork the cost can be upward of $10,000. Factors that can impact the cost of a new A/C unit include:
The unit selected
Installation costs
Additional items (such as ductwork repair)
Pros & Cons of HVAC Financing
Installing a new HVAC unit can be a hefty but necessary expense. Financing your new HVAC unit can provide an affordable solution. It's important to do your homework and compare offers in order to make an educated decision when selecting HVAC financing.
Pros
Affordable solution with low monthly payments
Funds available quickly
Save cash or savings for a real emergency
Cons
Taking on debt
Interest and fees
How To Secure HVAC Financing
Ready to discover the pros and cons of some of the top HVAC financing options? Keep reading to learn more.
Personal Loan for HVAC
A personal loan for home improvement or HVAC financing can be an attractive option for good and bad credit types. It's relatively simple and funds can be made available quickly. In addition, you can avoid many of the closing costs and fees that can be associated with home equity loans. AcornFinance is a reliable and top-rated company that provides personal loans for HVAC financing. Take advantage of affordable payment options and free services while saving tons of time.
Three steps to get started with Acorn Finance:
#1. Complete and submit a short loan application online
#2. Receive multiple pre-qualified offers
#3. Get connected with lenders to obtain your pre-qualified loan
Pros
Quick funding
Typically lower interest rate than most credit cards
Most personal loans are unsecured meaning no collateral required
Many uses
Borrow up to $100,000
Receive pre-qualifying offers without affecting your credit score
Cons
Origination fee may apply
Fixed payments that must be made on time
Rates can be lower for borrowers with good credit
Prepayment penalties may apply
Credit Cards
Credit cards can be a convenient solution for HVAC financing but you should consider the pros and cons. Some credit cards may offer special 0% interest promotions that you can take advantage of. However, in most cases credit cards have higher interest than personal loans.
Pros
Build your credit
Convenient
Potential to earn rewards
Buy now, pay later
Theft protection
Special promotions may apply
Cons
Higher interest rates
Annual fees may apply
Vague approval requirements
Read the fine print
Increased risk for fraud
Cash or Savings
Using cash or savings to pay for HVAC can be the cheapest option on paper. However, it may be a smarter decision to save your cash or savings for an emergency. There are many competitive options available for HVAC financing.
Pros
Pay anyone
No limitations
Cheapest option on paper
Cons
Cash or savings may be better served for an emergency HVAC Manufacturer Financing In-house HVAC manufacturer financing is offered by many companies. Most of these programs are essentially personal loans or credit cards. HVAC manufacturer financing is typically an easy solution. However, it's difficult to compare competitive options and offers.
Pros
Convenient
Fast application process
Typically no down payment
Competitive interest rates
Cons
Difficult to compare competitive offers
Can cost more than other options
How much does it cost to replace a HVAC system?
Before you decide whether or not you need HVAC financing, you might be most concerned with how much you will need to spend on a new system. Typically, it will cost anywhere between $5,000 and $10,000 to replace your HVAC system.
HVAC replacement may come as a surprise leaving some homeowners wondering how to afford the repair. In some cases, it might make sense to use a personal loan to finance HVAC repair. You may want to ask your HVAC company if they can offer financing. Some HVAC companies may partner with third-party lenders that offer financing. Whether you secure your own financing or use financing offered by the HVAC company you will want to make sure you get a fair deal. At Acorn Finance you can check personal loan offers within 60 seconds or less with no impact to your credit score.
How long do HVAC units last?
One of the concerns that people may have before securing HVAC financing is how long their new system will last. Besides, those who plan on moving shortly might instead elect to pass this cost to the person who buys their home. Typically, a new HVAC will last somewhere between 15 to 25 years. If your HVAC system is more than 10 years old, it may be time to start considering replacement. A planned replacement is easier to financially prepare for as opposed to a surprise replacement.
How often should you replace your HVAC system?
As we mentioned, an HVAC system will typically last anywhere between 15 to 25 years. HVAC systems can be costly to repair and in most cases it may make sense to just replace the entire system. After 10 years of use, you should start considering HVAC replacement. In addition, if your HVAC system is frequently breaking down it may be a sign that replacement is around the corner. Another indicator that your HVAC may need replacement is your energy bill. If you notice an increase in your energy bill and your usage has not changed, it might be time for a new HVAC system.
Can HVAC last 30 years?
In some cases your HVAC system may last 30 years with proper care. However, it really all depends on the type of system. Furnaces and boilers may last 30 years. However, it's unlikely that a heat pump or air conditioner will last as long as 30 years.
No matter what kind of system you have it's important to be familiar with and practice regular require maintenance..If necessary, you should get repairs on major components to help ensure that your HVAC system lasts 30 years. However, you might also feel that the cost of repairs is too expensive if your system is 15 – 20 years old.
How do you know if you need a new HVAC system?
Perhaps you are looking into HVAC replacement because well it's obvious you need it. However, there are other cases where a homeowner may suspect they need HVAC replacement. So how do you know if you need a new HVAC system? Here are some signs that you may need to get a new HVAC system:
Unusual sounds
HVAC system is 10+ years old
Higher energy bills
Repair costs are higher than a new system
Ultimately, you may have to contact a professional to determine if it's time for replacement. Before securing financing you should consult a professional and determine if you need repairs or replacement. You should also know how much the work will cost so that you can secure the appropriate loan amount.
Is HVAC worth replacing?
As technology advances, so do HVAC systems. It's recommended to replace systems every 10 to 15 years. Upgrading your HVAC system may lower your energy bill. Replacing your HVAC system is something most of us do not think about until there is a problem. Having a professional perform regular maintenance can help you understand when replacement will be needed. If your HVAC system needs replacement or repair, you should complete the necessary work right away.
Should ductwork be replaced after 20 years?
The system used to transport air from HVAC systems to your vents and throughout your home is known as ductwork.Most ductwork has a lifespan of 20-25 years. After about 15-20 years, you should definitely consider replacing ductwork. As ductwork begins to deteriorate, HVAC system efficiency can decline and air quality can be affected. Ductwork can be financed as a sole project or bundled with a new HVAC system. According to Home Advisor, ductwork costs about $10-$20 per linear foot with a typical range totaling $462 to $2,038.
Should I replace the HVAC before it fails?
If you have the opportunity to replace your HVAC system before it fails, you should. As the unit begins to fail, it can operate much less efficiently. If you can avoid getting to this stage of life you can keep your energy bills down. In addition, in your HVAC systems final stages of its life it may break down often, requiring you to call out a professional several times. This too can add up. Replacing your HVAC system before it fails may force you to make an investment sooner than planned but it may also help save you money in the long run.
What are the best HVAC brands?
Before spending double digits on a new HVAC system, you will want to make sure you choose a high quality system. Below we have listed some of the top brands for HVAC systems. However, we recommend reading consumer reviews and consulting experts before purchasing an HVAC system. Brands often carry a variety of equipment so that they can cater to different budgets and consumers. You will want to make sure you choose an HVAC system that is suitable for your needs and your budget. Here are some of the brands you should check out first while looking around for a new HVAC unit.
Trane
American Standard
Carrier
Goodman
Rheem
Lennox
York
Ruud
What is included in a new HVAC system?
When you buy a new HVAC system, you should receive the system itself along with anything else listed as included. In most cases, this will include the air handler or evaporator, new refrigerant supply lines, outside condensing or compressor unit, thermostat, condensate drain lines, etc. If you plan to install the HVAC system on your own you will want to make sure you get all the materials and tools you need. If possible, we recommend having a professional install your new HVAC system.
Ensuring that your HVAC system is properly installed can help keep it operating safely and efficiently for many years to come. If you are short on funds, you should consider using HVAC financing to complete your project the right way.
What is the best time of year to buy a new HVAC system?
If you are looking to score a deal on your new HVAC system, you should shop during the off-season. In some cases you may not have the chance to prepare or time out your purchase, but if you do, you should wait til off-season comes around.The off-season usually spans from September to mid-November and March to mid-May. When demand is down, you may find an opportunity to save on materials and installation. Some HVAC companies may offer promotional financing during slow times as well to encourage homeowners to replace HVAC systems.
What does HVAC mean?
Heating, Ventilation, and Air Conditioning (HVAC), is a piece of equipment that heats and cools buildings. An HVAC system is also responsible for providing proper ventilation so that moisture can exit. The furnace, air conditioning unit, and vent-work or ducts are included in the HVAC system. So what's the difference between an HVAC system and an AC system? AC systems cool air. HVAC systems heat air and support ventilation.
What is HVAC financing?
HVAC financing can provide the funds you need to replace or repair your HVAC system. The funds are not free though, you will need to repay the loan. If you use an unsecured home improvement loan you should have a fixed monthly payment and fixed loan term. As long as you pay the minimum monthly payment for the entire loan term, your balance should reach zero. However, borrowing money will increase project costs. Before taking out a loan you should consider the total loan cost. If you can come up with the cash and it will not impact other aspects of your life or leave you with no savings, you may want to pay cash.
Some homeowners are happy to pay the additional fees associated with financing. If you need an HVAc system and can't afford it, HVAC financing may be exactly what you need.
Is it common to finance a new HVAC system?
Homeowners choose to finance HVAC systems for a variety of reasons. With a little education, you should know when your HVAC system will need replacement. If you plan ahead, you can probably save up enough money to avoid financing. However, with the business of life, most of us neglect to plan the replacement of an HVAC system. As a result, we are surprised when we suddenly learn it needs replacement. As a result, HVAC financing is fairly common. In some cases HVAC companies may offer financing.
Is it a good idea to finance your HVAC system?
Whether financing an HVAC system is a good idea or not, usually depends on your finances. While we can't say that financing an HVAC system is a good idea for everyone, we can say that neglecting to replace a failing HVAC system is usually a very bad idea. HVAC systems should be replaced every 10 to 15 years according to the Department of Energy. As HVAC systems begin to age and near replacement it begins to operate less efficiently, As a result, your energy bill will likely increase. In addition, HVAC systems are responsible for providing proper ventilation throughout your home. An HVAC system that is not operating efficiently may cause reduced air quality in your home. At some point, HVAC system repairs may exceed the cost of replacement. If you do not have the funds to repair or replace the system, you should use financing.
Before committing to a loan you should always compare offers and be confident that you can cover the monthly payment. If you really need money to repair or replace an HVAC system it may be easy to trick yourself into thinking you can afford a monthly payment. When reality may be that you cannot afford to cover the monthly payment every month. Defaulting on a loan can damage your credit score. One bad loan can be the start of a domino effect. You default on one loan and then your next loan, if you get a next loan, has an extremely high interest rate and monthly payment. Again, you need money so you take the loan but once again are struggling to make the payment. This is just a possible scenario that won't happen to everyone. The point is to always be careful when taking on debt and manage it properly. If you are struggling to make a monthly payment, contact the lender right away. After all, they want to get their money back. Lenders are often willing to adjust loan terms to make the payments more affordable.
Where to check offers for HVAC loans?
You can use a personal loan, also known as a home improvement loan, for HVAC financing. Whether you need a new HVAc system or HVAC repairs, you can use financing for the full amount. Labor and materials can be included in the financing. If you are exploring the idea of financing an HVAC system or repairs but wondering what you qualify for or what a monthly payment would be, you should start by checking home improvement loan offers. At Acorn Finance you can check home improvement loan offers without impacting your credit score. Our top national lending partners can offer APRs as low as 6.99%, depending on credit score.
If you aren't quite ready to accept an offer, you can always return at a later date and pick up where you left off. If you plan to do this, just not when your offers expire. Comparing home improvement offers through the Acorn Finance platform can save you time, money, and hassle. You can compare several different offers and never have to be concerned about the legitimacy of a lender. Of course, if you want to check elsewhere for a home improvement loan offer you can see if your local bank or credit union offers them. You may want to see if they do a hard or soft credit pull to generate a personalized offer. Note that if they do a hard credit pull, it may cause your credit score to drop by about 5 points.
What credit score is needed for a HVAC loan?
To qualify for an HVAC loan, you should have a FICO 600 or above. With credit scores ranging from 300 to 850, 600 is still on the lower end of the spectrum. Most lenders do not consider a borrower to have fair credit until they reach a score between 630 to 689. The next step up will be credit scores between 690 to 719, which is considered good credit. Most lenders consider borrowers with a 720 credit score or above to have excellent credit. You will probably not qualify for the most competitive loan offers until you have good to excellent credit. While you may qualify for an HVAC loan with a low credit score, you will likely have to pay high interest rates. If you decide to accept a high interest loan, make sure you can keep up with the monthly payment. If you successfully repay the loan it may help boost your credit score. Ultimately, it's usually best to rebuild your credit before applying for a loan. However if your HVAC needs replacements, you may not have time to wait.
Can you get an HVAC loan with bad credit?
A bad credit score can prevent you from securing HVAC financing, even though it may be necessary to get your HVAC repaired. In some cases you can qualify for HVAC financing with bad credit but it will probably be very expensive. Repairing an HVAC system may cost nearly as much as replacing it. Therefore, there is usually no cheap fix to remedy an HVAc unit that is not working properly. If you have bad credit you may need to take a loan from a friend or family member. Before considering this option though you should try to qualify for a personal loan.
At Acorn Finance you can check personal loan offers without impacting your credit score. If you qualify then you can choose the offer you prefer and proceed with finalizing the loan with the lender. Some HVAC companies also offer their own funding, even to people with bad credit. You can ask your preferred company if they have lending or payment options available before you begin looking for other lending options.
You should keep in mind that just because you qualify for financing does not mean that it's a good idea. With bad credit you will probably have to pay high interest rates and high fees. You will need to make sure you can cover the monthly payment before proceeding with financing.
What credit score do I need to get an air conditioning loan?
Most lenders will require a score of 640 or higher when looking at giving you an air conditioning loan. You might be able to qualify with some lenders though if your credit score is at least 500. Ideally, though, lenders like to see a credit score in the high fair range because it makes you a less risky borrower.
Borrowers who are considered less risky often qualify for lower interest rates and better APR. Some lenders will give you an air conditioning loan with a credit score of less than 640, but they may only offer you very high-interest options. Most lenders will also consider other factors in addition to your credit score. These factors usually include debt-to-income ratio and annual income. In addition to verifying your track record of making on-time payments lenders also want to verify that you have the funds to repay the loan. While you may not have all the cash on hand at once, they will want to know you have enough available cash every month after expenses to cover the monthly payment.
What is the minimum credit score to get an HVAC financed?
Most lenders that offer HVAC financing will want to see a credit score in the mid to high 600's. However, if your score is lower than this you may still qualify for a personal loan for HVAC financing. Some lenders may accept a minimum credit score of 600. Lenders typically have a minimum credit score requirement. If you know that you have less than perfect credit you should check with the lender to see what the minimum credit score requirement is before applying. In some cases, you may even be able to access this information online. Ensuring that you meet a minimum credit score requirement before applying does not guarantee that you will qualify but it does give you a better chance.
Can you put HVAC repairs on credit?
If you have a credit card with a high enough limit to put your HVAC repairs, this is always an option. It might not be the cheapest or best idea though. Credit cards often have very high interest and high APR that can take you a long time to pay back.
If you have minor repairs though, like $1,000 or less, putting it on your credit card will be more cost-effective and not as time-consuming as applying for a personal loan and waiting for the funding. Credit cards work best when you only need a smaller amount of cash. You can also apply for a small spending limit credit card if you don't already have one to help you pay for the repairs you need.
Pros of using a credit card:
Once approved, you get quick funding
Use your card for other air conditioning repairs or home improvement projects
The easy application process for most credit card companies
Cons of using a credit card:
Higher interest rates than personal loans
Some HVAC repair companies might charge an additional fee if you are paying with a credit card
Can you get an HVAC repair loan with a 600-credit score?
It is possible to get an HVAC repair loan with a 600-credit score. Lenders might even be more willing to give you a loan if you have a high income or a low debt-to income ratio. Each lender is different, so it is worth it to shop around for lenders before choosing one.
Fair credit lenders will also work with people who have a credit score of 600 or less. They might offer high-interest loans though. Always compare rates and fees when looking at lenders.
What lenders provide HVAC financing for bad credit?
Some lenders can offer financing for borrowers that have bad credit. If you know that you have bad credit you should try to work with a lender that you qualify for. A good place to start is by researching bad credit lenders. You should be able to access some of their requirements online and get a feel for which one might be the best fit. If you want to skip some of the research you can check offers at Acorn Finance. Some of Acorn Finance's lending partners can help bad credit borrowers.
You can also check with the following companies:
LightStream
Marcus
Discover
Upgrade
LendingClub
How to finance an HVAC with bad credit?
If you have bad credit and can't afford to take out one of the high-interest loans that you may be offered, saving up and paying cash might be cheaper. However, this isn't always possible. In some cases, it might even be bad for your health if it's extremely warm when your air conditioning happens to break.
For urgent repairs, you can consider applying for a personal loan. This is usually a home improvement loan or another type of personal loan that is deposited as a lump sum in your bank account.
Before choosing a lender, always shop around and compare rates before choosing one. You will always want to choose a lender that offers the lowest interest and a minimum monthly payment that you can afford. Checking your credit score before applying for a loan can be beneficial. In some cases your credit score may be better than you thought.
What is considered bad credit when looking for HVAC financing?
This depends on the lender you are applying to and how large of a loan you are requesting. Some lenders might be more lenient than others. However, you will most likely need a FICO score of 600 or higher. A credit score between 300 to 629 is considered bad by most lenders. If you have a credit score in this range it can be especially difficult to qualify for HVAC financing. Even if you get to the fair credit range of 630 to 689, you may still struggle to get HVAC financing.
Can AC units be repaired?
AC units can be repaired in most cases. However, AC units usually malfunction or break down when they are used the most. If your AC breaks down during peak season, it may be harder to get it repaired right away. Repair companies are probably swamped with appointments and may even charge more money due to demand. If you start to notice any issues with your AC system, you should address the issue sooner than later.
Fixing an AC can be a good option in the following circumstances:
It's not too old. Once a unit is ten years old or more, it's often better to replace it.
The parts are available.
It's still operating efficiently.
It's not experiencing frequent breakdowns.
The problem is not the compressor or condenser.
There's no question having a technician come and repair your unit will be expensive, but it will usually cost far more to replace your AC.
How long do AC units last?
AC units can have a short or long life span. It depends on the quality of the AC, how often you use it, and how often you maintain it. You can generally expect to get about 10-15 years out of an AC unit that's used regularly. Having service done to your unit may extend its life since service calls can help catch any problems and correct them before they become significant issues. It's not unheard of to get more than 15 years from a unit or to have an AC to need replacing before ten years.
Is it worth repairing air conditioning?
Whenever a major appliance needs attention, the owner has to decide between repairing or replacing it. How do you decide what to do if your air conditioner isn't working correctly? There are several things to consider when you are deciding whether to repair or replace your AC. First, can it be fixed? If it's really old, the technician might not have the necessary parts. Secondly, what's the age of the unit? Generally, if an AC is more than ten years old, it's not worth repairing. In a case like this, you should replace it. The next thing to consider is what the problem is. As we have seen, when the compressor or condenser no longer works, it's probably better to replace the unit.
The efficiency of the AC unit is important too. If you aren't getting cold air, or the unit is not cooling some parts of the home, it might be time to replace it. The AC is not operating efficiently, and it may not even after it's repaired. If you notice any leakage or moisture around the unit, it will probably need replacing. Finally, replacing it with a new one will eliminate these problems if it keeps breaking down or making strange noises when operating.
Should I replace or repair my AC unit?
Repairing an AC unit can make sense if it's not too old and is working efficiently. Sometimes appliances just need some basic service or repairs to have them functioning properly again. One general rule of thumb people use to choose between repairing their AC unit or replacing it is the "5000" rule. This works by multiplying the repair costs of the AC unit by its age. For example, if the unit is 12 years old and the cost to repair it is $700.00, you would multiply 12 x $700=$8400. In this case, it would be better to replace it. Cost is an important factor, but there are other things to consider when deciding whether to fix or replace a unit. If the repair bill is reasonable, you don't have continuing problems with the AC, it's less than ten years old, and it's otherwise working well; repairing it could be the best solution. Asking your technician's advice and getting a second opinion can be really helpful when deciding what to do.
How much does it cost to repair the furnace?
Any number of things can go wrong with a furnace. The cost to repair it usually depends on the problem, the type of furnace you have, and where you live. Currently, the national average for furnace repairs in the United States is $304, with the average repair bill ranging from $131-$479. Electric furnaces have the lowest cost average for repairs at $300. Oil furnace repairs have an average range of $300-$1200, which is the same for propane or gas furnaces. Your repair bill typically depends on the problem. Furnaces can have a wide range of problems, with some being less expensive to repair than others. For example, repairing a flame can cost between $75-$250, while fixing the furnace coil can set you back between $600-$2000 or more.
How long do furnaces usually last?
Like any appliance, the length of time a furnace will last usually depends on its quality, how often it is used, and how it's maintained. Some furnaces can last for 20-30 years, but it's not unusual to have to consider replacing them after 15 years. Maintaining it regularly will keep you on top of any repairs that might need to be done to keep it in good working order. The lifespan of your furnace depends on the type of furnace it is as well. An electric furnace will usually last considerably longer than a gas furnace. Electric furnaces can last between 20 and 30 years, while gas furnaces typically need to be replaced between 15 and 20 years.
How do I know if my furnace needs to be replaced?
Most things need maintenance or repairs now and then, but how do you know when it's time to replace your furnace? Your furnace might give you warning signs that let you know it needs replacing.
Some warning signs that your furnace is nearing replacement are. . .
Your home has cold spots or is just cold.
Your furnace doesn't come on regularly, and you need to reset the thermostat constantly.
The furnace is creating dust throughout your home.
The furnace turns on and off repeatedly during a short period.
Your furnace is more than 15 years old.
You notice your heating bills have increased.
The furnace is making strange sounds, giving off odd smells, or something doesn't look right.
Two other ways that can help you decide if you need a new furnace are the 50% rule and the cost of repair multiplied by the age of the unit. The first rule states that if the cost of repairs is 50% or more than the cost of a new unit, you should replace your furnace. If, for example, the repairs are $3500, but a new furnace is $6000, your best option is to get a new furnace.
The second way is similar to how to determine if you need a new AC unit. You multiply the age of the unit by the cost of the repairs. If the total is higher than the price of a new furnace, you should replace your furnace. For example, if your furnace is ten years old and the repair will cost $400, you multiply 10 x $400=$4000. If this is less than the cost of a new furnace, you are better to repair the furnace in most cases.
How much is a new furnace for a 2000 square foot home?
The replacement cost of a new furnace can vary significantly depending on the type of furnace, the quality of the unit, how energy efficient it is, and if you need additional work done like ductwork. The cost of a new furnace can be as little as $2000 for an electric one or $40,000 or more for a geothermal system. Of course, labor costs will add to the price as well. On average, furnace replacement and installation range between $2793-$6730.
HVAC Repair Financing Made Easy
In conclusion, HVAC financing allows you to make an affordable monthly payment for your new HVAC unit. Cool down and relax while saving your cash for a rainy day using HVAC financing. Acorn Finance is a trustworthy company that partners with reputable lenders to provide competitive HVAC financing. You can apply online using their simple three step process to receive multiple offers for HVAC financing. This allows you to save time and compare offers easily. Ready to take the next step? Apply online today!
How Does Acorn Finance Compare?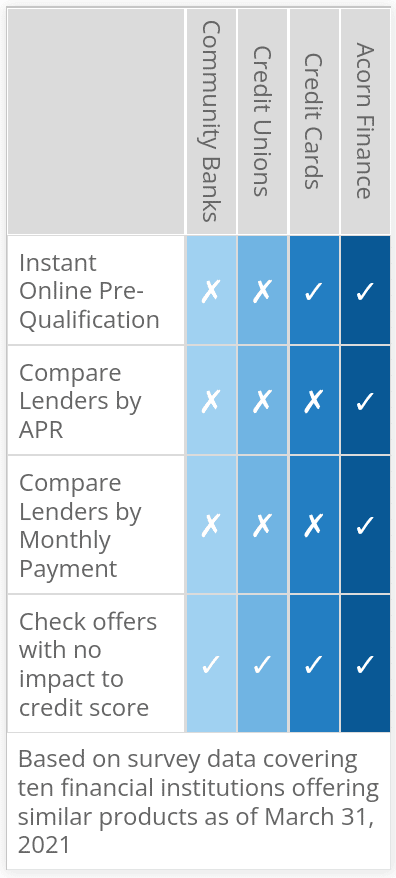 Compare Rates From Top Lenders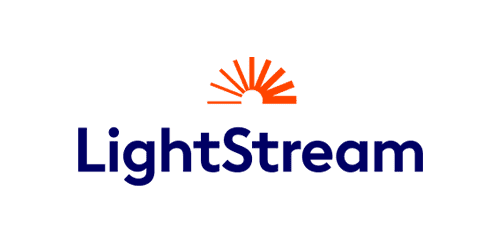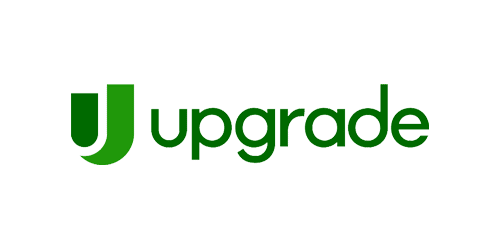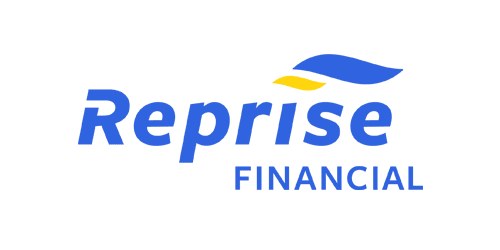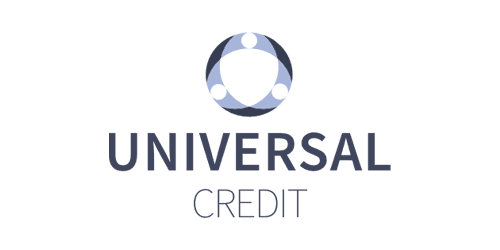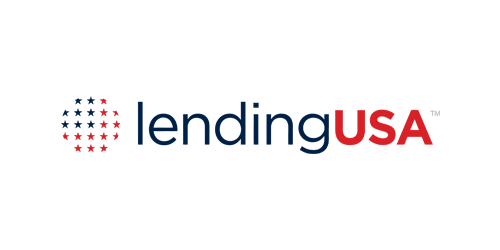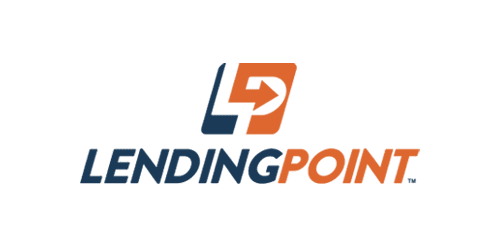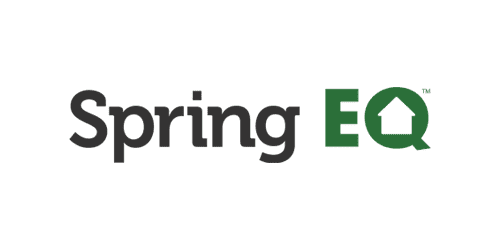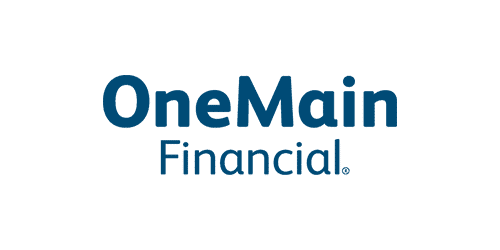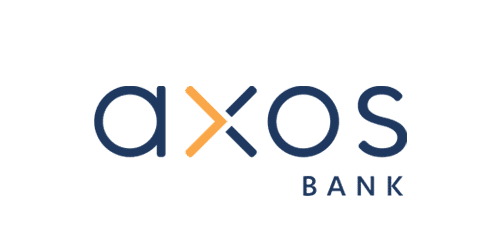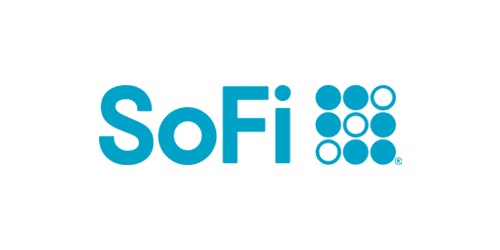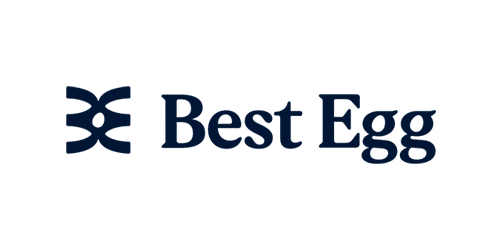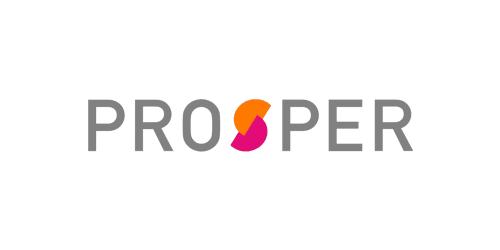 HVAC Financing Calculator
Are You A Contractor?
Stop letting HVAC financing deals slip through your fingers.
Close more sales with easy, affordable HVAC financing options for your customers
Get Started
Popular Home Improvement Projects
Barn Financing Options
One home, endless possibilities
Personal Loan Information