Appliance Financing
Get personalized appliance financing rates in 60 seconds without affecting your credit score in any way.
How much would you like to finance?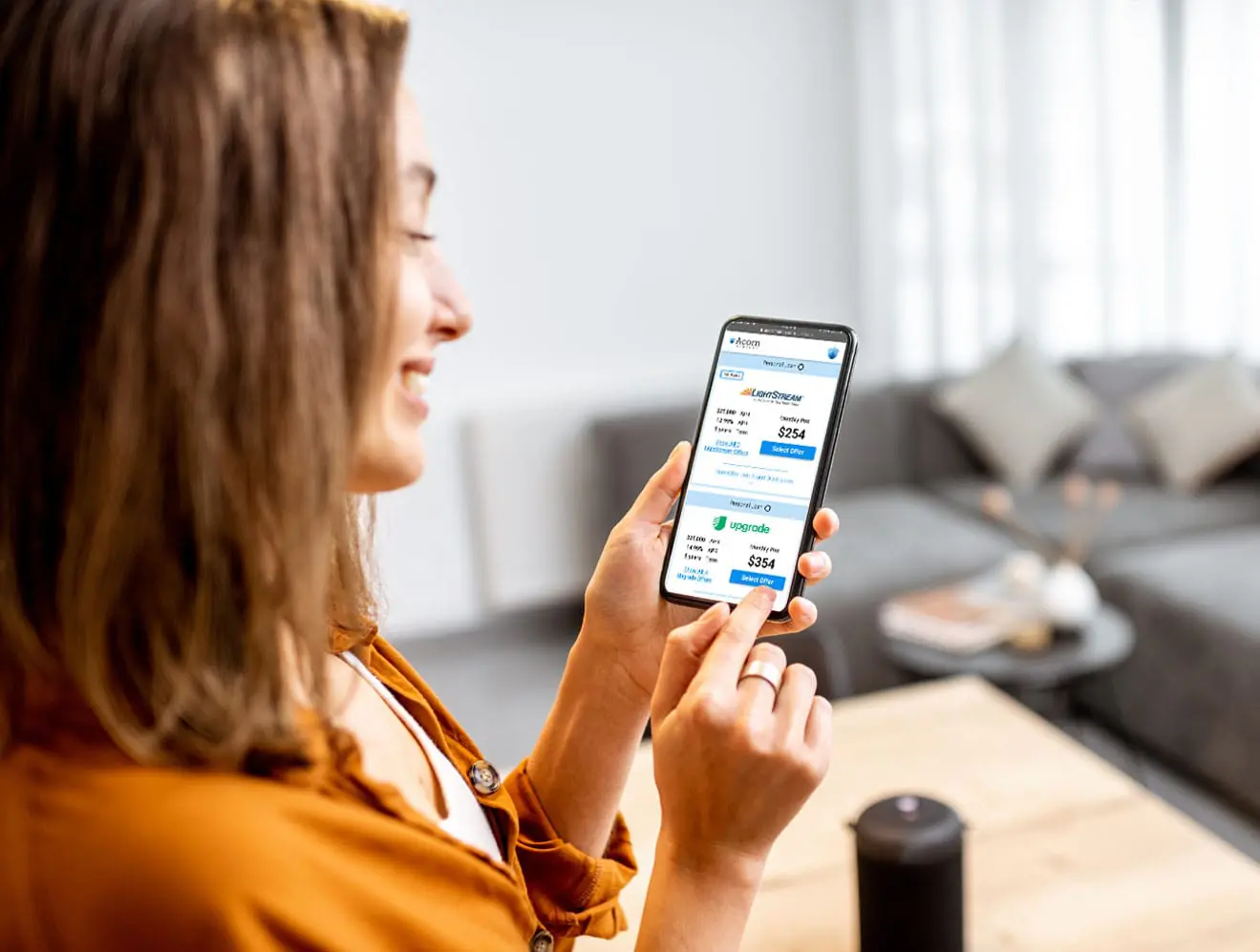 Appliance Financing for Good or Bad Credit
Acorn Finance gives you control when shopping for low rates on a loan to buy new appliances. Compare personalized offers from lenders in our network, with no impact to your credit score. That means multiple loan offers for your new appliances in seconds.
We'll even help you check for pre-qualified appliance financing in seconds with our broad network of national lending partners. You can easily sort the offers based on what's most important to you: interest rate, payment amount, length of the loan term.
Our 100% online, customer-friendly process is designed to help you find affordable payment options with lenders that can quickly finance your new appliances.
Check Offers
Quick. Simple. Secure.
Finance Appliances & Pay Monthly
Check New Appliance Financing Offers With No Impact To Your Credit Score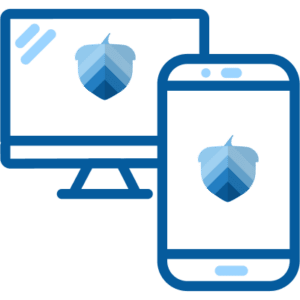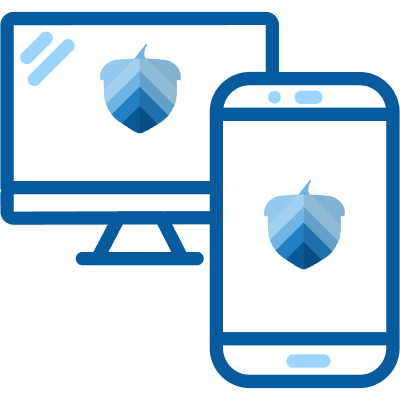 Fill out an easy online form to check for pre-qualified offers with no impact to your credit score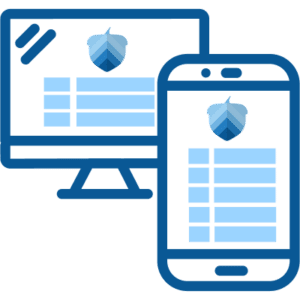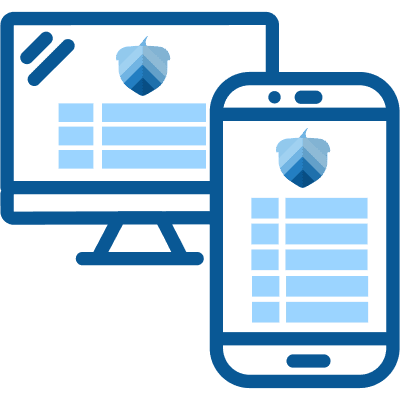 Compare terms and payment options to select the offer that's best for you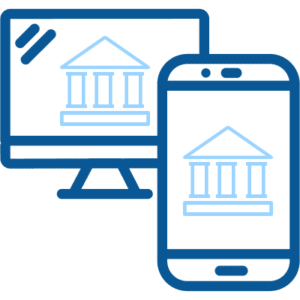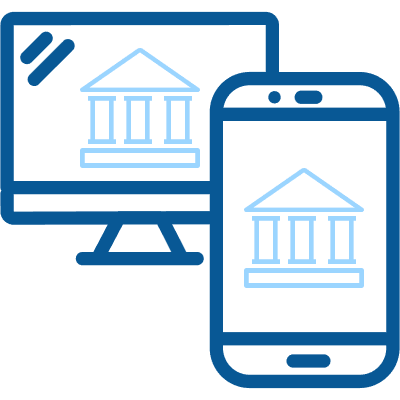 Complete your application on your selected lender's website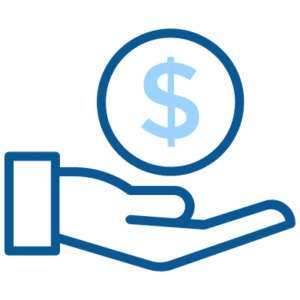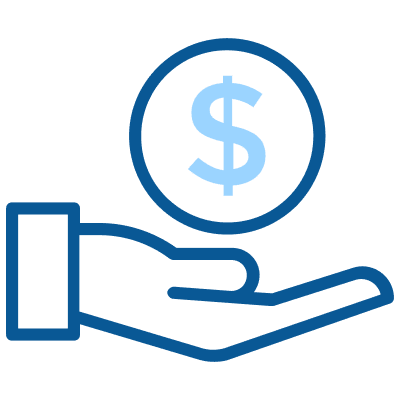 After your loan is approved, your funds should arrive within 1-2 business days2
Check Offers For Appliance Financing
Check offers
in seconds
Get pre-qualified for loan offers with an easy online form
Won't impact
credit scores
Checking offers will not impact your credit score
Competitive
payment options
Compare rates from our network of lenders
Receive
funds quickly
Same-day and next-day available for certain offers2
Compare Rates From Lenders in Our Network
Finance Appliances: Get Credit for Home Appliances
Although renting an apartment, condo, or house can have its drawbacks, one benefit renters enjoy is that their landlords are generally responsible for furnishing, repairing, and replacing the property's major appliances. Homeowners, on the other hand, don't have it that easy. If a dishwasher, refrigerator, or washer & dryer goes on the fritz, homeowners are on the hook to resolve the problem, whether that means hiring a repair technician or purchasing a brand-new appliance.
It's no secret that modern appliances can be expensive, especially if you want all of the latest bells and whistles. And for homeowners on a budget, the cost of a new appliance can be quite prohibitive. Fortunately, however, appliance financing makes it easy to purchase new amenities for your home even if times are tight. But exactly what is appliance financing, and this kind of arrangement a good deal for homeowners?
What Is Appliance Financing?
An appliance loan — also referred to as appliance financing — is a financial arrangement in which a homeowner purchases a refrigerator, dishwasher, or similar appliance by paying for it over time, instead of all at once.
Can You Finance New Appliances?
Many of America's most popular big-box stores and home furnishing retailers offer financing options for qualified customers. If approved for financing, homeowners generally have their pick of appliances, including new and older models.
Does Financing New Appliances Hurt Your Credit?
In most cases, choosing to finance a new appliance will affect your credit score. However, that's not to say it will necessarily damage it. In fact, financing new appliances can actually help you build (or rebuild) your credit — but only if you make your monthly payments on time. But there's more to the story.
Regardless of all other factors, if the retailer you're purchasing an appliance from requires a credit check to approve you for financing, your credit score will automatically drop a few points for at least a few months. Likewise, establishing a new financing plan of any type lowers the average age of your credit accounts, which can also ding your score. In order to avoid damaging your credit score, look for retailers that offer appliance financing with no credit check required.
How Much Do New Appliances Usually Cost?
The cost of new appliances can range from a few hundred to several thousand dollars based on the type of appliance, how recently it was manufactured, and which features it offers. In general, refrigerators are the most expensive home appliance while clothes dryers are the least expensive.
When to Consider Purchasing New Appliances Vs Repairing Issues
If one of your current appliances isn't working as well as it once did, it's likely time to start weighing your options regarding whether to repair or replace it. If the cost to repair the issue exceeds 50% of the appliance's value, replacing the machine likely a smarter move.
How Much Does It Cost to Repair Appliances?
Mechanical and electrical issues are common when it comes to appliances, and many such problems can be repaired for $150 to $300. If a repair technician quotes a significantly higher rate, you might be better off replacing the appliance.
When Should You Replace Your Appliances?
Perhaps the best time to replace your appliances is during holiday sales such as those that occur on Memorial Day, Independence Day, Labor Day, Veterans Day, and Black Friday. And another great time to buy is when new models arrive on showroom floors and the previous year's products are discounted.
What Is the Average Interest Rate on In-store Appliance Financing?
Several retailers offer 0% financing on appliances if the item is fully paid off in a specified span of time, commonly 18 or 24 months. If a customer is unable to completely pay for the appliance in that amount of time, they can expect to pay interest rates ranging from 8% to nearly 30%, with an average rate of approximately 22%. And, in general, if you're looking to buy appliances on finance with bad credit, you can expect to pay a higher interest rate than individuals with immaculate credit records.
Pros and Cons of Appliance Financing
Here's a quick comparison of some pros and cons associated with appliance financing.
Pros
Appliance financing allows you to purchase a new machine without paying for it all at once.
Appliance financing can help you improve your credit if you make payments on time.
Retailers that offer 0% interest rates let you pay over time without necessarily paying more.
Cons
Applying for appliance financing will lower your credit score — even if you're not approved.
Interest rates can be extremely high, especially if you miss a payment.
Financing your appliances means you'll have an additional bill to pay each month.
Can you finance used appliances?
Some stores may offer used appliance financing, but it depends on where you are buying your appliance. Personal loans from lenders or banks can be used to finance used appliances. Most lenders and banks don't ask what the personal loan is being used for so you can use it to pay for used or new appliances. You can even use the funds to pay for other expenses such as the removal of old appliances and installation.
Whatever option you choose, make sure to get a loan with low interest and low APR. When financing used appliances, make sure the appliance is in good condition and has a good chance of lasting for years to come. If you use a personal loan you should not need a down payment. While you can use a credit card to finance used appliances, it usually makes more financial sense to use a personal loan.
Can you finance appliance repairs?
You can finance appliance repairs if you don't have enough money upfront to pay for the repair. Some may prefer to use a low APR credit card to finance appliance repairs. However, you may not have a low APR credit card or a limit that is high enough to cover the repair. Additionally, the repair company or handyman may not accept credit cards. A personal loan can be used to finance appliance repairs. When you use a personal loan the funds are deposited into your account and you can spend them like cash. If the repair is very expensive, some people choose to get a new appliance instead of paying to fix the old one. Whether you choose to buy a new appliance or repair an existing appliance, you can use a personal loan.
Once you have determined how much you need to borrow, you can proceed with applying for financing. You should shop around for the best rates before choosing a lender. You should also spend time comparing rates and checking reviews to see who has the most flexible lending criteria.
Use Acorn Finance to see what lenders you pre-qualify for and what kind of loans you will be able to get. This takes away the headache of needing to search online for lenders.
Personal loans can come in small or large amounts but usually start around $1,000. You can apply for a loan that is close to the amount you need for the repair.
What type of loan is best for appliance financing?
There are several loan options for appliance financing, and some are better than others. Some appliance stores or large retailers offer in-house financing or they may partner with a 3rd party lender that provides the actual loan. If they partner with a 3rd party lender, they can usually offer an in-store application process. In some cases, you may be able to find a retailer offering a 0% promotional financing offer.
If the appliance store has low-interest financing or 0% interest, this could be a good option for financing your new appliance. Always ask the place you are buying the appliance from if they have in-house financing and check the terms and conditions.
If they don't have in-house financing, you can try getting a personal loan. These are from banks, credit unions, or online lenders. Personal loans are usually unsecured, so you don't have to use an asset as collateral.
Depending on your credit score and your debt-to-income ratio, you might qualify for a low-interest personal loan. Check with your specific lender to see what the interest is and the terms for paying the loan back.
Some stores also have rent-to-own options. This simply means you are renting the appliances while making weekly or monthly payments on them. The terms should all be included and laid out in the rental agreement. Each time you make a payment, the lease should renew itself. If you stop making the payments, you will need to return the appliance. You may also be free to return the appliances whenever you want to. This may work for short-term needs but might not be the best long-term solution.
Usually, after making payments for about 12-24 months, you will own the appliances. This option usually doesn't require a credit check or a down payment, so it can be a good option for those with low credit or no cash on hand. However, not all appliance stores have this option. In addition, renting appliances may cost you more money.
individuals take out personal loans for a variety of reasons. Usually, the lender doesn't check what you are using the money for or even ask. You receive the money as a lump sum and then spend it as you choose. However, try to only take out the amount you need so you don't overspend or go into too much debt.
The interest and fees on the personal loan will depend on your credit score and debt-to-income ratio, so some people may be able to get lower interest than others. If you don't want to get a personal loan, you can consider getting a low-interest credit card. Some credit cards offer 0% introductory fees. You can buy the appliance during this time and then pay it off before the credit card starts earning interest.
What are the benefits of financing appliances?
Financing appliances can come with many benefits. The top one is that you don't have to spend the money upfront. You don't need to worry about draining your bank account or savings to get an appliance. Financing can provide you with a way to get the appliances you need and make the payments back month by month.
Some other benefits include:
Build your credit history
Raise your credit score if you make payments on time
Some offer 0% interest
Get a new appliance to increase the value of your home
How long will it take to pay back an appliance loan?
This depends on the loan you took and how large it is. Large loans can take longer to pay off than others. The lender will give you a payment plan with all the loan terms laid out. It will tell you how long your term is for and how many months or years it will take you to pay off. In some cases, you may be incentivized to pay the loan off early. In addition, if you are using a simple interest loan, you may save money on interest by paying extra each month.
Most loan terms last between 2 to 7 years for personal loans. An appliance is usually a smaller purchase than other home improvement options, so it might not take you very long to pay off. Some loans may only be 12 months.
Where to find appliance financing offers?
First, check the website you are wanting to get the appliance from. They may offer financing on their website or rent-to-own options. This might be the most convenient option. However, don't be tricked by convenience or bold print advertising. Carefully review the fine print, price of the actual appliance, and other options before moving forward. Shopping online for appliances and financing offers can help you prepare for your visit to the store, if indeed you do actually need to go to the store.
Comparing loan offers is always important. If you plan on making other home improvements, in addition to upgrading appliances, you may want to use one personal loan to cover all your expenses. Managing just one loan is usually easier than managing several. At Acorn Finance you can check home improvement loan offers within 60 seconds or less with no impact to your credit score.
Check Offers for Appliance Financing Today with Acorn Finance
Now that you have a better understanding of how to finance appliances, start shopping around for the retailer that will offer you the best appliance financing deals on the machines of your dreams.
Can you finance appliances with bad credit?
Poor credit can cause you to pay higher interest and fees. However, you may still be able to qualify for financing. Luxury appliances that are new and more expensive can be harder to qualify for as well. Take advantage of automatic payments to pay your monthly payments on time. If you can boost your credit score, financing appliances should be more cost effective and easier to qualify for.
Does financing appliances help credit score?
Regardless of whether you're approved for financing your major appliances, your credit score will likely be impacted. Provided you make your monthly payments on time, your credit score should improve. However, shortly after taking the loan, your credit score may decrease.
Does financing appliances hurt credit?
The long term impact on your financials will almost always depend on your timely payments. In the short-term, your credit score may take a temporary hit from financing, either from the credit check performed to your credit score or simply activating the financing plan itself. When shopping for financing, try to apply with lenders or retailers that only do a soft credit pull for prequalification purposes.
Should you buy appliances on credit?
Not only can expensive items cause a hit to your credit score but there's a limit to how much you can charge to your credit. Despite the initial impact on your credit score for appliance financing, it's almost always the best option if you do not have the cash available.
Does Home Depot finance appliances?
There are two credit card options available at Home Depot.
The Home Depot Consumer Credit Card
The Home Depot Consumer Credit Card offers a promotional 0% interest rate for 6 months on purchases of $299 or more. If you wait for a seasonal promotion you may find a longer period of time for the interest free financing. Be aware that if you miss a payment you may be charged for the full interest amount. This card is designed for smaller projects but still costly enough to require assistance in financing.
The Home Depot Project Loan Card
The Home Depot Project Loan Card is for much larger projects, allowing you to borrow up to $55,000 at an interest rate of 7.42%. You have six months to approve and make decisions about your purchases. The initial interest rate is only for the first 66 months and begins to get significantly more expensive the longer you wait to finish your payments. This card is designed for large and costly projects like remodeling your kitchen or bathroom.
Does Lowes finance appliances?
As one of Home Depot's largest competitors, you can expect that Lowe's will offer something worthwhile. Unlike the Home Depot cards, Lowe's generously has a choice between 5% cash back on purchases or help with financing on items over $299. The caveat of choosing the Lowe's Advantage is a rather high interest rate of 26.99% – though this is a quite common APR among store cards similar to this.
If you opt for the 5% cash back on your purchases, you'll see that applied instantaneously as you checkout at the register. Unfortunately, you cannot stack this cash back offer with any coupons that might also help you with your purchase.
If you decide to finance appliances, you can enjoy a 0% interest rate for the first 12 months. Be aware, as with the Home Depot card, if you miss a payment you can be liable for the full interest amount from the date of purchase.
Does Sears finance appliances?
Customers have a variety of options, including co-branded credit cards, a Sears card, and home financing. These cards work similarly to Lowes – you earn points which can be redeemed at any Sears location.
The Sears Home Services is for financing major home improvement projects, where they even assist in installation and maintenance. Sears will work with you on your home improvement project and offers a free in-home consultation to get you started. You can look forward to 18 months of zero interest financing for purchases over $1,500.
Does Costco finance appliances?
Between Home Depot, Lowes, Sears, and Costco – you'll find the most limited options at Costco. There are no financing options available. Costco has two Visa credit cards.
The Costco Anywhere Visa Card
The Costco Anywhere Visa doubles as your membership card. You can enjoy cash back on purchases and extended warranties. The rewards alone are extremely appealing but you need a relatively high credit score to qualify.
The Costco Anywhere Visa Business Card
The Costco Anywhere Visa Business is purely for your business. Unless you're running a business that's planning on expanding, this will likely not be for you.
Financing options for appliances
It's not so hard to believe that in today's age we have a lot of options to purchase expensive appliances. You don't just have to come up with every dollar yourself at the time of purchase. There are convenient options available to you, no matter what kind of appliance you're looking for. If you want to know how to finance appliances, here are your most effective options.
Credit Card or Retailer Financing Options
Many of the retail stores like Lowes and Costco don't have flexible financing options other than credit cards that include reward programs. You do get to take advantage of the rewards program of your credit card of choice but if you fail to make payments, the high interest rates and hit to your credit score can be unfortunate consequences. Credit cards can help you make larger purchases but it can also lock up your available credit when you need it for other, every-day kinds of purchases. If you can safely pay off your credit card quickly and it doesn't interfere with your need for available credit, this may be a great option. Though you would want to take advantage of any 0% APR opportunities that you can.
Personal Loan
A personal loan or appliance loan can be a smart way to finance appliances, especially if you are planning on purchasing more than one. Compared to credit cards, personal loans usually have much lower interest rates. In addition, they usually have a fixed term. This means that you will know your monthly payment, and as long as you pay it on time, your loan should be paid in full by the end of the term. You can get prequalified for a personal loan before shopping for appliances so that you know what you qualify for and what you can afford. At Acorn Finance you can check personal loan offers within 60 seconds or less without impacting your credit score. If this is your best option, make sure you shop around for the best rates and decide carefully. You want to determine what's affordable for you.
Rent To Own
There are homeowners that want more flexibility over their appliances – not just in terms of financing, but having the ability to return them at any time. This financing option works on a lease agreement. In the same way you rent an apartment, you rent the appliances that are placed inside it. Every payment renews your lease and you're welcome to stop your payments at any time and return the appliance. If you make payments for long enough, you may end up paying for the item outright. This comes at its own disadvantage as you'll likely pay higher rates and end up keeping the appliance in the end. Typically, you don't have to go through hoops like credit checks. Renting can be a positive option for those that have temporary home situations.
Weighing the pros and cons of your options carefully is an important part of being a homeowner. While we can't decide what's best for you, we can give you the knowledge and tools to make the best decision for your future financial needs.
Appliance Financing FAQs
See some of the most commonly asked questions about securing appliance financing.
Should I finance appliances?
Most likely you either have no option but to finance appliances or you could finance or pay cash for appliances. Regardless of your situation it can make sense to finance appliances, especially if you can qualify for a 0% promotional offer or low interest personal loan. Financing may increase your budget, thus allowing you to purchase higher quality and longer lasting appliances. Perhaps you may even want to add an extended warranty. If you are paying cash, purchasing an extended warranty may not be in the budget. However, if you are financing, an extended warranty may equate to a small amount of money each month. While financing may come along with additional costs, for most of us an affordable monthly payment is more convenient than spending a lump sum of cash. Most loans do not have an early payoff penalty so if you can afford more than the minimum monthly payment you can pay more toward your balance. Paying the loan off early can help you save money on interest. In addition, if you are trying to establish credit you may want to finance appliances and pay them off early or on time. This is a great way to help establish credit history and boost your credit score.
Is it better to pay upfront or monthly for appliances?
While it's usually cheaper to pay upfront for appliances, the answer to this question usually depends on your finances. If paying up front means draining your emergency savings fund, it may be smarter to use financing. It's a good idea to keep some cash available for real emergencies or times when financing is not available. Alternatively, if you are being offered a promotional 0% appliance financing offer it's essentially free to use financing and take advantage of affordable monthly payments. However, if you use promotional financing and miss a payment or fail to repay the loan balance within the promotional period you may incur high fees.
Does financing appliances hurt your credit?
Applying or financing appliances may temporarily reduce your credit score, but not for long. Once you start making on time payments you should see your credit score go back up. On time payment history paired with decreasing loan balances can improve your credit rating overtime. This means that in the long term, appliance financing may actually improve your credit. If you are unsure if you qualify for appliance financing or uncertain you want to use it, but want to apply without affecting your credit score, visit Acorn Finance. Acorn Finance allows individuals to submit one application for appliance financing and receive multiple personalized loan offers without affecting credit score. Just about anyone can use Acorn Finance and it's completely free and secure. Acorn Finance has lending partners that can help good and bad credit borrowers secure appliance financing.
What is a good month to buy appliances?
Trends show that holidays and holiday weekends are some of the most popular times to purchase appliances – perhaps because of the sales and advertising. Most of us have some downtime during holidays as well that allows us to invest some time into finding the best deals. Shopping holidays such as Black Friday and Cyber Monday can be good times to buy appliances as well. You may also find heavily discounted prices after Christmas or other major holidays. Another idea is to find appliance stores or retailers that may be going out of business. This may be more difficult in terms of timing than regular sales. While timing is important for getting an out of this world deal, it's not everything. Consumers should buy on their own terms, compare prices, and have funds or financing ready to go. If your appliance or appliances are close to needing replacement it's a good idea to start shopping before they are not functioning and need replacement.
Most appliance retailers offer sales for three-day weekend holidays such as Presidents Day, Memorial Day, Fourth of July, New Year's, Labor Day, and Veterans Day.
Where can I get the best deal on appliances?
Large national retailers and small retailers can both offer competitive deals on appliances. You may want to browse local options and check reviews to find the best appliance retailers in your areas. Some retailers that are highly recommended for offering insane deals are Home Depot, Lowe's, Costco, Best Buy, and even Amazon. While you may be able to browse selections online for these retailers, they may offer different deals in store. Best Buy is well known for its promotional 0% financing offers. Home Depot and Lowe's can offer a 10% military discount for most appliances even if they are on sale. You may also want to factor in retailers delivery and warranty coverage into your price comparisons. You may find a retailer with awesome deals but no delivery option. If you do not have the means to pick up, load, and unload the appliances on your own, you may want to use a retailer that offers delivery. In addition, some retailers may offer extended warranty coverage. Some retailers may have non-advertised open box discounted items. You should ask a representative if they have any "out-of-box" appliances at discounted prices.
What is the best store to buy appliances?
The best store to buy appliances can vary depending on your location. If you do not have a preferred retailer, we recommend using the internet to compare stores nearby. You should be able to get an idea of their selection and customer reviews based on their websites and online reviews. In a 2020 article, USA Today named the 7 best places to buy large appliances online. This list included Appliances Connection, Abt, AJ Madison, Best Buy, The Home Depot, Lowe's, and Amazon. You can shop online with these retailers and have appliances delivered right to your door. You can use your personal loan appliance financing for in store or online purchases from any retailer.
Is it better to buy appliances in a bundle?
Purchasing appliances in a bundle may help you save money. However, be sure to pay attention to the appliances included in the bundle. It's easy to get caught up in the savings and let your attention drift away from the actual appliances. While we may be drawn to the cheapest refrigerator or washer and dryer, it may not be the best investment. You want to shop for value when you purchase appliances. In addition, if you do not need all the appliances in the bundle, it may actually cost you money. For those of you that may be new to bundling, it's becoming more popular. Some retailers allow consumers to bundle goods or services. In exchange for spending more money, retailers may offer customers a bundle discount. For example, leading appliance manufacturer Bosch offers bundle discounts that can exceed $1,000. If you are starting from scratch and need all new appliances, bundling can help you save big time.
How can I finance appliances?
There are a few ways you can appliance finances including a personal loan, credit card, or promotional financing offered by a retailer. If you can pay the balance off within 30 days, a credit card may be a reasonable option. However, if you need a longer amount of time to pay off the balance you should consider other options. Personal loans offer flexible terms and are fairly quick and easy to secure. Some retailers may offer promotional financing but you may need very good credit to qualify.
Can you get appliance financing for bad credit?
Having bad credit should not be a deterrent to allowing you to finance an appliance. An appliance is often a necessary item that contributes to the overall function of your home. Whether it be a dishwasher, refrigerator, washer/dry, or hot water heater, many appliances are needed to maintain a happy and functioning home for you and your family. Why should only borrowers with good credit be able to maintain that necessary function of their home?
While a bad credit score may cause you to pay a high interest rate or other fees, it is possible to qualify for appliance financing with bad credit. If you are looking to buy all new appliances or extremely expensive and high-end appliances, it may be harder to qualify. Overall with bad credit qualifying for financing will not be a walk in the park but with the right lender you should be able to secure financing. At Acorn Finance you can check appliance financing offers but for an increased chance of approval you should have a FICO score 600 or higher.
What credit score do I need to buy an appliance?
It is a general rule that you should want to maintain a credit score between 580 and 669 to secure financing to buy an appliance. A score between 580 and 669 puts us somewhere between having what is considered poor and a fair credit score. If your credit score is below 600 you should try to achieve a score 600 or better before applying for appliance financing. This can help increase your chance of approval. If you have a credit score 580 or below you may not qualify for promotional financing but you may qualify for a personal loan. At Acorn Finance you can check personal loan offers to find out if you qualify.
What is considered bad credit when looking for appliance financing?
Bad credit can be defined as any credit score below 580. You earn a credit score of 580 or below by providing a demonstrated history of missing multiple account payments, taking on too much debt, and other blemishes on your credit history including foreclosures, vehicle repossessions, and having accounts sitting in collections.
If you have a score below 580, you will find it extremely difficult to find a credit card, let alone an online lender that is willing to offer you an unsecured personal line of credit. Often, you will need to find a cosigner, put up some collateral, or seek alternative methods of financing.
What is the minimum credit score for appliance financing?
Having a credit score above 580 is the best way to ensure you can still receive financing for an appliance through an unsecured personal loan. If you have a poor or bad credit score one of the best things you can do is improve your credit before applying for financing. While some online lenders may specialize in helping borrowers with bad credit, the loans often come along with high interest rates and fees. In some cases, you may not have time to improve your credit score. If you find yourself in a situation like this you should apply for a personal loan. If you have a willing cosigner with good credit you should apply with them. Personal loans are installment loans that can be used for appliance financing.
An installment loan is paid off over a shorter period of time and it contains a set number of payments to be made. The interest rate is locked in and you can expect the total loan amount to be paid off at the end of the installment payment period. Make sure you complete all the payments of the installment period on time to avoid paying additional fees and penalties.
Can you buy an appliance on credit?
Yes, buying an appliance on credit is a safe and easy way to make the purchases you need right away and to pay off the total amount over a period of time. You could use a credit card, a secured loan, or an unsecured personal loan to finance your appliance purchase.
Some people find that buying an appliance on credit is a much better option than spending their savings. With the right combination of interest rates and low fees, purchasing an appliance on credit might be considered a smart move for many people.
Can you get an appliance financing loan with a 600 credit score?
A 600 credit score is actually a reasonable credit score for securing a loan for a smaller-ticket item like a washer or dryer unit. There are many online lenders available who would be willing to loan you up to a few thousand dollars to cover any appliances that you need.
With a credit score of 600, many lenders will be looking at your debt-to-income ratio carefully. Having a very low debt-to-income ratio is a great way to increase your chances of qualifying for the loan. Lenders want to see that you have a good stream of consistent monthly income coming in compared to what money is going out, in terms of pre-existing debts.
What lenders provide appliance financing for bad credit?
There are many online lenders that will supply you with appliance financing, even with bad credit. Many appliance retailers will even offer no credit check in-store financing that could be a decent option for many. If you pursue in-store financing, be sure you read the fine print carefully and be wary of any variable rate APRs or deferred interest options.
Variable-rate loans and deferred interest loans could seem desirable at the time when you are in immediate need of a new dishwasher or refrigerator, however, they could end up costing more than you think in the end.
For example, for a deferred interest style of loan, if you miss a payment, or you do not pay off the loan within the loan period for any reason, all the interest owed could become due immediately in addition to other penalties or fees.
A variable rate loan poses the risk of leaving you in the dark about how much interest you could end up paying at the end of the loan repayment period.
When you finance an appliance with an unsecured personal loan, you will lock in an APR that will let you know exactly how much interest you will need to pay, as well as have a set end date for when the loan should be paid in full.
How to finance an appliance with bad credit?
To finance a new appliance with bad credit, the first step you should take is to see if you can prequalify for a new line of unsecured personal credit. An unsecured personal loan may be the best option for your situation if you are looking for a locked-in interest rate and a scheduled monthly payment plan. A quick Google search may retrieve a list of lenders that can approve borrowers with bad credit. Alternatively, it's definitely worth your time to check offers at Acorn Finance. As a last resort, you may want to check with your primary financial institution to see if they can offer you a loan.
How Does Acorn Finance Compare?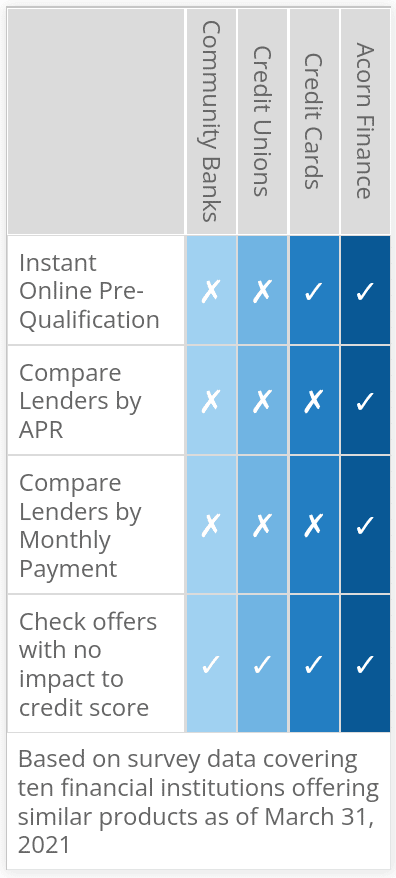 Compare Rates From Top Lenders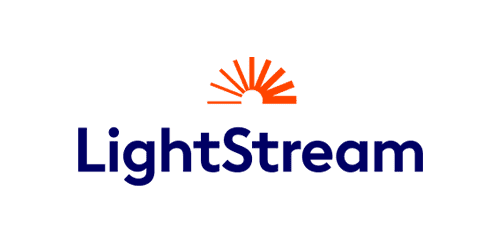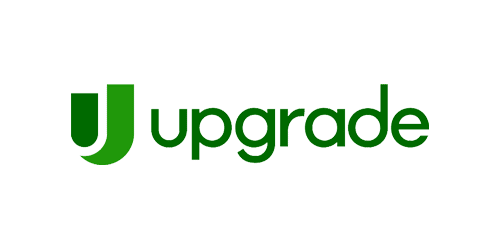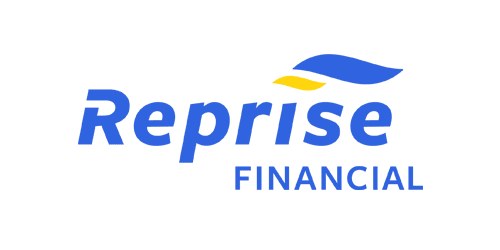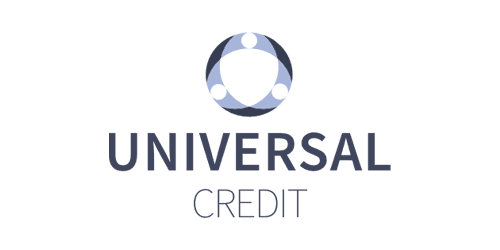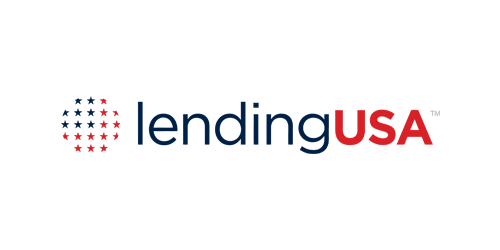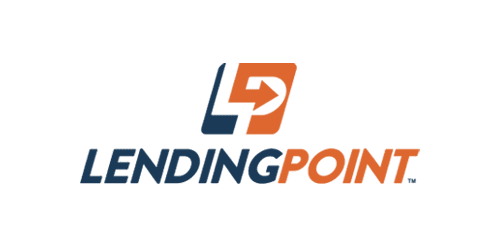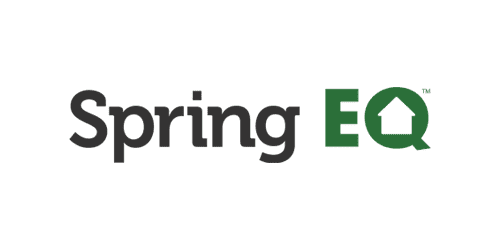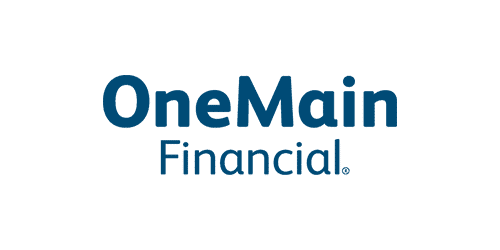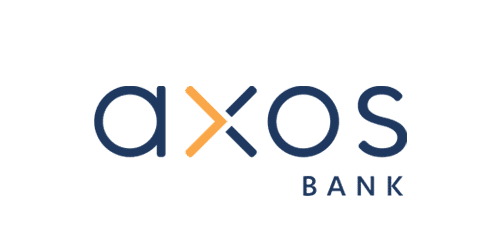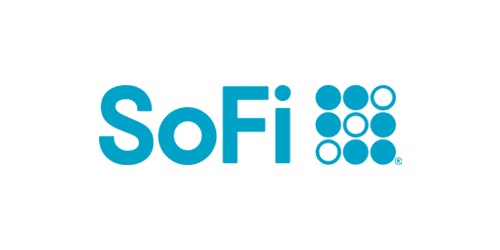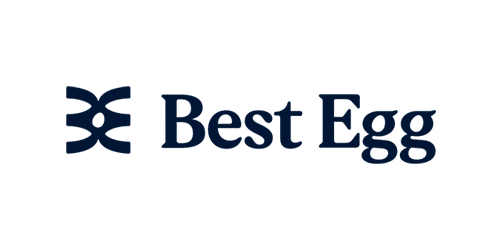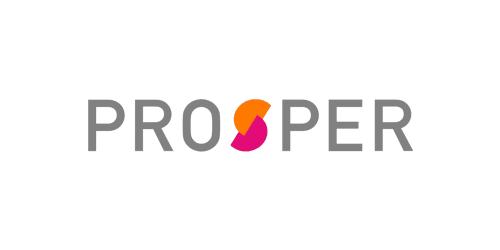 Appliance Financing Calculator
Are You A Contractor?
Don't let appliance financing deals slip away.
Fund more projects with easy, affordable financing options for your customers.
Get Started
Popular Home Improvement Projects
Barn Financing Options
One home, endless possibilities
Personal Loan Information