Plumbing Financing For Good & Bad Credit
Get personalized rates in 60 seconds to secure financing for plumbing work and repairs without affecting your credit score.
How much would you like to finance?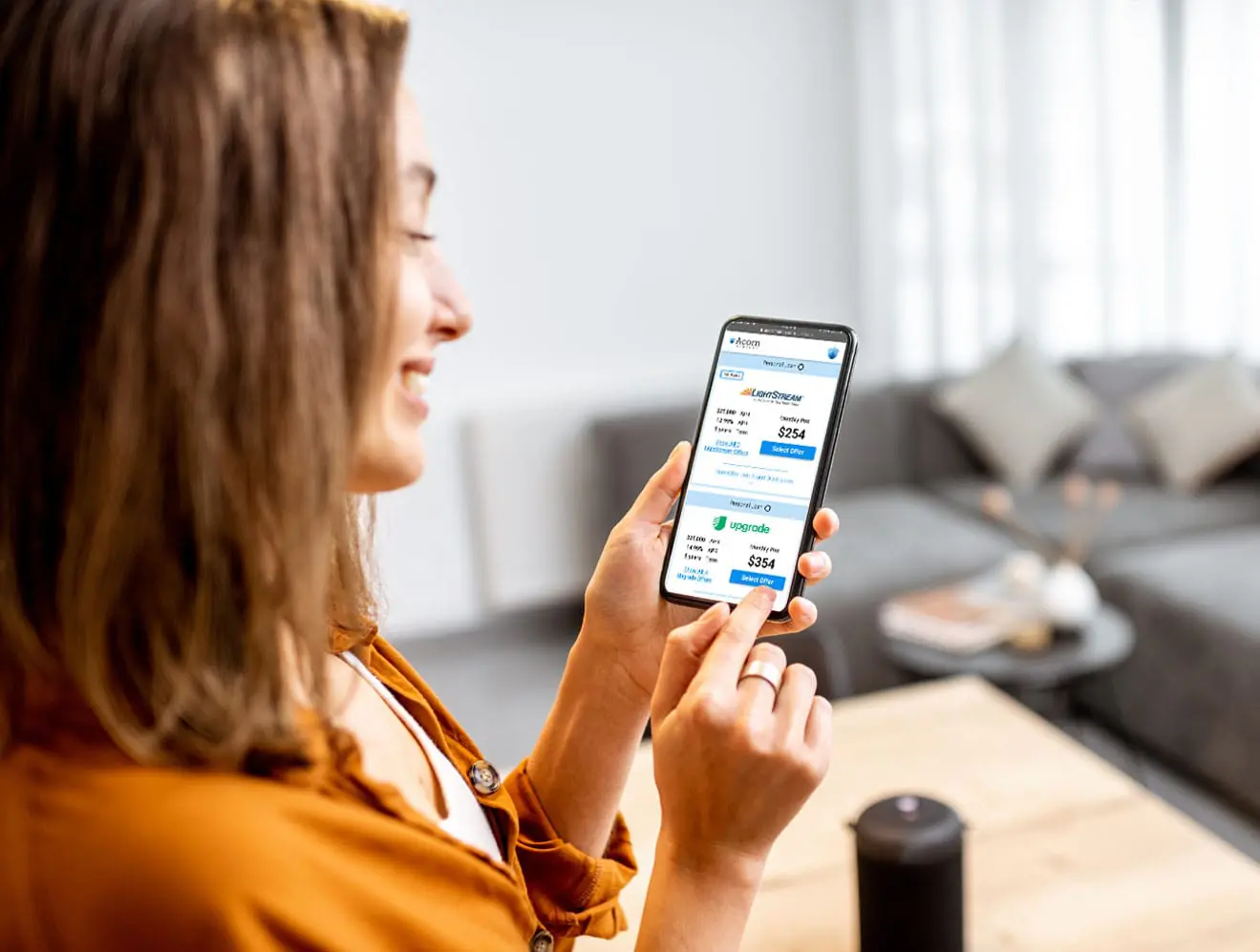 Payment Plans for Plumbing & Repairs
In most cases, you can finance major plumbing work. While paying cash might be the cheapest option, major plumbing repairs may require more cash than you have available. Using a personal loan may be your best financing option. Acorn Finance is a reliable and top-rated company that provides personal loans for plumbing financing. Take advantage of affordable payment options and free services while saving tons of time.
Find financing offers for your plumbing repair needs instantly & compare dozens of personalized offers from our network. Get your leaks or breaks fixed quickly, because with Acorn you can easily sort the offers based on what's most important to you: interest rate, payment amount, length of the loan term. If you have plumbing issues in your home, or want to upgrade your plumbing systems, look into our loan offers today.
At Acorn Finance, you can compare monthly payment options from several lenders in minutes, all without affecting your credit score.
Check Offers
Quick. Simple. Secure.
Finance Plumbing Repairs
Check New Loan Offers With No Impact To Your Credit Score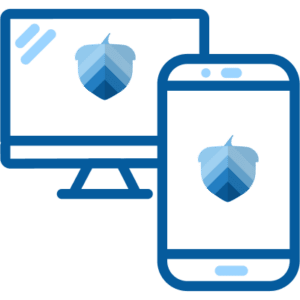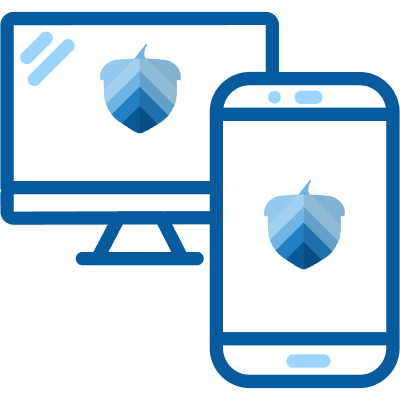 Fill out an easy online form to check for pre-qualified offers with no impact to your credit score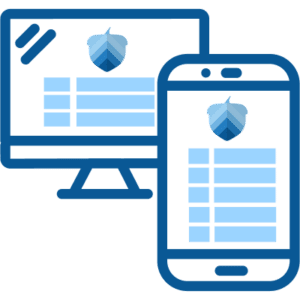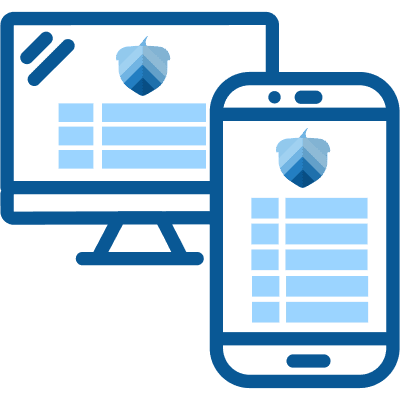 Compare terms and payment options to select the offer that's best for you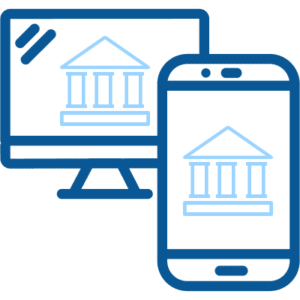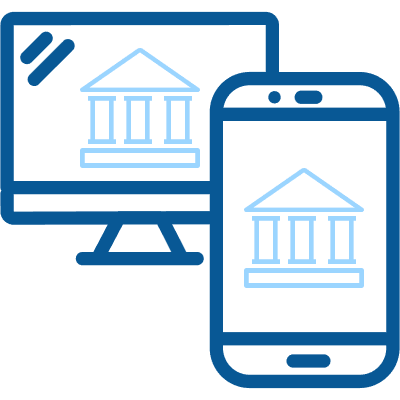 Complete your application on your selected lender's website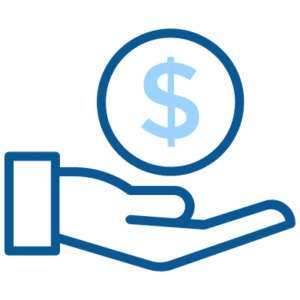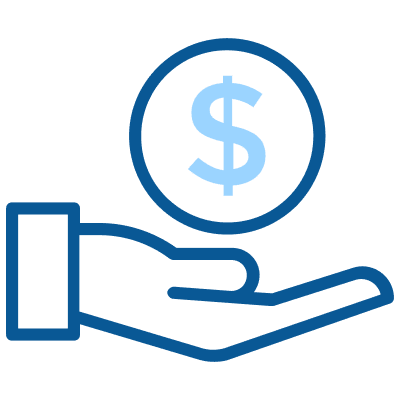 After your loan is approved, your funds should arrive within 1-2 business days2
Check Offers For Plumbing Financing & Repairs
Check offers
in seconds
Get pre-qualified for loan offers with an easy online form
Won't impact
credit scores
Checking offers will not impact your credit score
Competitive
payment options
Compare rates from our network of lenders
Receive
funds quickly
Same-day and next-day available for certain offers2
Compare Rates From Lenders in Our Network
Learn About Plumbing Financing
The ability to finance plumbing repairs can truly be a lifesaver in an urgent situation. Compared to other home repairs, plumbing repairs may not be the most expensive but can certainly be some of the most urgent. Putting off a plumbing repair can end up costing you more in the long run. If you don't have enough cash to cover your repair you should try plumbing financing. So when should you call a plumber?
If you're experiencing any of the following situations we recommend you call a plumber ASAP:
No hot water
Blocked pipes
Burst pipes
Major renovation or installation projects
Keep reading to explore the various plumbing financing options available for good and bad credit.
When should I call a plumber?
As we mentioned above, if you are experiencing plumbing problems you should call a plumber as soon as possible. While some situations may be more urgent than others, non-emergency situations can turn into emergency situations quickly. If you need to call a plumber out quickly but are tight on cash, you can secure plumbing financing quickly. In fact, you can get instantly pre-qualified for plumbing or home improvement financing at Acorn Finance. Once you have selected the loan offer of your choice, you can receive funds the same-day in some cases. Emergency situations such as floods or busted pipes may be obvious signs that you need to call a plumber asap. However, there are other reasons why you should call a plumber that might not be as obvious. Some signs that you should call a plumber include. . .
#1. Lack of hot water
If you turn the water on in the morning and are only getting cold water, you may have a problem. This can be a sign that there is a problem with your water heater. If you are not getting hot water your water may have a leak or is unable to maintain a constant temperature. Regardless of what could be wrong, you should call a plumber if you are having trouble getting hot water.
#2. Colored water
You're probably used to seeing clear water come out of faucets – and that is because this is normal. If you are seeing cloudy or discolored water coming out of a faucet, you should call a plumber. Brown, red, or yellow water often indicates that there is rust in the pipes. Green water often indicates that copper plumbing has corroded. You may even have blue water. Regardless of the color of the water, you should call a plumber asap. Ensuring that your water is safe is important.
#3. Low water pressure
If you are experiencing low pressure, slow drip, or no water at all it may be time to call for help. Before you call a plumber you can make sure that the faucet is not clogged. You can also try filling a plastic bag with vinegar and tying it over the head of the faucet for a few hours. If this does not fix the issue, you should call a plumber. Low water pressure can be a sign that pipes are clogged, a water heater is damaged, or a pipe has burst.
How much do plumbers normally charge?
Plumbers can charge an hourly rate or flat rate for a job. It's common for people to be in a rush to get their plumbing repair done. This is not always a bad thing considering typically the longer you wait, the bigger your bill may be. However, this may also mean you have less time to compare estimates. If you are in a time sensitive situation you should read reviews and ask friends for referrals to select a reliable and reasonably priced plumber.
Let's take a look at the average cost of hiring a plumber:
Typical job: $175-$450
Hourly rate: $45-$200
Service fee $300
Do plumbers do payment plans?
Some plumbers may offer payment plans in the form of financing. In most cases, plumbing companies will partner with a finance company or bank to offer financing for customers. There is usually no difference between using financing offered by a plumber and obtaining your own financing directly with a lender. However, you may have more ability to shop for the most competitive loan offers on your own. If the plumber you are working with partners with Acorn Finance, they may be able to help you compare loan offers. Acorn Finance partners with plumbing companies to help them offer competitive financing for their customers. In addition, they do not charge dealer fees or take a portion of the sale. This allows customers to receive the lowest interest rates with no markup.
Can I pay a plumber with a credit card?
An increasing amount of plumbers are accepting credit card payments. However, they may prefer cash, check, or online payment platforms such as Venmo or PayPal. Companies are often charged a fee for accepting credit cards. Most companies are willing to stomach the fee because it allows them to get paid quickly while offering customers a convenient payment method.
Can you make payments on a water heater?
Yes, you can make payments on a water heater and installation. Some retailers or manufacturers may offer financing. In some cases, financing offered by a retailer may only be eligible for the product itself. So how do homeowners afford a new water heater? Many homeowners use a personal loan for water heater financing. Personal loans provide the cash you need upfront to purchase equipment and materials and pay for labor but allow you to make affordable monthly payments over time. Needing water heater replacement may come as a surprise. If you do not have the money on hand, you should consider financing. In some cases, you can receive funds for a personal loan same-day as approval. According to Home Advisor, a standard tank storage water heater costs an average of $400 to $1,600 for the unit and $150 to $600 for installation. A tankless water heater usually costs more. On average a tankless water heater costs between $250 to $2,500 per unit and $400 to $1,500 for installation.
How much does a major plumbing repair cost?
Plumbing prices can vary, similar to the price of a new car. The price you pay comes down to what you are getting.
According to Home Guide, smaller plumbing jobs usually cost between $125 to $250 and larger plumbing jobs usually cost between $500 to $800. However, if you need a major repair or equipment replacement you might be looking at a much higher estimate.
Let's take a look at some common repairs and their average cost...
Toilet repair $100 – $300
Water heater repair $150 – 500
Clogged drain repair $150 – $500
Main sewer repair $1,880 – $3,700
Septic tank repair $500 – $2,700
Tankless water heater install $400 – $1,500
Solar water heater install $2,000 – $4,000
Garbage disposal repair $180 – $240
Pipe bursting repair $500 – $1,500
Leaky pipe(s) repair $150 – $800
Main line water leak repair $450 – $2,500
Sump pump repair $380 – $550
Water softener repair
Should I pay a contractor in cash?
Paying in cash is usually cheaper than financing. In addition, you may get a discount for paying cash upfront. It's okay to pay a contract using cash as long as you get a receipt or proof of payment. In addition, you should make sure the company or contractor you are paying is legitimate. While it's okay to pay in cash, it may be better to use a check, credit card, or online payment method that makes proving payment easier.
What's the best way to pay a contractor?
Below, we have listed the best ways to pay contractors. If you use a personal loan for plumbing financing, you should be able to use most of the following methods. When your loan funds, the money should be deposited into your account. You can use the loan funds the same as cash.
Check
ACH transfer
Credit card
Wire transfer
Online payment system
How much plumbing financing will I need?
The amount of plumbing financing usually depends on your project and personal finances. If you need a $4,500 repair but only have $1,500 cash, you will probably need $3,000 of financing. Perhaps you have no cash and need 100% financing – that is usually doable too. Things can move quickly when it comes to plumbing repairs. Usually, we recommend getting an estimate and then applying for the proper loan amount. However, you may not have time to follow these steps. You should be able to get a ballpark idea of cost over the phone from a contractor. This can help you borrow the appropriate amount. Another option is to borrow more than you think you need. You can repay the unused funds immediately to avoid more interest charges. Although you may be in an emergency situation, it's important to make sure you can cover the monthly payment. There are a variety of online personal loan payment estimators available that can help you determine the maximum amount of money you can afford to borrow.
Best Options for Plumbing Financing
Personal Loan for plumbing work (BEST OPTION)
Using a personal loan can be just as simple as swiping your credit card thanks to alternative online lending options. In addition, using a personal loan can be a much cheaper option compared to your credit card. Whether you have good credit or bad credit personal loans are a flexible and attractive financing option for plumbing repairs.
Let's take a look at the pros and cons of a personal loan for plumbing repairs:
Pros
Low interest rates
Typically no collateral required
Easy to activate
Apply online
Terms up to 12 years
Loans available up to $100,000
Receive pre-qualified offers without impacting your credit score
Cons
Taking on debt
Fixed payments
Origination fees may apply
Prepayment penalties may apply
Finance with a Plumber's Loan
Some plumbing companies may partner with a bank or a finance company in order to offer financing options. In some cases, this can be a good option for borrowers with very good credit. Before committing to financing with a plumber's loan you should compare it to other offers. After all, you are enlisting a middle man who most likely does not want to work for free.
Let's take a look at the pros and cons of financing with a plumber's loan for plumbing repairs:
Pros
Loans can be secured or unsecured
Fast application process
Convenient
Cons
Typically costs more than comparable options
Limited options available
More difficult to shop for the best rates
Credit Cards
Credit cards can be an easy solution for financing your plumbing repair. Most likely you already have one in your wallet. That means you just swipe and pay later. However, interest may be much higher on a credit card compared to a personal loan. If you decide to use a credit card you should find a lender that offers a 0% introductory rate.
Let's take a look at the pros and cons of using a credit card for plumbing repairs:
Pros
Build your credit
Convenient
Potential to earn rewards
Buy now, pay later
Theft protection
Special promotions may apply
Cons
High interest rates
Annual fees may apply
Vague approval requirements
Must read the fine print
What to do if you can't afford a plumber?
Plumbing issues affecting your home can be inconvenient and overwhelming. They usually need to be fixed promptly as well, or they can cause permanent damage to your home and the plumbing. Most plumbing problems should not be ignored, so if you find yourself needing a plumber and you cannot afford one, you might need to start looking for other solutions.
Use the following tips or guidance when you can't afford a plumber:
Ask your plumber if they have a payment plan. If they do, you can try to work with them and see how much a monthly payment will be. If your preferred plumber does not have a payment plan, you might need to search for plumbers that do. Search the web pages for your local area or call friends and family to ask for guidance.
Check your home insurance. Some homeowner's insurance offers plumbing services or opportunities to help with plumbing expenses. It is usually called Home Assist.
Use a savings account. If you have some money in a savings account that can be spared, you can use some of it for the plumbing costs.
Pay with a credit card. This isn't the best option, but it's better than damaging your home's plumbing. You can charge the expense to a credit card and then try to pay it off as quickly as possible.
Ask the plumber to work with you. If it's a company that you have worked with in the past and they don't have a payment plan, ask if they are willing to make one for you. As loyal customers, they might be more willing to give you a payment plan to keep you from taking your business elsewhere.
Borrow the money from a friend or relative. It's often embarrassing to ask people for money, but sometimes it is necessary. If there is someone you trust that might be able to help you, sit them down and explain your predicament.
Take out a plumbing loan. You can contact a lender, bank, or credit union to take out a home equity loan or personal loan and use it to cover plumbing costs.
You can also consider doing the job as DIY. Sometimes this is possible if the issues aren't serious. Changing tap washers, fixing leaking taps, or replacing a shower hose often do not be done by a licensed plumber. You can watch a YouTube video and try to fix it yourself if you are hard on money. Sometimes this isn't the best idea though for a few reasons:
Your home insurance might be able to cancel claims or cancel the insurance if they found out work was done by a plumber that wasn't licensed.
Loss of warranty on the tap, fixture, or appliance.
If you do the work improperly, you might cause further damage.
Fines for carrying out unlicensed plumbing work.
Liability issues if you happen to hurt someone while fixing something.
The following instances should be seen by a plumber right away, as they are considered emergencies. If you are already fearing the bill before calling the plumber, you may want to get prequalified at Acorn Finance for plumbing financing.
Water leaks. Especially ones that can't be isolated from the ball valve, water meter, or tap.
Sewage overflows. This can cause problems to your health and needs to be cleared right away.
Hot water supply. If this isn't working and it's winter. It will need to be fixed right away.
If you are experiencing problems, turn the water off to your house and make sure the leak doesn't get worse.
Can you negotiate with plumbers?
This depends on the plumber. Some plumbers will be willing to negotiate, especially if they have their own business and can make their own decisions. Big plumbing companies that have a corporate office might not be able to negotiate with you according to company rules and regulations. It's okay to check with several plumbers in your area to get the best rate and ensure you are not overpaying for certain services.
Some companies also have payment plans that will help you afford the plumbing work. This usually isn't able to be negotiated around. They are helping you by offering a payment plan and usually do not like to change the financing options.
Make sure you always ask for estimates before any work is started. This will ensure that the plumber doesn't overcharge you or try to get you to pay more. Also, make sure that the plumber documents their labor fees and how long they are working so that the hours are correct.
How much does it cost to put plumbing in a house?
This will likely depend on the size of the house and the rate that plumbers charge in your area. A rough estimate though is about $8000-$12000. This ends up being about $4.50 per square foot. The national average cost is about $4,080 with a maximum cost of about $15,000.
New construction plumbing may range from about $4-$6 per square foot. Commercial plumbing may cost more because more sinks and toilets are often installed than in a residential home. Installing new fixtures such as bathtubs, sinks, dishwashers, and toilets should be about $450 to $1800 per fixture depending on the materials you use.
Replacing old pipes may be cheaper than redoing the entire plumbing of the house. The cost can also depend on the type of materials used, the number of bathrooms and plumbing fixtures, how far apart the bathrooms are, and how many stories the house has.
Make sure to ask the plumber for an estimate of everything before you move forward with the installation. They should be able to give you the numbers you need so you can determine if the cost is okay with you.
How do I estimate a plumbing job?
The best way to estimate a plumbing job is by asking the plumber how much everything will cost. Let them inspect your home and decide how much it will cost them to put in new fixtures. They should also add in the costs of parts and labor. Let them see what materials you plan to use or which materials they suggest will be the best for your home.
Then, they will be able to add everything together and see how much it will cost and how long it should take them to do the work. If you can't afford the job, consider asking them for a payment plan or if they are willing to work with prices for you. If they do not offer payment plans, you can check offers for plumbing financing at Acorn Finance.
Can I find a plumber's loan online?
Plumbing loans are often classified as home improvement loans. Your local bank or credit union may offer home improvement loans, but you may prefer an online option. In addition, you may get a better deal online. At Acorn Finance you can check home improvement loan offers within 60 seconds or less with no impact to your credit score.
Can you finance plumbing repairs?
People rarely think about plumbing until something goes wrong. And, without fail, this happens at the worst time. Often an emergency results from plumbing issues and the problem needs to be fixed right away. If this is your situation but you don't have the money available to cover the costs, what can you do? Is financing plumbing work possible?
Yes, it is! There's more than one way to do this. Depending on how much you need, how long it will take you to pay off the cost of repairs, and your credit score, you might have many options to choose from to cover the costs of repairs. Options you can consider are using a credit card, a personal loan, a personal line of credit, and financing through a plumbing company.
Can I finance DIY plumbing repairs?
Potentially, you can save a lot of money by not hiring a plumber. A huge part of the costs of plumbing repairs is labor. Luckily you can still use financing for materials, even if you plan to do the labor on your own. If you use a personal loan you may need to meet a minimum borrowing amount which is usually $1,000.
Before you begin a DIY plumbing repair, make sure you have the skills to complete the work and any permits that might be required. If things aren't done properly, it may cost you more, in the long run, to bring in a professional to fix any problems. Major repairs like removing or installing pipes should be done by a licensed plumber.
If you are going to do the work yourself, you will need parts and possibly tools. Depending on the scope of the job and type of materials you buy, this can still cost a fair bit. You can use a credit card or small personal loan to finance the supplies you need. Sometimes major retailers offer financing too if you spend a certain amount.
What type of loan can you use to finance plumbing work?
If you need financing for plumbing repairs, you will be happy to know that there are many options available. The best option for you will depend on the amount you need and your financial situation.
A lot of people will use a credit card if they have one and the limit is available. Credit cards may be an option to consider if you have a promotional 0% offer that you can take advantage of. Make sure you read the fine print carefully though. If you do not repay the balance within the promotional period you may face high interest rates. Credit cards may also be an option to consider if you can repay the balance within a few weeks.
If you need a fairly sizable sum, a personal loan is usually a better option than a credit card. Personal loans usually offer lower interest rates than credit cards and fixed repayment terms. If you need money fast, you can still use a personal loan. Some lenders can fund loans same-day, although funding times can vary.
Most personal loans require a credit score of around 620 – 660 but some lenders will fund a loan with a lower score. At Acorn Finance you can check personal loan offers within 60 seconds or less with no impact on your credit score.
For complicated, expensive jobs you can look at a home equity loan or home equity line of credit (HELOC). A credit score of at least 620-660 is best for a home equity loan or HELOC. In this case, you would use the equity in your home to fund the plumbing work. It can be rolled into a mortgage payment or be a line of credit payment. These take more time to set up and there are usually fees to do it. Home equity loans and HELOCs can be a great option but they are best used for major projects due to the fees involved and the time it takes to set up.
Plumbing companies and plumbers sometimes offer financing for plumbing work. Major companies like Mr. Rooter and Roto-Rooter do and smaller companies often do as well. These companies often use a finance company so be sure to check your rate, terms, conditions, and fees that may be associated with the loan.
You can apply for a personal line of credit too. These products work similarly to a credit card. You have a limit that you can use, payments are based on the amount you have used, and once you pay it back the limit is available again. These are very convenient, especially if you are not sure how much repairs will cost. The interest rate is usually lower than a credit card but higher than a personal loan and they can be harder to qualify for.
Is plumbing financing a good idea?
If you need repairs, yes it is. Water damage can cause huge problems to your home and health issues can develop from mold and mildew. Allowing a plumbing issue to get worse can cost you much more in the long run. One thing to check is your home insurance. Depending on the nature of the problem, it might be covered by your policy. If not, plumbing is a major component of your home and financing repairs is a much better idea than ignoring the problem.
If you are considering plumbing financing for things that are nice to have but not necessary like a hot tub, jacuzzi, or swimming pool, consider the costs versus the benefits. There's no question that these things are wonderful additions to a home but financing them might add a lot of financial stress to your budget. They can take years to pay off, you may not use them as much as you think and there are ongoing maintenance costs to these items. It's harder to say in this case if plumbing financing is a good idea or not. It depends on your financial situation and what you value.
Plumbing Financing vs Credit Cards-How to Choose
The first step in deciding how to finance plumbing work is to check the rates offered to you. In most cases, a personal loan will be a better option, but not always. You may be able to take advantage of a promotional credit card offer. In addition, if you can repay the balance within a few weeks, a credit card may be a sensible option. To check personal loan offers, submit an online form at Acorn Finance. You can check offers from top national lenders with obligation and no impact on your credit score.
Benefits of financing plumbing work and repairs?
Nobody likes to go into debt to fix their plumbing. It's not nearly as appealing as getting a bathroom remodel or new furniture. That said, having your plumbing in good repair is vital to your home. There are lots of benefits for financing plumbing work and repairs:
Get work done immediately
Easy monthly payments
Fixed terms
Reduce the chance of an emergency plumbing repair in the future
Efficient plumbing can save you money
Ensure living conditions are safe
Improve the value of your home
All in all, if you need to repair or maintain your plumbing, it's a good idea to go ahead and get it done. There are lots of ways to finance the work you need.
Can you get a plumbing loan with bad credit?
It may be possible to get a plumbing loan with bad credit. It mainly depends on just how bad your credit is among other factors such as your income. Whether you need to cover some emergency expenses from a burst pipe or some other plumbing emergency, or you simply need some new water line hookups installed in your home, a plumbing loan is like any other home improvement loan. Even if you have bad credit, you can use a secured or unsecured personal loan to cover all the expenses related to hiring a plumber, materials, and labor. Using a personal loan to cover some expected, or unexpected plumbing expenses, may be a smart way to hold on to your cash reserves while still getting the immediate funding to take care of your plumbing concerns.
What credit score do I need to get a plumbing loan?
The average minimum credit score that some lenders will use to determine if you qualify for a plumbing loan ranges between 610 and 640. This is just a rough estimate since some lenders will consider borrowers with even lower credit scores if they can demonstrate a higher level of cash flow and a lower debt-to-income ratio. Some lenders may even let borrowers with a credit score between 560 and 580 obtain an unsecured personal loan if they believe that the borrower still shows they have a considerable chance to pay back the loan. The situation varies between lenders. A quick way to compare personal loan or home improvement loan offers is at Acorn Finance. Within 60 seconds or less you can check offers from top national lenders without impacting your credit score.
What is the minimum credit score to get plumbing financed?
The minimum credit score to have plumbing financed varies between lenders as well as depends on if you are willing to put up any collateral to secure the loan. If you are willing to secure the loan with an asset such as a vehicle, stock holdings, jewelry, or your home, then a lender will most likely accept and process your loan application using much more lenient minimum qualification standards. If you do not want to provide any assets as collateral, then it may be best if you had a credit score between 610 and 640, to increase the likelihood that you will be approved for plumbing financing.
Can you put plumbing repairs on credit?
Yes, using credit to cover plumbing repairs is a common occurrence in the United States. Either because plumbing repairs are immediate and need to be done quickly, or because it is just more convenient, more and more people use credit to pay for plumbing repairs alongside other household expenses. The main question left then is whether it is in your best interest to use a credit card or to use an alternative source of financing like an unsecured personal loan.
There are both pros and cons to using either a credit card or a personal loan to finance your plumbing repairs. The main advantage of credit cards is they are super quick and easy to use and can be used on the spot. The downside is that they usually come with a much higher interest rate and that there is no definitive pay off date. By using a personal loan to pay for your plumbing repairs you could possibly lock-in a much lower interest rate and know exactly when you will pay off the plumbing repairs. Personal loan financing is also becoming more streamlined and some lenders are able to provide the necessary funds into your account the same or the next day once the loan application is approved.
Can you get a plumbing repair loan with a 600 credit score?
Yes, obtaining a plumbing repair loan may be quite possible for someone with a credit score of 600. Though some lenders may not consider a loan application with a credit score that low, there are still lenders who will. You may have to submit some additional income and banking information to demonstrate a high free cash flow and lower debt-to-income ratio, but if you can ease the lender's worries of default, then most likely they will have no issue helping you secure financing to take care of your plumbing repairs.
What lenders provide plumbing financing for bad credit?
Some lenders specialize in helping borrowers with bad credit. In most cases, you will need to use an online lender if you have bad credit. Online lenders usually have less strict requirements. They may also have less overhead, thus allowing them to take more risk. Some online lenders that can help bad credit borrowers include Best Egg and Prosper. At Acorn Finance, you can access lenders such as these by submitting one simple form. A platform such as Acorn Finance can save you time and money. Rather than researching for hours to narrow down legitimate lenders that can help bad credit borrowers you can access several legitimate lenders all in one place.
How to finance plumbing work with bad credit?
To finance plumbing work with bad credit, you may still have some options. You can use your credit cards, pay cash, or even use a personal loan to cover all plumbing expenses. Although cash is always the cheapest option, there are many reasons why it may not be your best option. Maybe you want to hold on to your cash reserves for other emergency expenses? By using credit, either from a credit card or from a personal loan, you can hold on to your cash reserves and pay off those emergency plumbing expenses over time. Whichever you choose as your preferred method of payment, remember it is always important to complete a full cost-benefit analysis before deciding to ensure you do what is best for your individual situation.
What is considered bad credit when looking for plumbing financing?
Typically, anyone looking for a personal loan with a credit score below 67o is considered a bad credit borrower. Though scores closer to 670 are in the fair range of the FICO credit rating system, you still may be looked at as a potential risk to many lenders. That doesn't mean that you cannot obtain plumbing financing. It just means that you may be subject to much higher interest rates and more applicable fees than someone seeking the same type of financing with a good or excellent credit score. That being said, often plumbing expenses are never planned and it is usually imperative that you get the funding you need when you need it. Even as a bad credit borrower, you should know that some lenders may still be able to offer financing. For extensive plumbing repairs, you may need to use a secured loan if you have bad credit. Plumbing repairs are usually urgent and should be addressed before they cause major problems. Whether you need to use a secured or unsecured loan, financing plumbing can help you access the funds you need.
Check Offers for Plumbing Financing Today
In conclusion, financing a plumbing repair is fairly simple and can save the day during an emergency. Making an educated decision is critical but with limited time can be challenging. Using a secure online platform such as AcornFinance.com can allow you to compare multiple offers within minutes from the comfort of your home or office. Simply submit one application online and receive competitive offers from reliable lenders. Acorn Finance is a leading provider for plumbing financing. On approved loans, you can borrow up to $100,000 and take as long as 12 years to pay it back. Ready to take the next step? Apply online today!
How Does Acorn Finance Compare?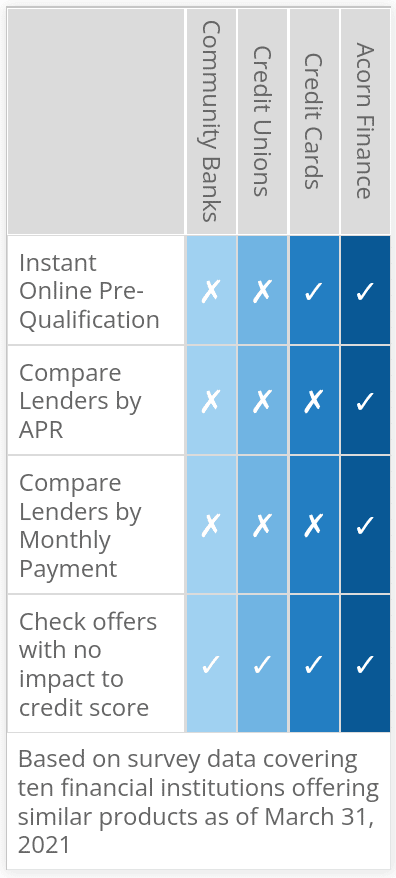 Compare Rates From Top Lenders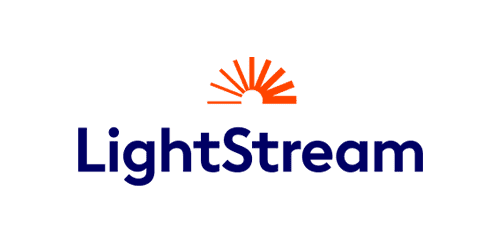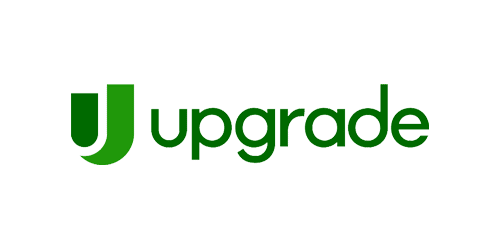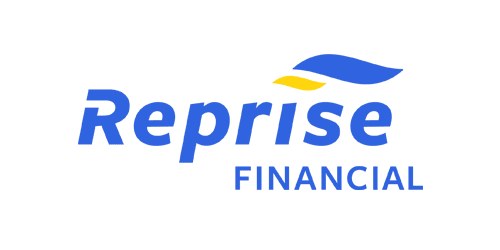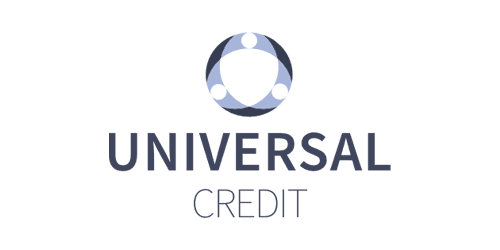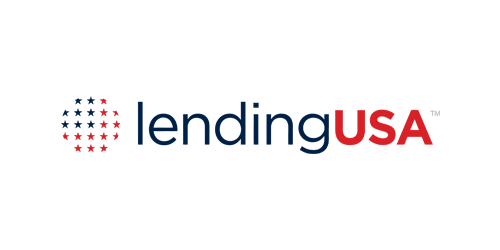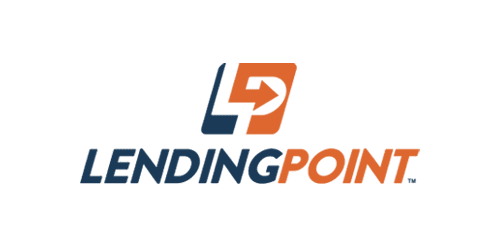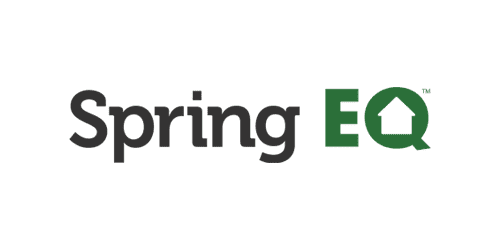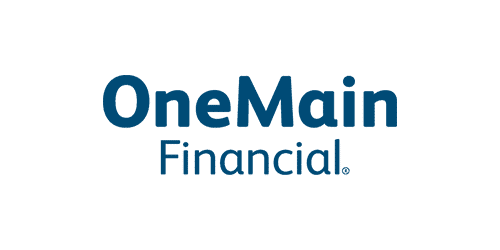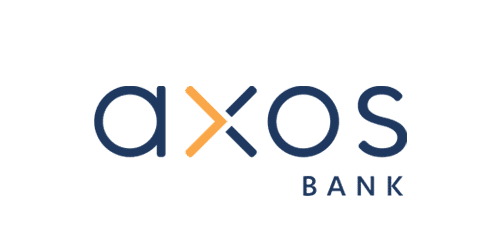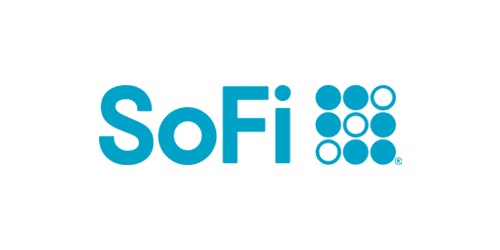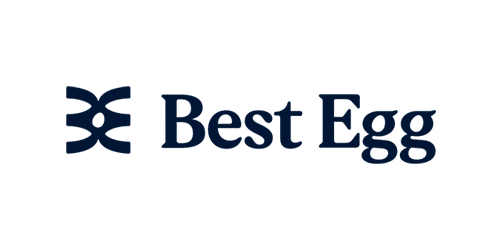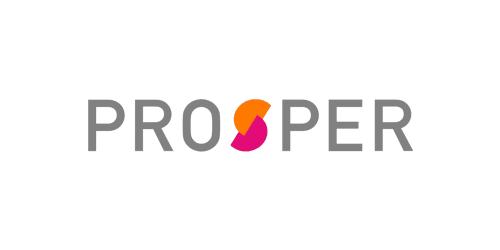 Plumbing Financing Calculator
Are You A Plumbing Contractor?
Offer Financing for Plumbing Customers Today.
Close more sales with easy, affordable plumbing financing options for your customers
Get Started
Popular Home Improvement Projects
Barn Financing Options
One home, endless possibilities
Personal Loan Information